A Rare 300 acre Integrated Township
on the banks of Krishna River
CRDA / DTCP Approved
With a 3 km Riverfront Boulevard and just 30 minutes from Amaravati.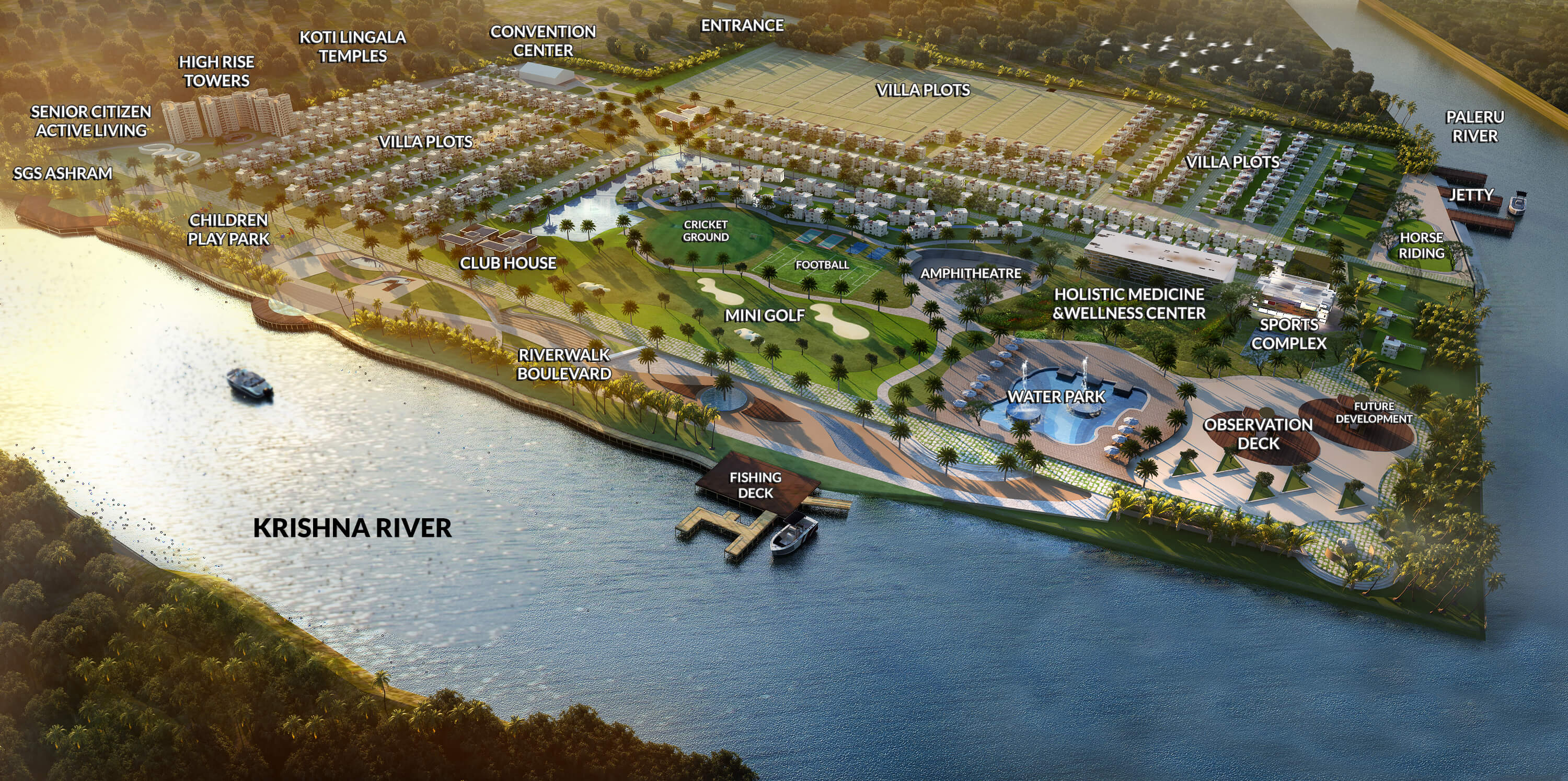 A once in a lifetime opportunity for those seeking to settle down on the banks of the mighty Krishna, with a relaxed yet active lifestyle in the best environs and with the best of facilities, surrounded by the Vedadri Temple, Koti Lingala Temples, Muktyala Fort, Sri Sri Ganapathi Sachchidananda Swamiji Ahsram (within Alakananda) and many other attractions, making this a unique tourism hub.
G&C's Signature Project near Amaravati

Recognised by the Govt of Andhra Pradesh as an 
Integrated Mega Tourism Infrastructure Development
With many unique features including a riverfront club house, senior citizen active living, 50 acres of open spaces on the banks of the river,  river and adventure sports, Alakananda aims to be one of the best gated communities in the country with its unique location and immense potential, being a gateway to the new capital – Amaravati.
Potential for
100% ROI in 3 to 4 Years
Situated just 30 minutes from Amaravati, 3 hours from Hyderabad and 1 hour from Vijayawada, Alakananda is set to become the best in its category, with potential for highest appreciation and returns, neighbouring a cruise and cargo terminal proposed by the Inland Waterways Authority of India.
Best for Andhra & Telangana
The AP government has declared a green belt along the Krishna River – which prevents any new private development in this protection zone. Alakananda is the first major project to receive approvals from the highest levels – CRDA & DTCP. This makes it the ONLY choice for Riverfront Living near Amaravati.
It is infact, the ONLY Riverfront Township of its kind in South India.
As per me, it is not possible to replicate this project in AP as there is no chance of getting such a huge chunk of 300 acres on the river front, and that too at the Confluence of 2 River. Because of this, the project becomes incomparable to anything else, which in turn will make capital values sky rocket in the long run.
This is the ONLY place where Telugu community from both states find it attractive to buy and live as it is between the existing capital and new capital.
As an early investor, you will get the privilege to choose the best plots in the layout as 1St preference to chose will be give to you and hence if you are interested in investing in this unique project at pre-launch special price before we open it to general public at a much higher price sometime in November 2017, please feel free to get in touch with one of our team members to register your interest.
A.V.R.Chowdary
Founder Chairman