Alakananda
by Emerald Lakeside,

Ooty
16 Acre Integrated Community of
Exotic Villa Plots & Villas / Holiday Homes
with a 3 Acre Boutique Resort
overlooking EMERALD Lake near
Good Shepherd International School
The Nilgiris
Stunning Panoramic Views
Located in the most pristine & unspoilt ambience of Ooty, in an area fondly called the "Silent Valley" by locals, just 20 minutes from the crowded Ooty Town Center.
Stress Free Maintenance
1st Time in Ooty where your Weekend Home is maintained by a Resort located within the Integrated Community.
Landmark Location
Best news for all parents who's children study in Good Shepherd International School as they can now visit their kids more frequently!
Earn Monthly Income
1st Time in Ooty where you can earn regular income besides free maintenance when you are not staying in your home.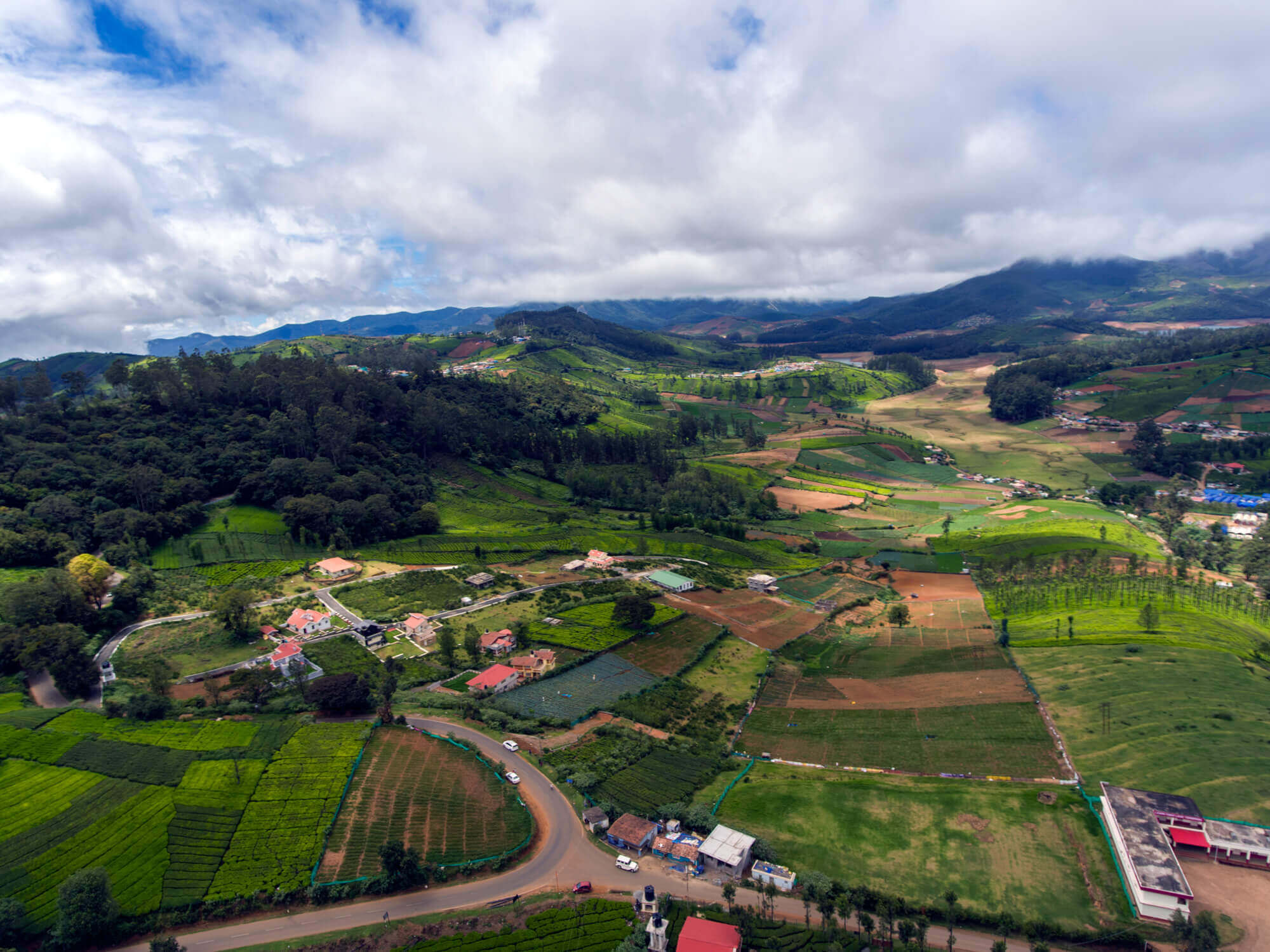 Aerial View of Alakananda with Emerald Lake in the Backdrop
G&C, after entering Karnataka and Andhra Pradesh as a developer,  is proud to announce its entry into Tamil Nadu (making it the 3rd state) with its own development in Ooty, spread over 16 acres overlooking the famous Emerald Lake and its pristine surroundings.
Over the years, Ooty has become a favourite glamour hill station destination for all Indians, NRIs and foreigners alike. With its cosy climate and old world charm, it certainly is the Queen of Hill Stations in India.

View of Emerald Lake & Valley,
as seen from the Main gate of Alakananda
However, anyone looking to own a holiday home has always ended up with options within the town that is crowded, noisy and full of tourists or buy a timeshare option that gives them few nights in a year at a resort, but with many restrictions and regulations.
Only the uber rich have been able to afford an independent house with their own staff and leisure amenities.
G&C seeks to change this by announcing a rare and limited opportunity to own a holiday home just 25 mins from the heart of Ooty, but in the most virgin ambience possible overlooking the pristine and famous Emerald Lake, on the Avalanche Road.
Aerial View of Alakananda with Forest in the Backdrop
Shot from a Drone over the Emerald Lake
Type of Project
16 Acre Integrated Community of Holiday Home Villa Plots & Villas with Boutique Resort with All Modern Lifestyle Amenities & Conceived on the Lines of a Private Club with Sports Facilities including Outdoor Adventure Sports and Trekking Trails
Location
 – Avalanche Road, just 8 minutes from the internationally famous Good Shepherd International Residential School, Ooty.
 – 25 Minutes / 14 Kms from Ooty City Center (Bus Stand)
Type of Units
 – Villa Plots : 2100 sft (5 cents) and multiples
 – Villas : You can build upto 1500 sft of built up area per plot of 2100 sft in any configuration you desire. Various combinations of plot size and built up area listed under pricing section below.
Completion Timelines
 – Basic Infrastructure : 1st / 2nd quarter of 2018
 – Resort & Banquet Facilities : 4th Quarter of 2019
Budget Range
 – Only Plots : Rs.950/sft onwards and depending on plot location within the community.
 – Plot + Villa : Please scroll down to see under the pricing section. Further, quotations will be given based on plot size and built up area desired if varying from the standard combinations as below.
Distance from Major Cities
 – Bangalore : 280 Kms / 6 Hours
 – Mysore : 150 Kms / 3 Hours and Literally Making it as a final destination for all Mysorians.
 – Coimbatore : 105 Kms / 3.5 Hours
Size of Total Project – 16 acres in 2 phases
1st Phase of 8 acres
Although this land was in control of our group company, we did not publicly offer by showcasing in our website as that time, additional land was under negotiation and also discussions by those landlords to carve out 3 acres out of their 8 acres to put up a boutique resort cum private club to benefit all the Alakananda residents besides catering to outside members by subscription.
In the meantime we had to sell many plots in Phase 1 due to pressure from social circle known to us who came to know through local sources and that is why you will see in the following photographs, few boutique weekend homes / permanent retirement homes done tastefully and few of them were constructed through our nominated contractor.
Of course, few plots are available in this phase also, but at premium compared to phase 2 which is now open for pre public launch.
2nd phase of 8 acres is now open for bookings
As explained above, only 5 acres as above are open for bookings for plots and villas. Balance 3 acres will be utilised by landlords to construct a boutique resort cum private club with 40 guest suites as they are group of professionals located in Dubai, Singapore and Russia and is their passion to establish such a club, and they are planning to commence their construction soon after our completing basic infrastructure in Phase 2.
Sanction Status
 – Phase 1 : Majority of works completed and few houses have already been constructed as can be seen and plots are registered as residential.
 – Phase 2 :  Infrastructure works will begin by 1st quarter of 2017 and ground works for that have already commenced and hence, PRE PUBLIC LAUNCH offer for limited plots is open.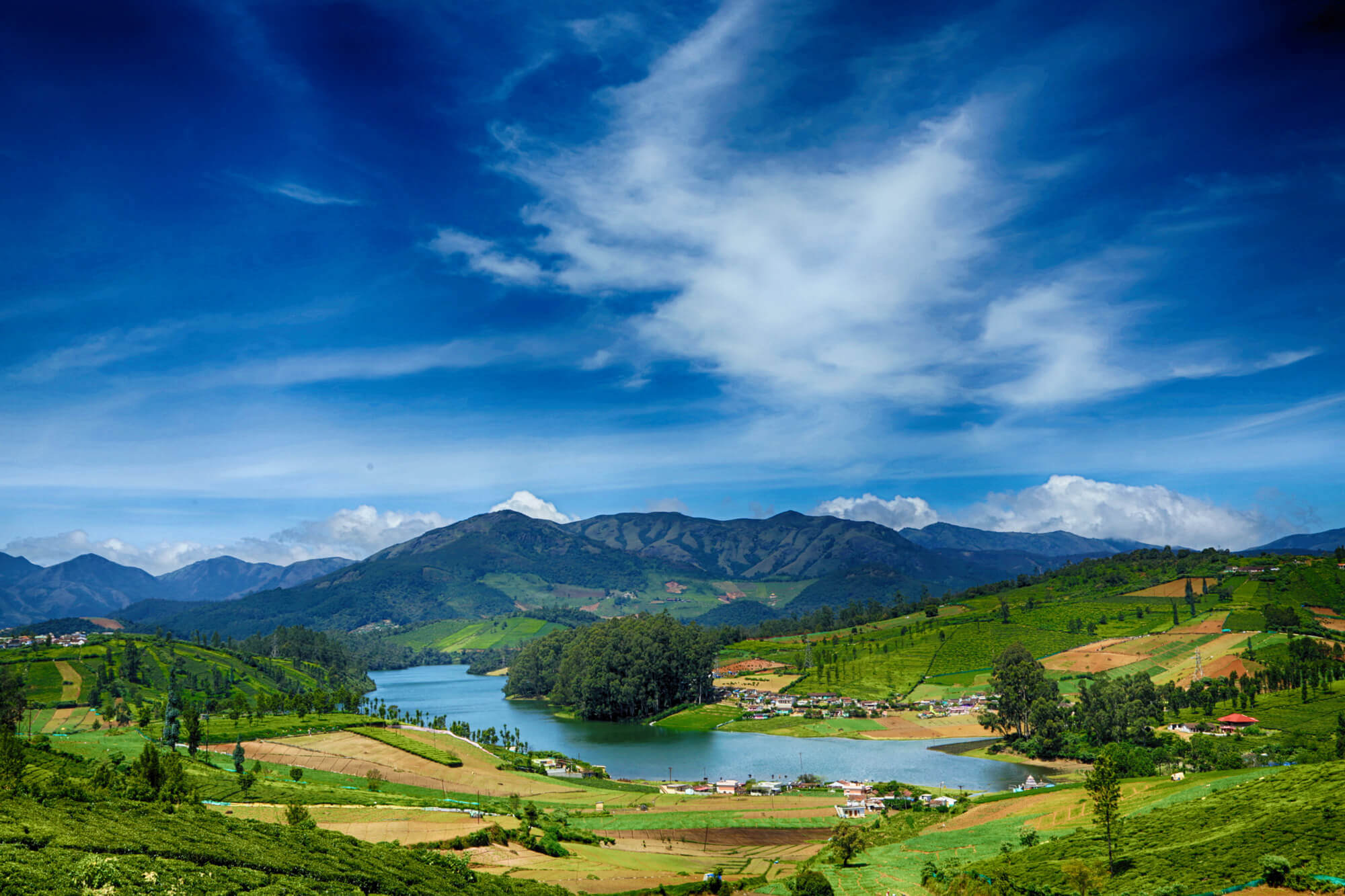 View of Emerald Lake from Alakananda
All Images Shown on this page are Shot at Site
Location Advantage
Located on the Avalanche Road, just 4 kms from the famous Good Shepherd International School, Alakananda has the advantage of being accessible through a clean 40 ft double road in just 20 to 25 minutes from the Ooty railway station, while retaining its virgin surroundings and unspoiled ambience.




.

This is also the last region around Ooty to be sparsely populated and will remain so as Avalanche road leads to just 1 or 2 less known tourist spots and infact ends at Avalanchi village and hence does not experience a lot of traffic either.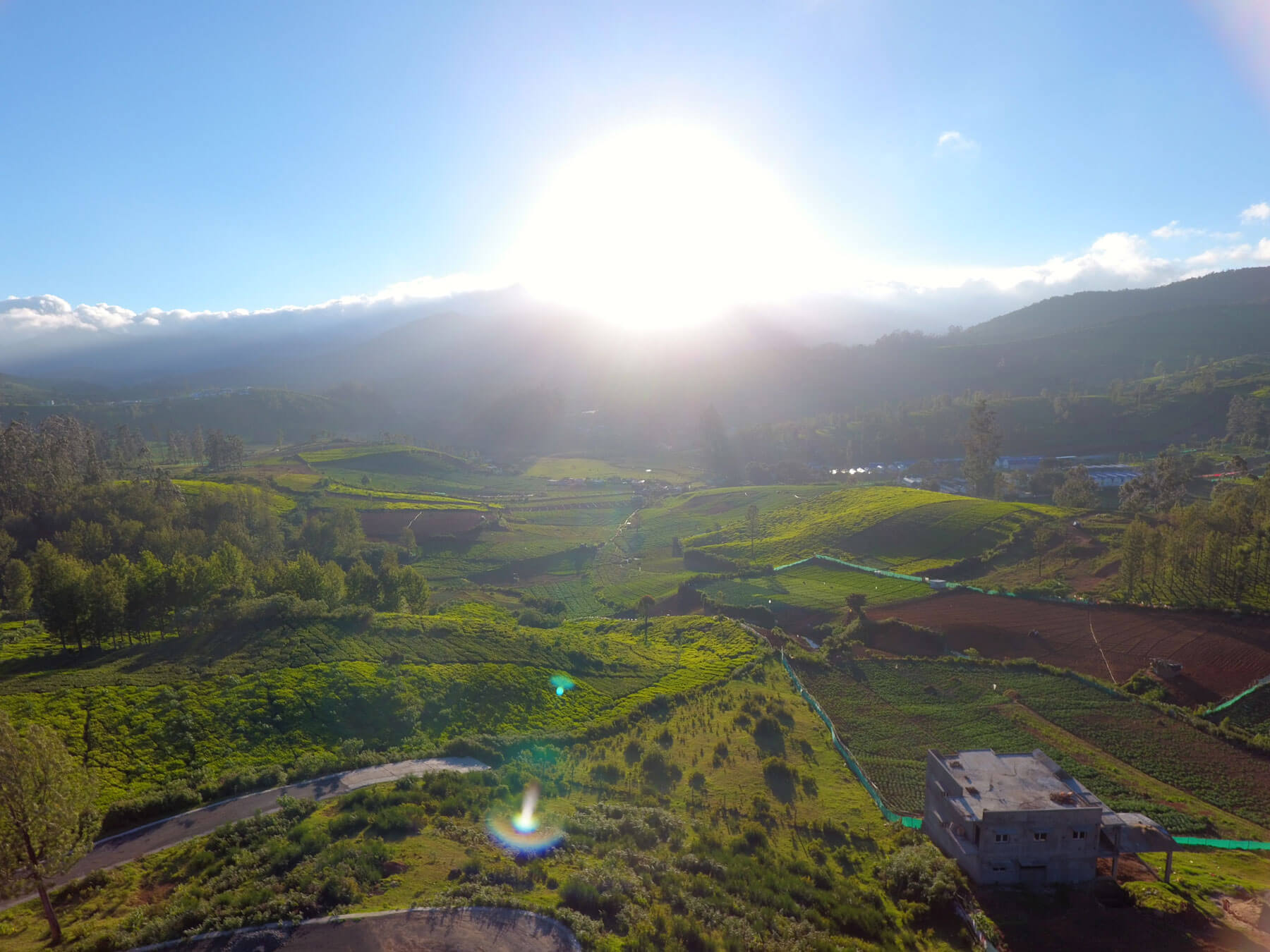 Drone Shot of Sunset at Alakananda Ooty
which can be experienced by residents everyday
Project Site Advantage
Very rare in Ooty as below, ensuring lifelong serenity :
One side of the property is surrounded by 3000 acres of forest land.

Second side is covered by lake and mountains.

Third side is surrounded by huge tea estate belonging to a company and is expected to remain that way for decades. And in the worst case, will get converted into a villa project like ours but most unlikely and without spoiling the views.

Fourth side is the main Avalanche Road connecting Ooty.
Therefore, as can be seen, the above makes it truly the best and most serene location with the lowest congestion, unlike other villa projects which are hardly spread across 1 to 3 acres of land and with almost 100% possibility of congestion right next to them.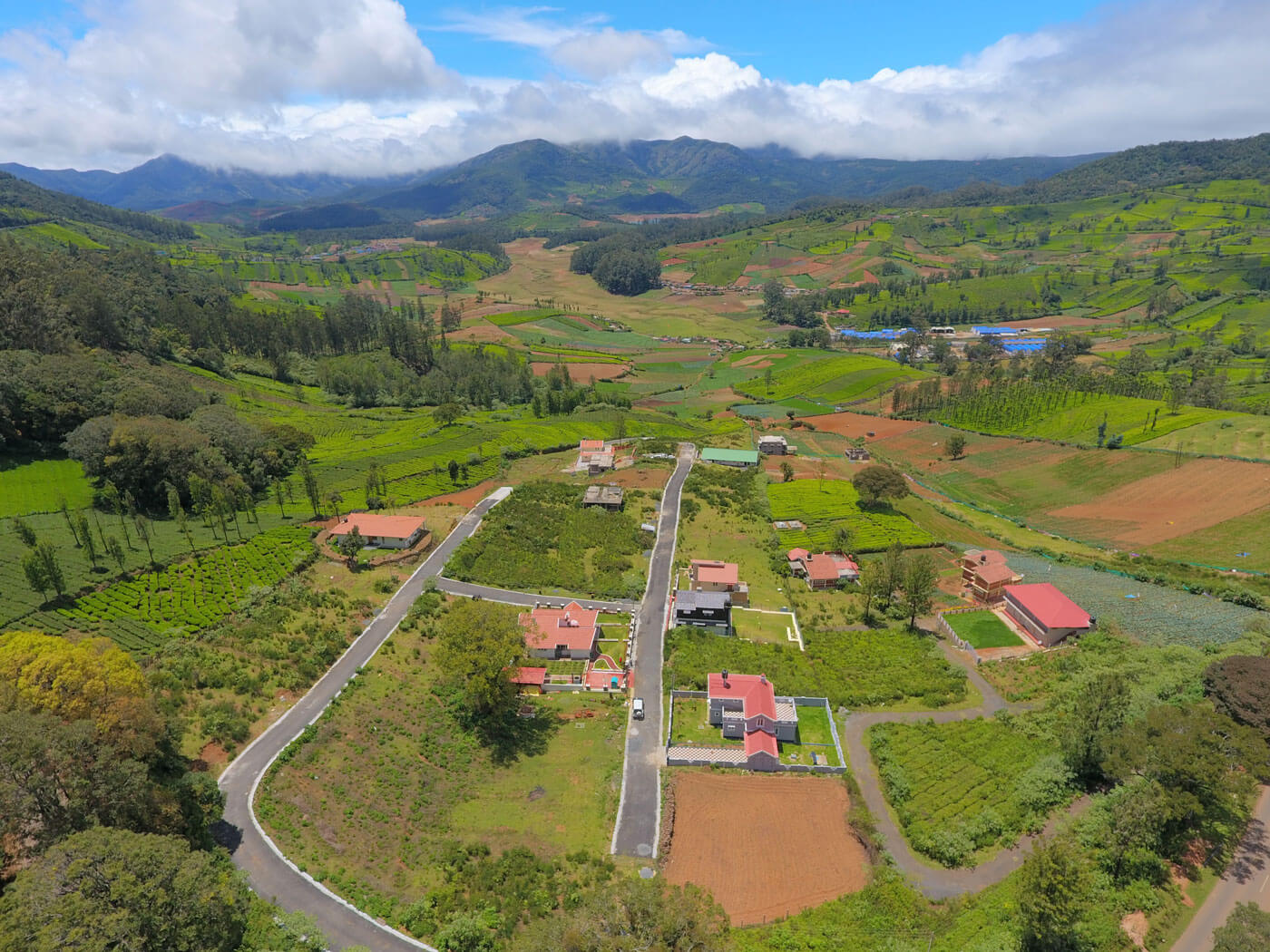 Phase 1 of Alakananda
Works 80% Complete & Ready to Move In
Rental Income Opportunity with Free Maintenance
G&C has been offered by the resort developers to tie up to rent out villas built in the layout by plot owners and also maintain the same free of cost whenever owners are not staying. This is bound to succeed in a very big way as they are planning to construct 40 rooms as part of their resort cum private club. Just for your idea, many families coming for holiday and long stay always prefer to hire an independent home as they will have the flexibility of cooking besides utilising the bar and restaurant of the resort, while ensuring safety and privacy at the same time.
The above infact is the only clincher for many aspiring professionals / businessmen who always dream of a holiday home of their own in Ooty but unable to go ahead only because of this maintenance issue with luxury of having food served at their doorstep. Also the biggest challenge of security issues of guarding their property when they are not there, has been the biggest impediment for buying a plot / villa.
SO, FOR ALL THOSE ASPIRANTS WITH ABOVE DILEMMAS, ALAKANANDA BY EMERALD LAKESIDE COMES AS A TRUE BLESSING.
The particulars of the revenue sharing agreement are yet to be worked out and we will share details of the same as and when it is finalized.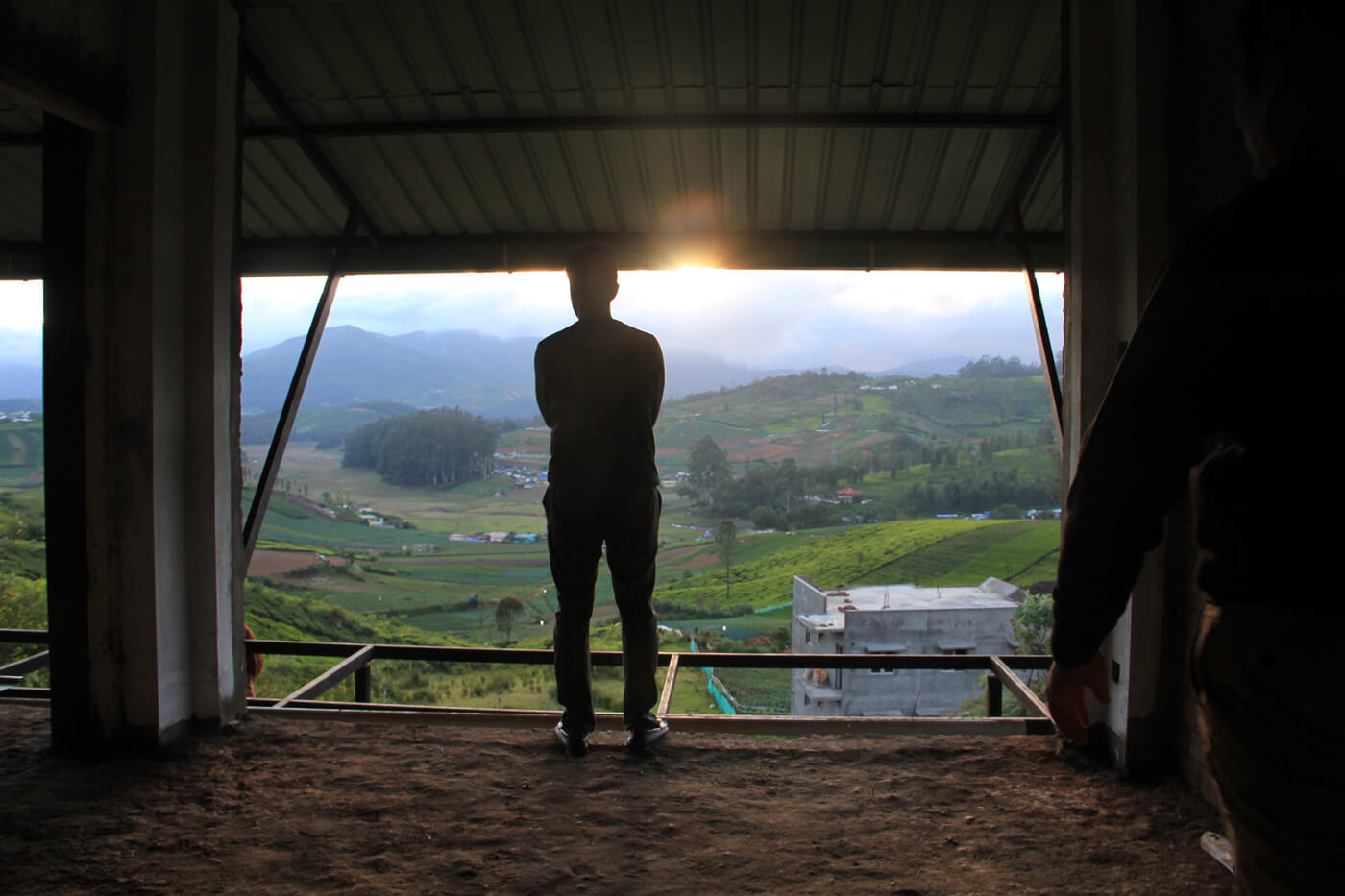 Experience Stunning Sunsets from
Your Own Dream Holiday Home / Retirement Home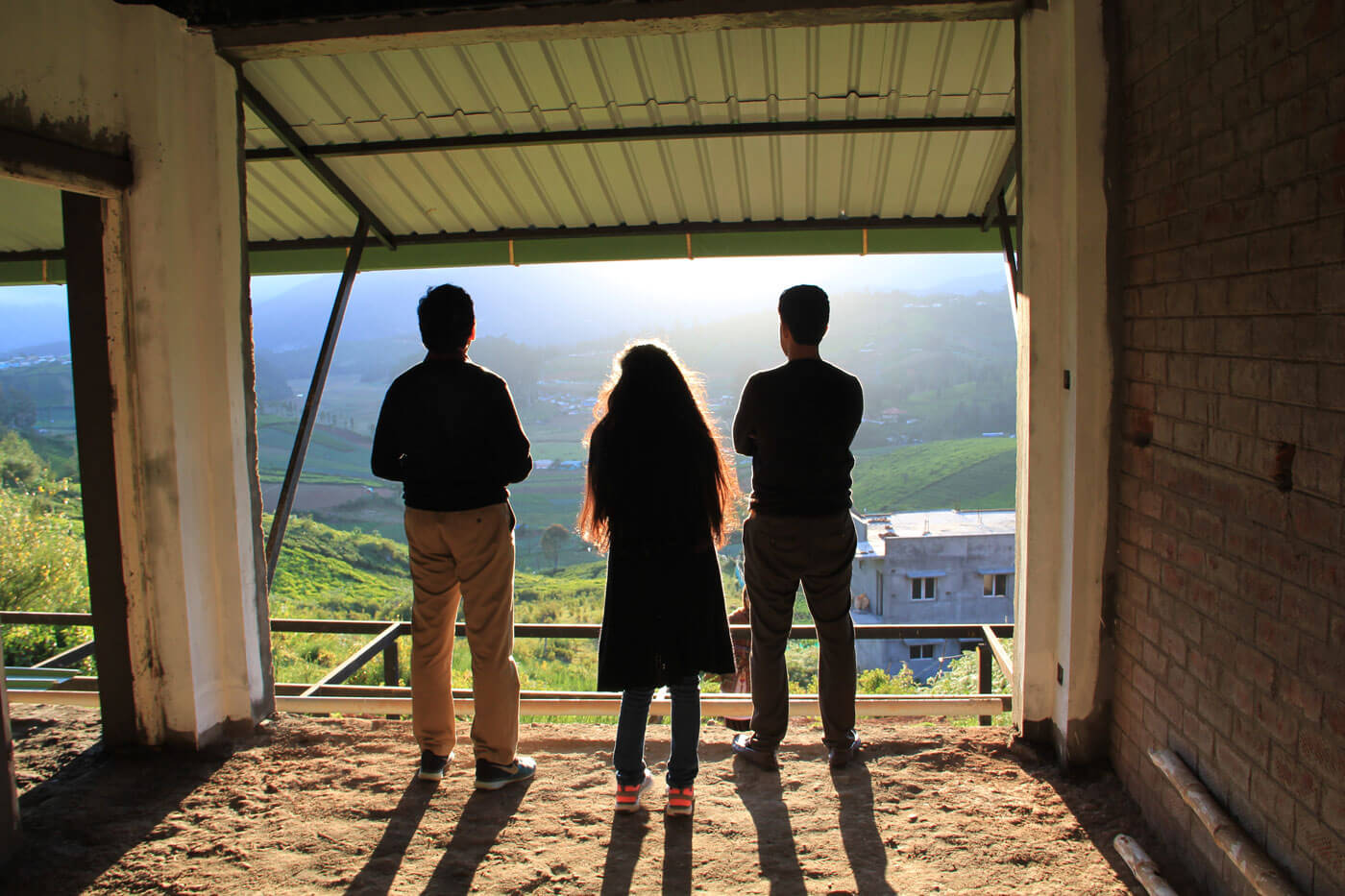 G&C Vision
For any Indian looking to own a holiday home in Ooty – which is arguably the most famous hill station of India and also of one of the top destinations in India, Alakananda is one of the best options keeping in mind the below, all of which provide an overall ambience of serenity, luxury, comfort and convenience.
Accessibility

 : Being just 25 mins from centre of Ooty and the 1st access point from Bangalore and Kerala without touching other parts of Ooty,

Unspoilt Surroundings

 : One of the last regions around Ooty that are yet untouched and sparsely populated,

Direct & Uninterrupted Views of Emerald lake

and the surrounding mountains,

Best Amenities

(boutique resort and banquet center),

the revenue share agreement to rent out your house,

and the most

reasonably priced and sized

villa plots.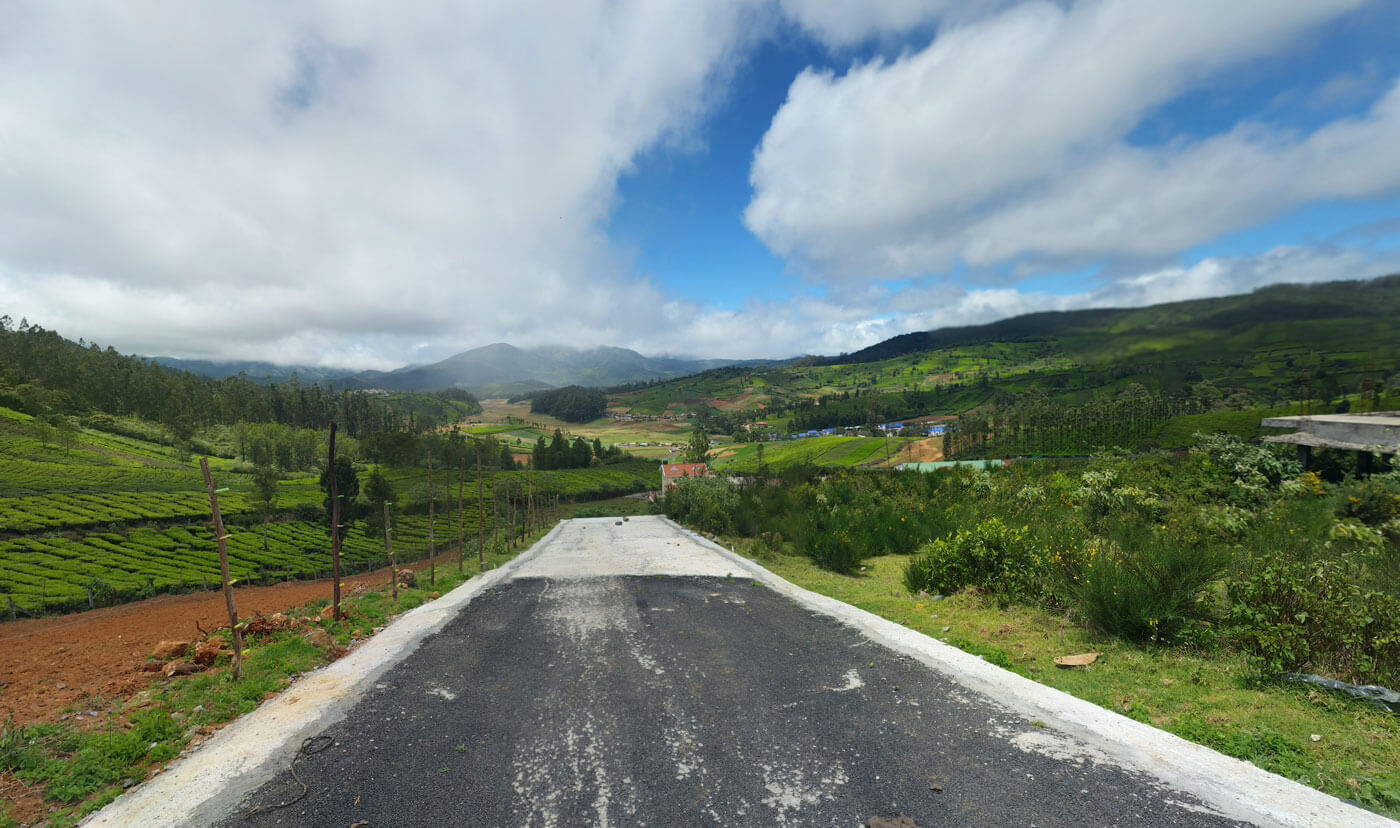 Works in Final Stages in Phase 1
Ready To Move In & Construct Your Home
Bar & Restaurant with Banquet Center
3 Acre Boutique Hotel with 40 rooms
Outdoor Adventure Sports with Tents & Bikes on hire for Camping or Cycling by the Emerald Lake
Indoor Sports – Billiards, Table Tennis, Chess, Carroms, etc.
AV Room with a capacity of 20 people
Less than 30% gradient throughout layout ensuring it is within legal parameters to construct buildings / structures.
Bituminised roads, overhead 3 phase power connection & underground domestic water supply.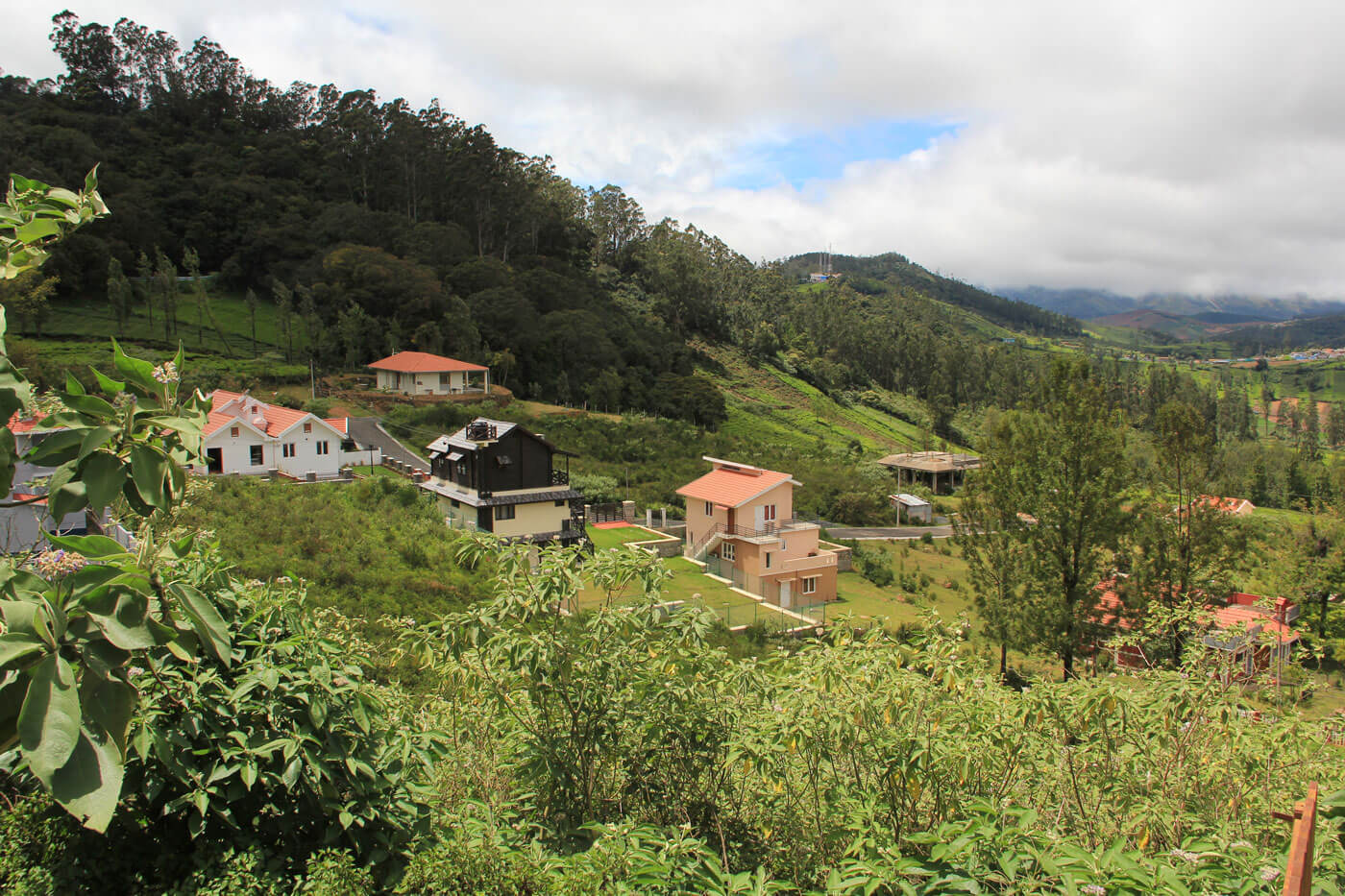 Homes in Phase 1 of Alakananda
BRAND NEW Phase 2 is Now Open for Bookings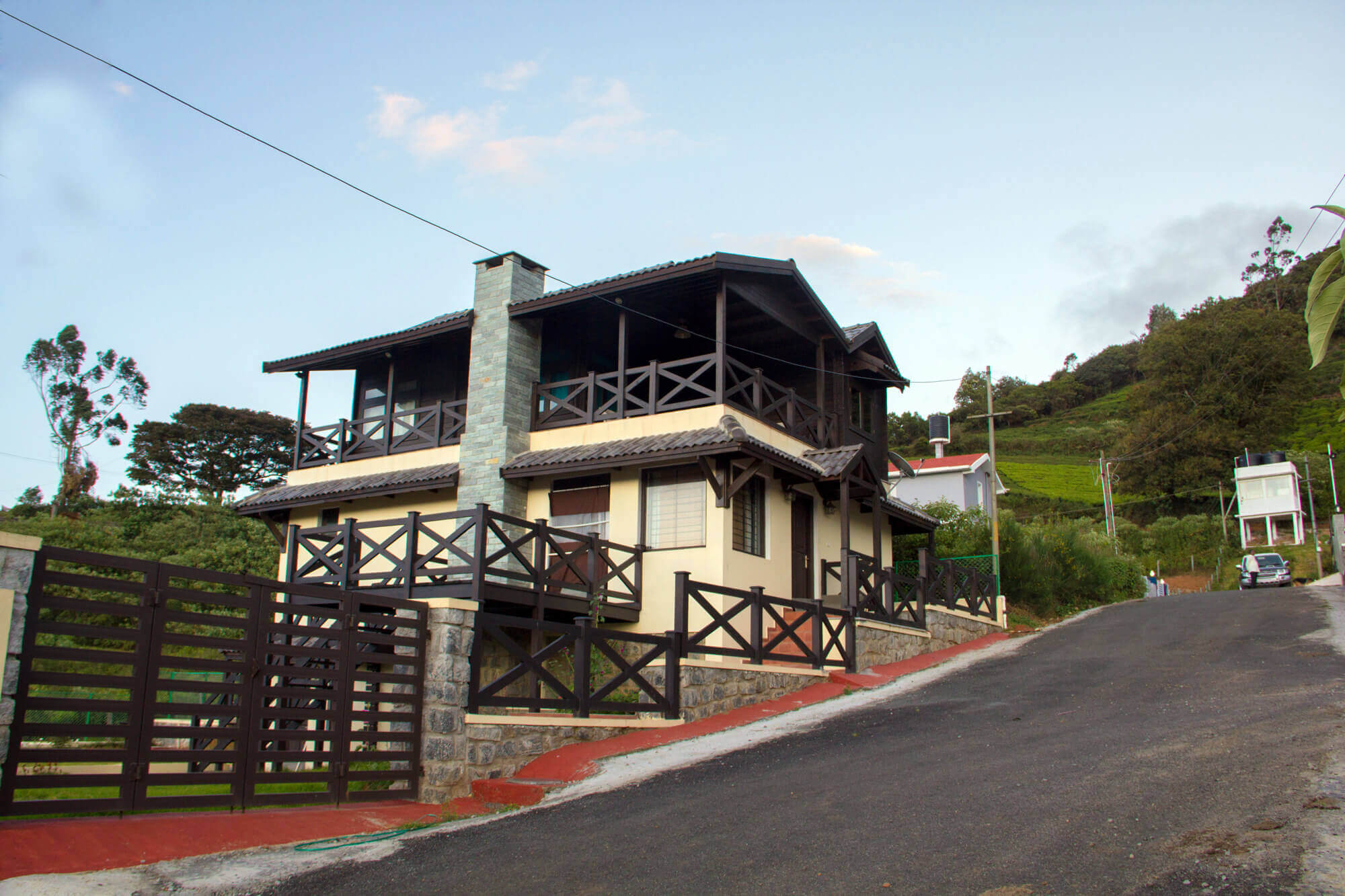 An Exotic Wood House in Phase 1
We Have 6 Model Villa / Cottage Designs to Choose From
Current State & Development Timelines
 – Phase 1 of 8 acres has already been developed with around 8 families having already constructed their dream holiday home and enjoying the lifestyle.
 – The 2nd phase of 5 acres will be developed over 15 months and is now open for bookings at a special pre launch rate of Rs.950/sft. Incase anyone is keen on phase 1, then limited plots are available at Rs.1050 to 1100/sft based on plot location.
 – A boutique resort with 40 rooms and banquet space will be constructed in the balance 3 acres and is targeted to be completed in 3 years.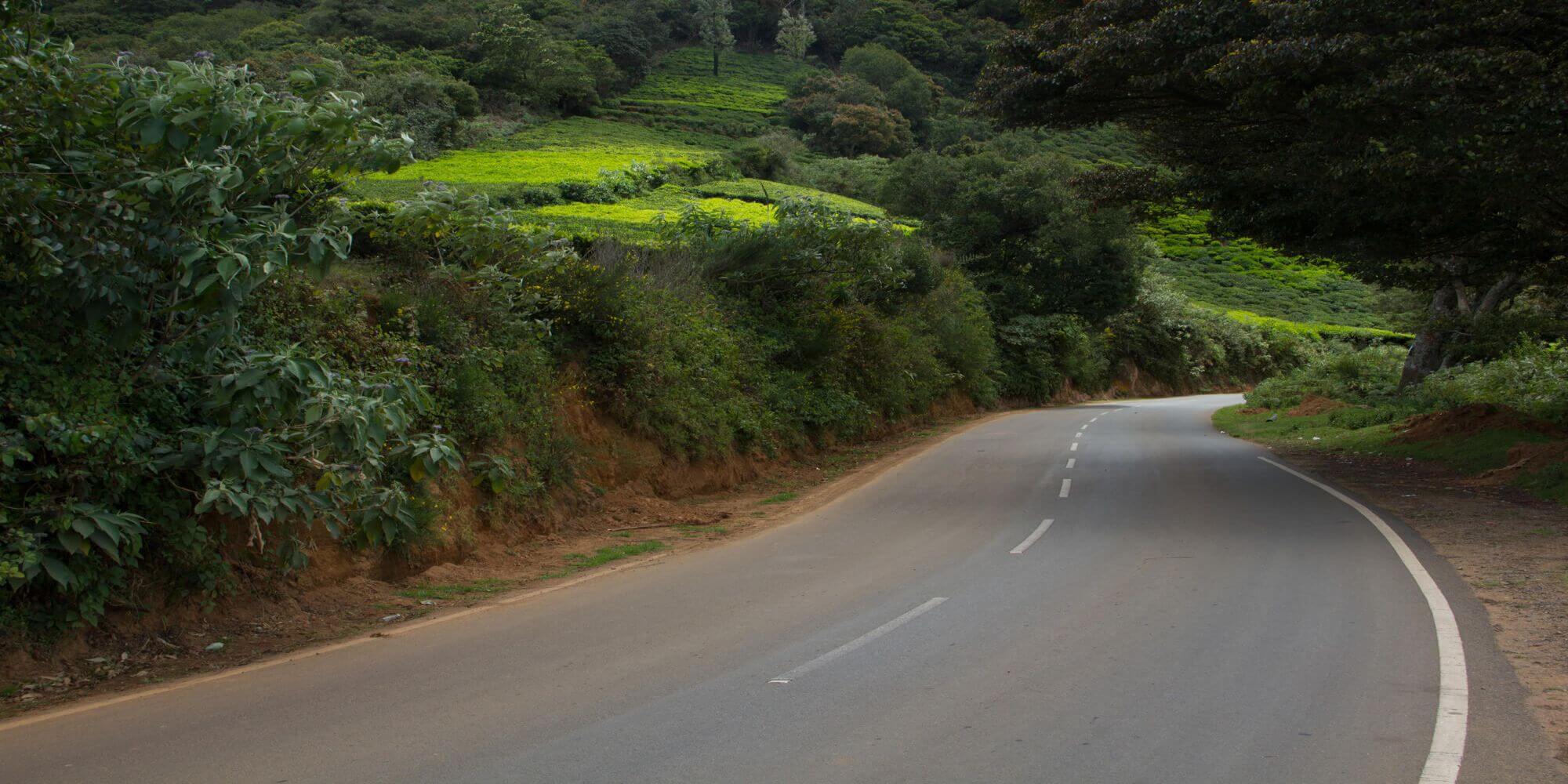 Road from Ooty City Center to Alakananda
40 Feet Wide Double Road with Very Less Traffic
Villa Plots
Alakananda offers plots of 2,100 sft and multiples. Due to the natural downward slope towards the lake, every plot has a direct and expansive view of the Emerald Lake.
Villas & Cottages
While G&C will be responsible for development of the layout and infrastructure, you have the freedom to build your dream home whenever you want and in whatever style you desire (of course, we would like to impose certain restrictions to maintain the serenity of the layout and ambience like allowing only G+1 units, no compound walls, etc).
G&C can also design and construct your house according to your desires, giving you peace of mind and a complete deal of plot + villa. Infact, it will be easier to construct through G&C as we will have the resources on demand and also economies of scale, giving you timely access to the best quality of materials and labor, at reasonable prices.
Below are a few options that can choose from or build upon.
Plot Size – 2100 sft (5 cents)
1 BHK Villa – 750 sft built up area – Rs. 42,26,250 – Special price of Rs.39.75 lakhs in pre launch offer
2 BHK Villa – 1100 sft built up area – Rs.52,67,500 – Special price of Rs.49.75 lakhs in pre launch offer
2 BHK Villa – 1500 sft built up area – Rs.64,57,500 – Special price of Rs.61 lakhs in pre launch offer
Plot Size – 4200 sft (10 cents)
2 BHK Villa – 1700 sft built up area – Rs.90,47,500 and special discount during Pre launch
3 BHK Villa – 2300 sft built up area – Rs.1,08,32,500 and special discount during Pre launch
3 BHK Villa – 2700 sft built up area – Rs.1,20,22,500 and special discount during Pre launch
Bank Loans for Constructing your House are available and can be coordinated by G&C.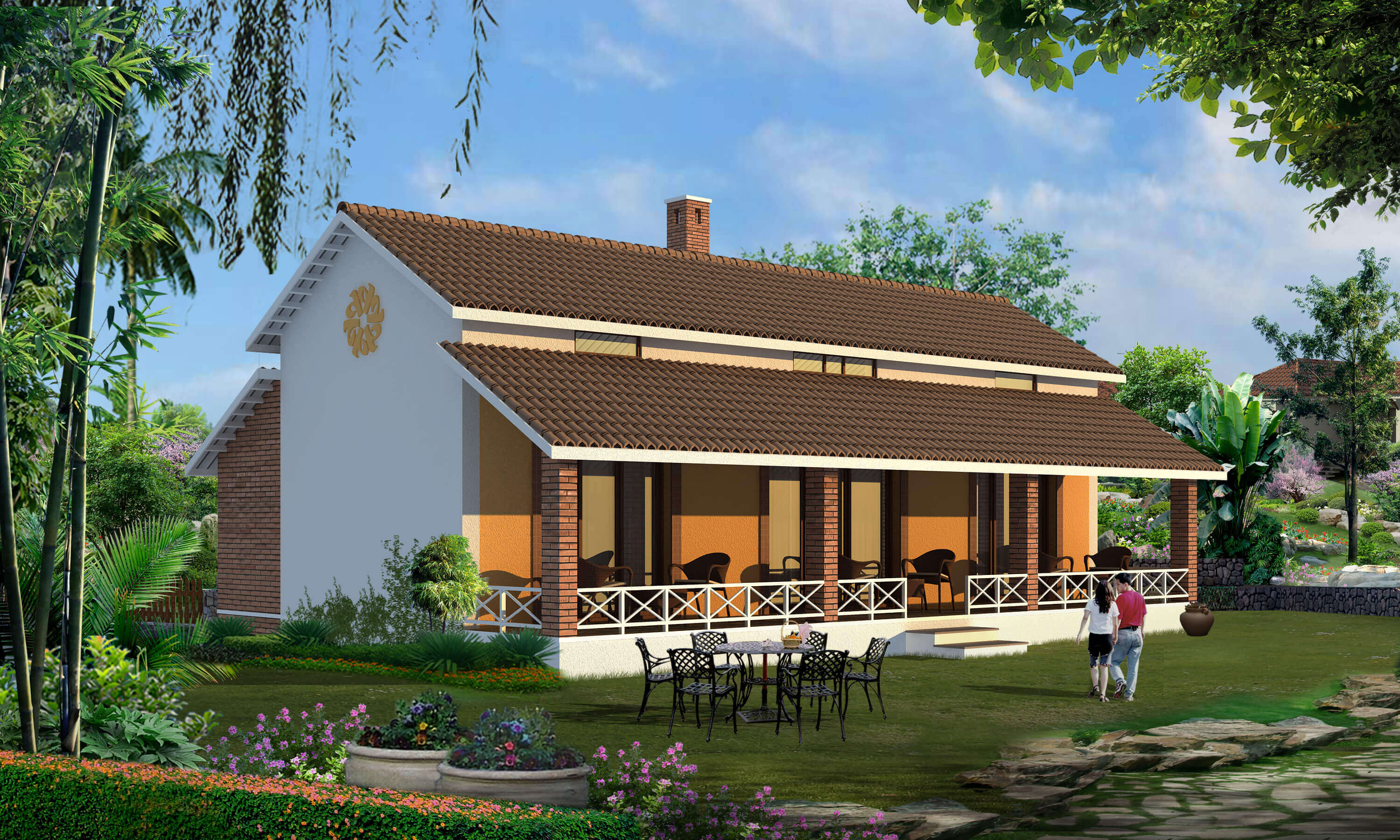 Rendered View of Ethnic 2 BHK Villa
One of the Model Villas offered by G&C and many other ethnic and fusion of ethnic & contemporary designs are available
and can be customised as per client's wishes.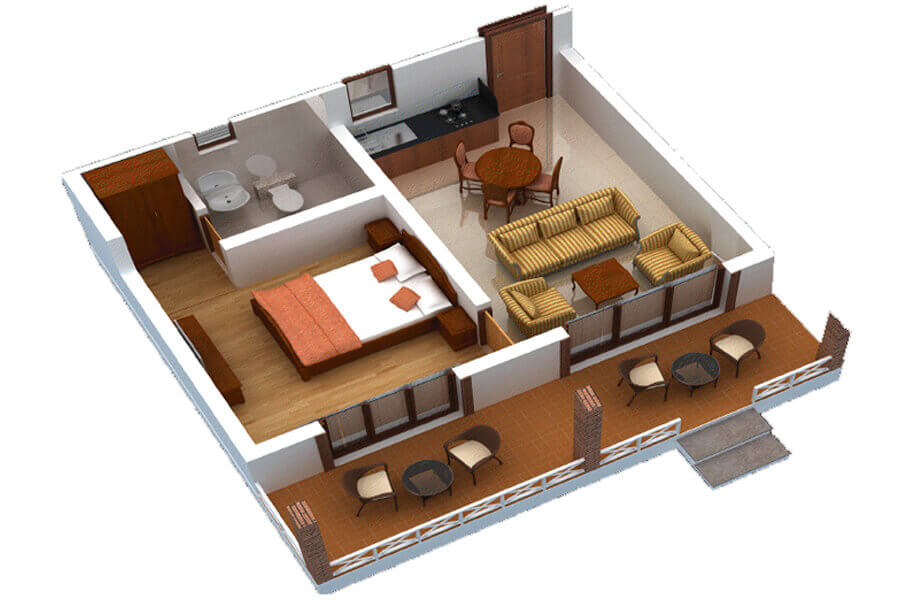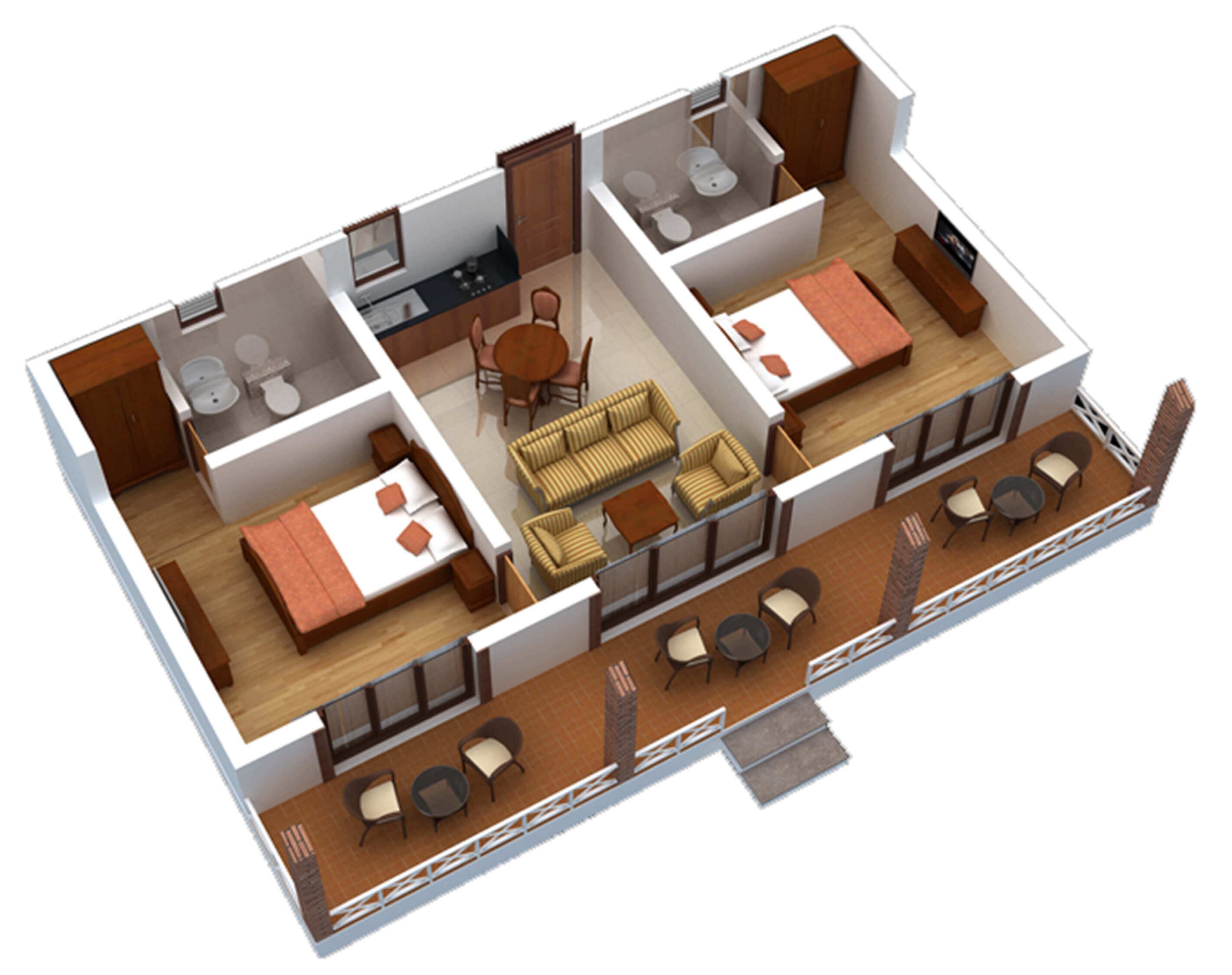 This project is currently being offered under "Pre-Launch" scheme by invitation and until public launch, you may get in touch with either of the below 2 core team members from our Bangalore HQ to know more about this project :
Once limited plots are sold at this special pre-launch price, then besides above team members, our Heads of Business Development of Tamil Nadu, Kerala, Karnataka, AP and few other key states of India will also begin handling enquiries & sales.