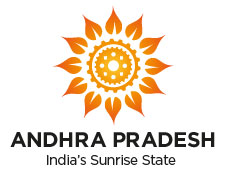 We are delighted to offer you our signature projects of Amaravati – Alakananda RiverFront & Alankrita – both of which are set to become the best ever of their categories near Amaravati / Vijayawada.
Compared to public launch price, you stand to gain almost 20% within a few months of your investment by getting started right NOW and securing the best plots at a special pre-launch price, available only for a limited time.

A Rare 300 Acre Integrated Township
on the Banks of Krishna River

(CRDA/DTCP Approved Villa Plots)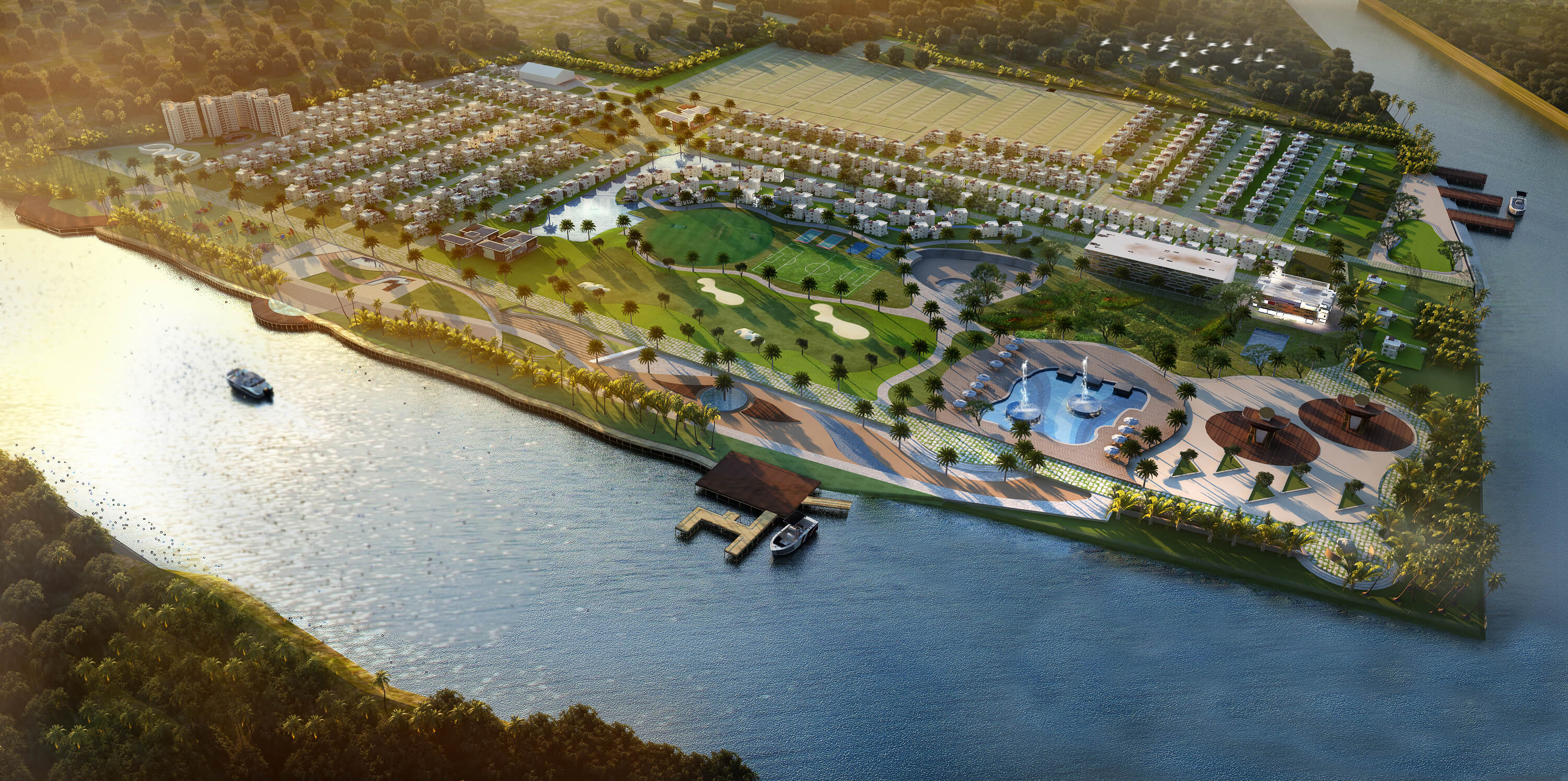 Alakananda is our flagship development in Andhra Pradesh and is designed to become not just the Best Ever of Andhra Pradesh but also the best ever & equally important for residents of Telangana as well, due to its unique features and a once-in-a lifetime location.
Given below are a few important highlights and if you want to skip directly to the special pre-launch price and payment schedule, please click here.
In CRDA Limits & approved by CRDA / DTCP
Alakananda falls under the jurisdiction of CRDA (Capital Region Development Authority of AP) – the apex body that regulates housing projects around Vijayawada & Amaravati – and is approved by DTCP (Director of Town and Country Planning) of AP.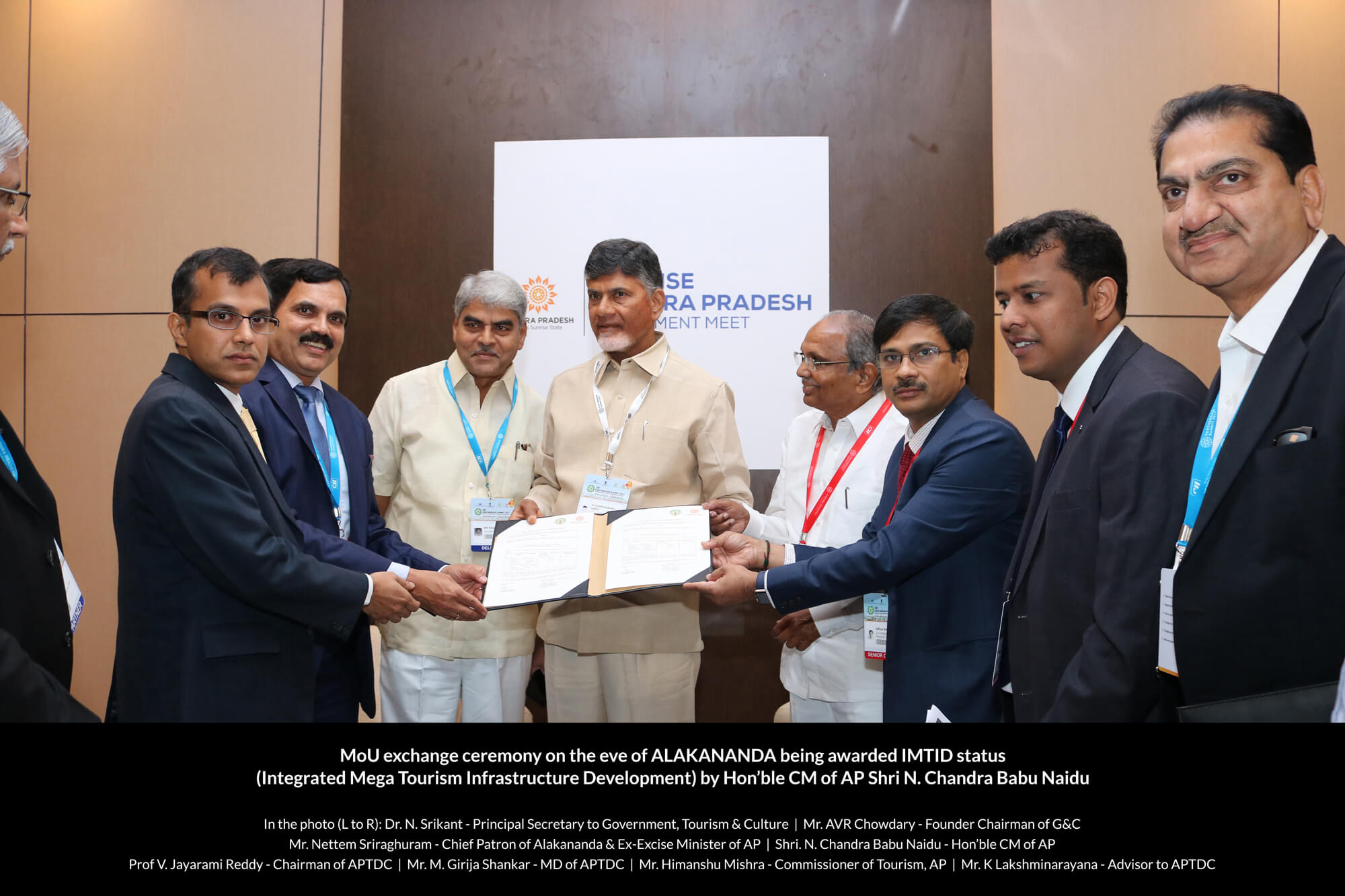 Inland Waterway Passenger & Cargo Cruise Terminal being constructed

right next to Alakananda

+ Krishna Dredging Project
The Inland Waterways Authority of India (IWAI) has awarded contracts & work has begun on dredging the 80 kms segment of Krishna river between Muktyala & Amaravati (part of National Waterway 4) to facilitate transportation of construction material for Amaravati, from Muktyala – a major hub for construction materials.
This project includes construction of 3 permanent terminals + 4 floating jetties to facilitate movement of both passengers and cargo – and one such terminal and jetty is being built right next to our project – Alakananda.
This segment of the river from our project and right upto the Prakasham barrage at Vijayawada will be developed to Class-III navigation standards to accommodate 1000 tonne vessels – each of which can carry the equivalent of 30 lorries of transport capacity – thus tremendously cutting down road traffic + transportation cost & time by over 50%.
Besides serving the construction purposes, this waterway will eventually become a commercial route for shipping industry + also attract tourists / promote tourism once the government introduces cruise ships to pilgrim centres like Durga temple, Ibrahimpatnam, Vedadri and Muktyala.
Once works are completed by end of 2018, this segment will hold water 365 days a year, which means you will enjoy the best ever riverfront ambient lifestyle forever, throughout all seasons of the year.
Therefore with the combined advantage of being the starting point for this waterway as well as access to the bridge network over Krishna river, this region (Muktyala / Jaggayyapeta) will become the gateway to Amaravati.

Aerial Shot of Alakananda (on the right) surrounded by rivers on 2 sides.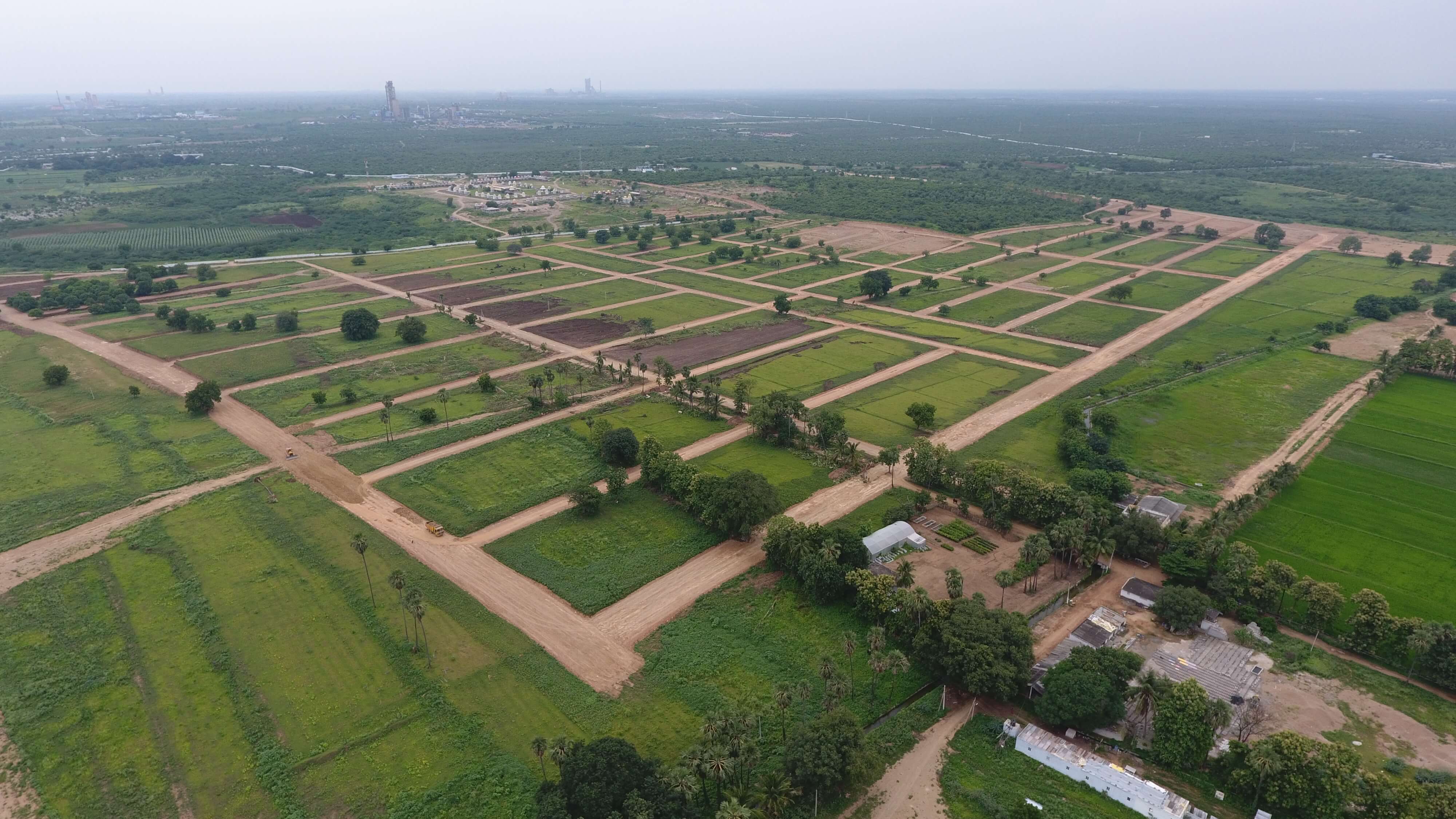 Work in progressing at full speed and what you see above is just 1/3rd of the entire project, with the Koti Lingala Temple in the back.
3
Riverfront Clubhouse & 3 km Frontage on the Krishna River
The centerpiece of Alakananda is a clubhouse overlooking the Krishna river, surrounded by a mini golf course and a 3 km riverfront boulevard & tank bund with luxurious facilities such as Riverfront Bar & Lounge, Riverfront Arcade with Food Carts, Infinity Pool & Bar overlooking the river, serviced hotel apartments, water sports, fishing decks & much more.
4
2000 Seater Convention Center with Guest Rooms
A 2000 seater convention center & banquet hall with guest rooms will host celebrations, destination weddings, corporate events, conventions and social initiatives round the year – but tucked away from residential areas to ensure a calm and peaceful ambiance for residents.
5
Sports & Adventure Academy
Alakananda will have dedicated sports facilities and unique adventure sports, including water sports which are not easy to access otherwise, making it a one of its kind destination for all sports enthusiasts, with resident staff and capability to host large scale tournaments. Some of the unique ones are archery, rock climbing, canoeing, water scooters, parasailing, etc. (subject to feasibility)
6
Senior Citizen Active Living (Riverfront)
Located right next to the world famous SGS Ashram (explained in the next point) and the Koti Lingala Temple (right next door) is the 1st of its kind in Andhra Pradesh – a senior citizen active living homes for people aged 55+, who would like to lead a relaxed life on the riverfront post retirement without having to bother with the routine matters of life.
7
World Famous SGS Ashram on Site
We have donated 2 very prime acres on the riverfront for construction of the world famous SGS Ashram by his holiness Sri Sri Ganapathi Sachchidananda Swamiji, considered one of the greatest spiritual leaders of the present day. He has declared this land "Datta Peetham" and laid the foundation stone during the Krishna Pushkaralu in August 2016 and construction has already begun.
8
50 Acres of Open Green Spaces on the Banks of the River
A massive lung space in the center of the township on the banks of Krishna river will host a range of amenities and spaces including a water park, a mini golf course, a medicinal plant garden with reflexology paths, etc and much more, creating a central social green space for residents.
Outstanding
Location Potential
Located on the banks of the Krishna River, ALAKANANDA boasts of a once in a lifetime location cradled by the Krishna and Paleru rivers on two sides and the famous SGS Ashram and Koti Lingala temples on another side.
With sweeping river views overlooking the historic Vedadri Temple and just 7 kms downstream from the famous Pulichintala Dam, you can expect to be in one of the best locations in the country.
Distance to Major Landmarks :
 – Amaravati : Just 30 minutes by boat (from our boat jetty) and 45 minutes by road to Amaravati through River bridge at Keesara / Kanchikacherla (work about to start)
 – 1 hour to Vijayawada
 – 3 hours to Hyderabad
Exotic Villa Plots & Residences
Alakananda offers villa plots ranging from 266 to 1000 square yards / 2400 to 9000 sft (i.e.1 Sq Yard = 9 Sq Feet), offering you the widest configurations in access, size, views, built up area (1800 to 7000 sft based on plot size), garden space and overall ambiance.
With underground cabling, wide sidewalks, avenue plantation and many more features, Alakananda sets the bar high for residential communities.
While you have flexibility in constructing in accordance with the local statutory regulations, Alakananda will have building codes in place to maintain the serenity and aesthetics of the community, to regulate the styles and colors in construction.
VILLAS – We can also assist you in construction of your villa based on your architect's plan or our architects can also help in the design. The pricing is based on the specifications desired by you.
Pre Launch Offer
to G&C Patrons
All approvals / sanctions are received and after we finish a good amount of basic infrastructure work, we will launch this to public at Rs.7000/Sq Yard or higher.
But right now, few plots are being offered at a special pre-launch offer price of Rs.5950/sq. yard, giving you almost 20% advantage over public launch price within few months of investment.
At this price, a 300 Sq Yard villa plot is just Rs.17.85 lakhs ($27,890) and a 500 Sq Yard plot is just Rs.29.75 Lakhs ($46,480)
(detailed table is shown below for all plot sizes).
*
6 & 12 Months Instalment Scheme
*
You can also opt for a 6 months and 12 months instalment scheme as shown below to make it very easy on your cashflows.
With this, any Telugite can afford to buy this once-in-lifetime pride asset for their family as this CANNOT & WILL NOT be replicated ever again in the near future.
Yards
Immediate Payment
6 Months Scheme
12 Months Scheme

500

Rs.29.75 Lakhs
$46,480
Rs.5.08 Lakhs p.m.
$7950 p.m.
Rs.2.62 Lakhs p.m.
$4100 p.m.

400

Rs.23.80 Lakhs
$37,180
Rs.4.06 Lakhs p.m.
$6350 p.m.
Rs.2.10 Lakhs p.m.
$3280 p.m.

300

Rs.17.85 Lakhs
$27,890
Rs.3.05 Lakhs p.m.
$4760 p.m.
Rs.1.57 Lakhs p.m.
$2460 p.m.

266

Rs.15.82 Lakhs
$24,730
Rs.2.70 Lakhs p.m.
$4220 p.m.
Rs.1.39 Lakhs p.m.
$2180 p.m.
Price Per Plot under Instalment Scheme

Yards

Immediate Payment

6 Months Scheme

12 Months Scheme

@ Rs.5950/Yard

@ Rs.6100/Yard

@ Rs.6300/Yard

500

Rs.29.75 Lakhs / $46,480

Rs.30.50 Lakhs / $47,650

Rs.31.50 Lakhs / $49,200

400

Rs.23.80 Lakhs / $37,180

Rs.24.40 Lakhs / $38,125

Rs.25.20 Lakhs / $39,370

300

Rs.17.85 Lakhs / $27,890

Rs.18.30 Lakhs / $28,590

Rs.18.90 Lakhs / $29,530

266

15.82 Lakhs / $24,730

Rs.16.22 Lakhs / $25,350

Rs.16.75 Lakhs / $26,180
+ GST as applicable as per recent govt norms.
+ North East Corner plots attract premium of Rs.1000/sq yard & other corner plots attract Rs.750/sq yard extra.
+ USD figures have been rounded-off for easy reading, final figures may vary slightly.
EXPECTED ROI : 100%+ in 3 to 4 Years
LIMITED UNITS under PRE-LAUNCH
We have started accepting bookings and since plots are being allotted / sold on a daily basis and good ones tend to get sold out first, we highly recommend you come to a faster decision to block your unit in this once-in-a-lifetime project of Andhra & Telangana.
You need to pay a token amount of just Rs.1.39 lakhs to 2.62 lakhs to block your unit (under the 12 month instalment scheme) and pay the balance over the next 11 months in equal instalments, making it highly affordable and easy on your pocket.
View the Dedicated Project Website
View the Dedicated Project Website
click on the link above to view complete project info including location map, masterplan, feature list, latest developments, other project info and contact details of our team members handling this project.
Click here to view photo album of site works in progress.
CRDA approved 80 acre Gated Community of Villa Plots
near Keesara / Kanchikacherla
15 minutes from Amaravati
Situated in the hottest growth corridor of New Andhra –
The Keesara – Kanchikacherla – Amaravati Belt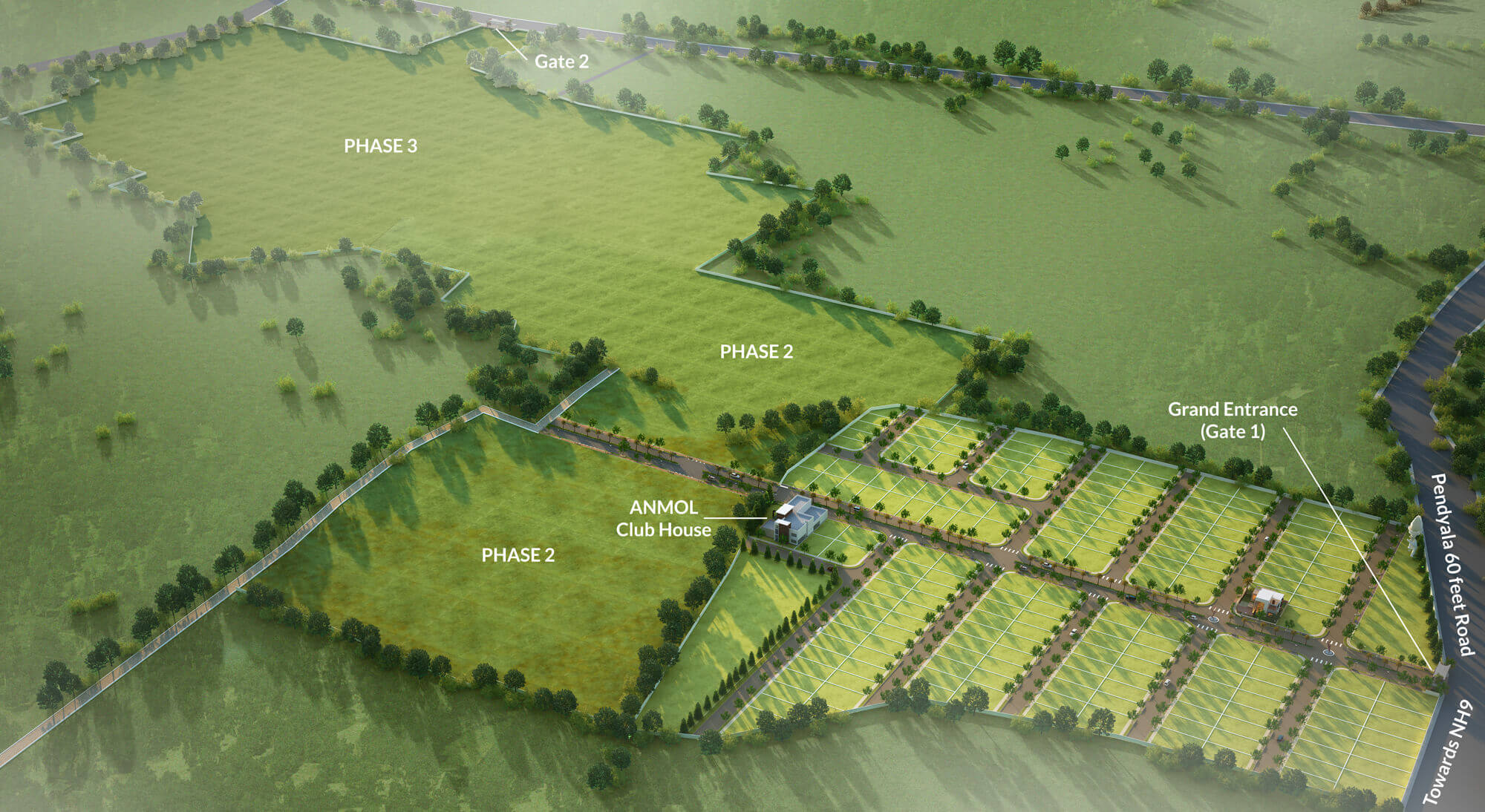 This unique project is set to become a benchmark in its category due to its high end amenities at an affordable price and while bookings started recently at pre-launch price of just Rs.8500/Sq. Yard versus public launch price of Rs.10,500/Sq. Yard in couple of months, we expect values to almost double in just 4 to 5 years.
Given below are a few highlights of the project and you can click on the link further down the article to see the complete offer document :
CRDA approved project and is being developed by our own group company, Sree Vibhava Estates (LP Number 31/2016).


.

Located just 2.9 Kms off the Hyderabad – Vijayawada NH, approx 15 minutes (13 kms) from Amaravati*, 30 minutes from Vijayawada and 2.5 kms from the proposed RADIAL RING ROAD that leads to Amaravati.


.

Masterplan designed by award winning architect from Bangalore – MindsWork Consulting and site works going on at record speed of AP and Phase 1 of 18 acres will be completed in a record 4 months time from today.


.

PLOT SIZES : Ranging from 220 to 400 Sq Yards (approx 1980 to 3600 Sft) and multiples thereof.


.

Starting from just Rs.18.70 Lakhs (basic price), making this one of the most affordable ways to invest in New Andhra's growth story.
While public launch price is fixed at Rs.10,500/Sq. Yard, we are offering few plots to G&C loyal clients and to select new prospective clients at a special price of Rs.8500/sq. Yard, giving you instant gains of 15% on your investment.
 + GST as applicable as per recent govt norms.
+ North East corner plots attract premium of Rs.1000/sq yard & other corner plots attract Rs.750/sq yard extra.

At this price, a 220 Sq Yard / 1980 Sft villa plot is just Rs.18.7 lakhs ($29,700) and a 400 Sq Yard / 3600 Sft plot is just Rs.34 Lakhs ($54,000).
This immediate advantage insulates you from any downward risk which is NIL in anycase, keeping the latest buzz in state about employees of all major government departments shifting almost completely to Amaravati (thus leading to skyrocketing demand for homes in this area) and the next decade long non-stop growth opportunities of New AP.
You can expect to double your investment / earn close to 100% ROI in just 3 to 4 years time.
For your idea, routine projects in this area are CURRENTLY being quoted for not less than Rs.11,000 /sq. Yard, hence even on the most conservative basis, prices will easily and comfortably reach or exceed Rs.15,000/Sq Yard in 3 to 4 years from now.
View the Complete Offer Document
View the Complete Offer Document
Conclusion

+ Contact Details
Amaravati will outperform all other markets in the long run as it is the largest virgin market in India, being built from the ground up to the very best of global standards.
We hope to have you as an important part of G&C's renewed growth story over the next 5 to 10 years and strongly encourage you to get started today, even if it means in a small way.
You can reach the following core team members if you need more info or would like to talk to us over phone :
 – In India : Jhashank Chowdary : +91 9900123737 / jhashank@gcglobal.in
 – In USA : Divyendhu Chowdary : +1 845 248 0012 / adrc@gcglobal.in
Learn more about Alakananda
Learn more about Alakananda
Learn more about Alankrita
Learn more about Alankrita