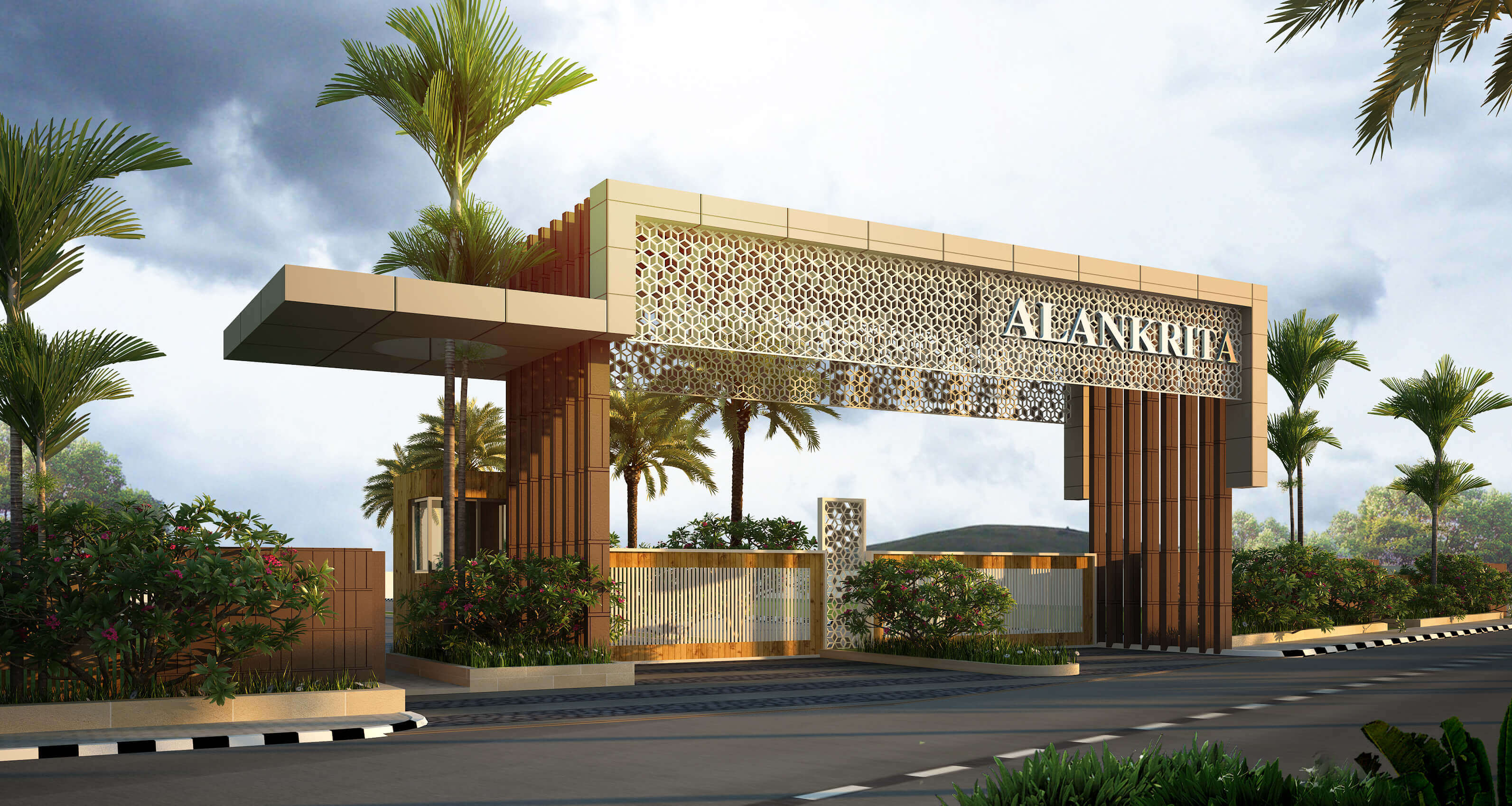 An 80 Acre Gated Community of Villa Plots
near Kanchikacherla
Just 15 minutes from Amaravati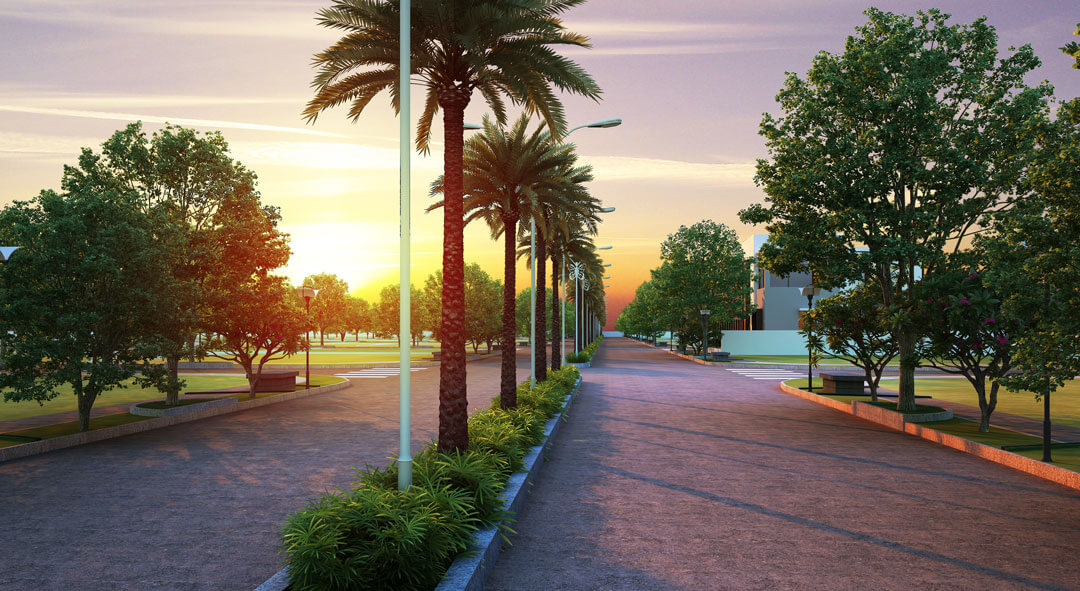 60 Feet Wide Main Road with Avenue Plantations
G&C is proud to announce an outstanding villa plot development near Kanchikacherla, Vijayawada, within CRDA limits, being developed by its own group company Sree Vibhava Estates floated for executing signature developments in and around Amaravati.
Site works going on at record speed of AP.
Please scroll down to see site progress photos.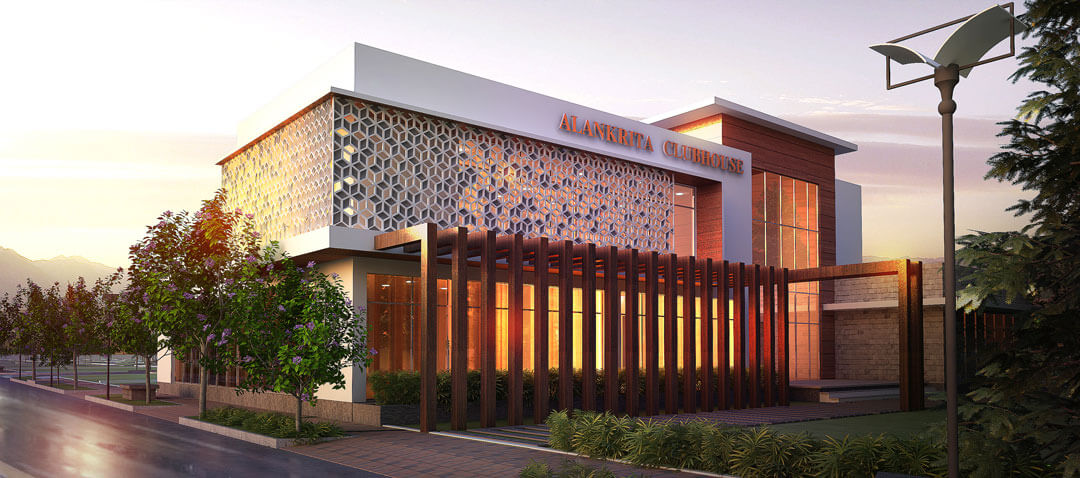 This project will be launched to public in July 2016 at Rs.10,500 to Rs.10,900/sq. yard plus and as per our market survey, it will appreciate to as much as Rs.15,000/sq. yard plus within 1.5 to 2 years.


.

Early movers can get the best plots of the complex and better price if you make your decision in the next few days.


.

To know more, please contact us via details given at the end of this page.

Unique Location
While we would like to keep the location confidential due to market sensitivity, for the benefit of G&C patrons – it is 3 kms after KANCHIKACHERLA (towards Hyderabad) and 2.9 kms off NH9 (towards the Krishna river).
Hyderabad – Vijayawada NH is just 2.9 kms from this gated community on a brand new 60 feet wide cement / bitumen road and from here, it will take you just 15 minutes to reach Amaravati* and 30 minutes to reach Vijayawada.


.

This project is just 13 kms from Amaravati and the rear side of the project is about 2 kms from the proposed RADIAL RING ROAD (this project is the cl

osest one of its size to the

planned 200 feet wide Radial Ring Road which has already been

notified by AP Govt. in the latest master plan which is irreversible. Infact, this road will be

one of

the 1st one

s

to be constructed due to urgency of access to Amaravati).


.

Alankrita is just 8 km from the proposed river bridge which will infact be the 1st to be constructed among all proposed bridges that will connect Krishna District with Guntur District, which again makes this location of high strategic importance as all future traffic between the old and new capitals (i.e. Amaravati and Hyderabad) will flow via this route. Infact, this location will be the 1st exit point for anybody travelling from Hyderabad to Amaravati (they will no longer has to go via Vijayawada once these bridges are up).


.

Incidentally, this location also happens to fall before the toll gate on NH (when travelling from Hyderabad towards Vijayawada) which will make all traffic from Hyderabad take a detour to go to Amaravati via this gated community to avoid toll paying the toll – this will lead to further appreciation of property prices in this area.


.

Due to their proximity to Amaravati through the Radial Ring Road and proposed bridge, Kanchikacharla and Nandigama stretch (the area surrounding this project) will see mushrooming of numerous residential colonies and are set to become highly sought after localities in the next few years.


.

This gated community of villa plots is located close to

the proposed International Cricket Stadium and Convention Center,

the proposed 

Pharma Hub

multiple tourism destinations declared by AP Govt in the Singapore master plan, and 

5 prominent engineering colleges and international schools.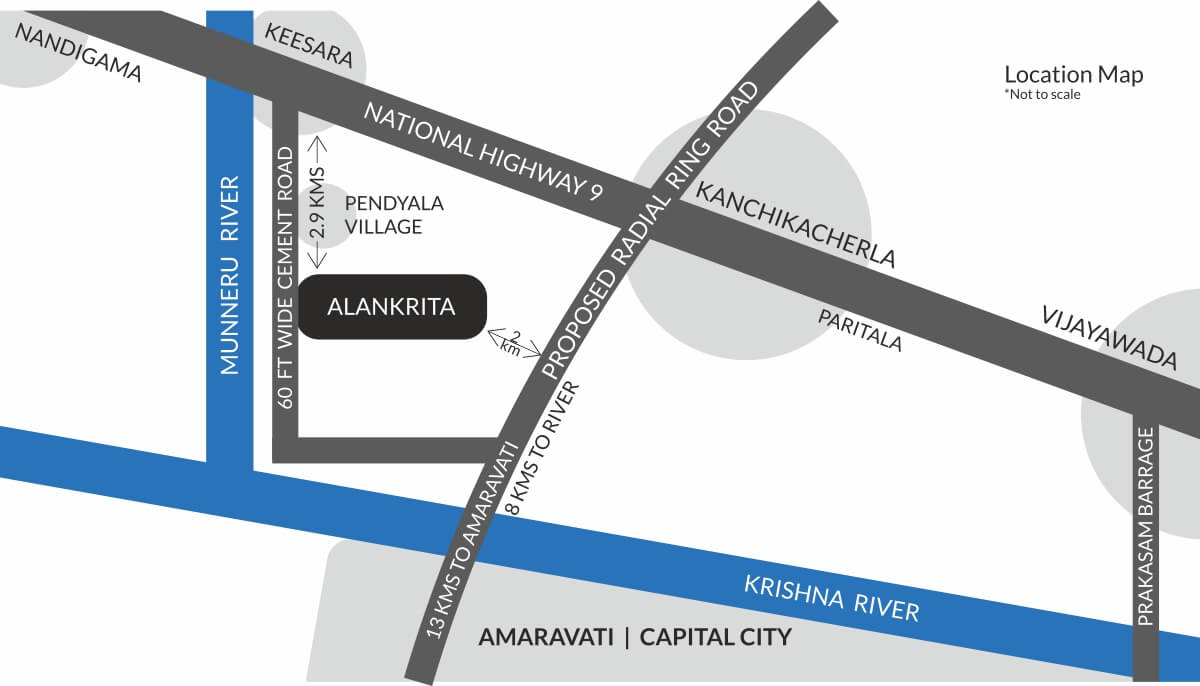 MODEL VILLA @ Alankrita (Style 1) – Designed by Award Winning Architects MindsWork from Bangalore

Project Highlights
With a total of 80 acres, this gated community is the largest of its kind in this area.


.

The clubhouse is a 1st of its kind in this region and comes with all modern amenities and Outdoor & Indoor Sports Facilities such as cricket net practice and much more.


.

Unique Grand Entrance Arch and 60 Feet wide Main Road at the heart of the layout with butterfly electrical poles (whereas most other layouts have ugly cement poles).


.

40 feet Internal Roads with Underground Electrical Cable and Drainage (just for your idea, no developer in Krishna district or in most other districts of Andhra has done underground electrical cable works along with safe covered drainage as this significantly increases the cost of development. But at G&C and Sree Vibhava, we believe in customer delight and are committed to executing only signature projects as a part of our contribution to building a great capital – Amaravati and hence incorporates all modern amenities that you would expect from a top developer).


.

In-House Mineral Water Plant to ensure supply of purified drinking water to houses within this gated community on a no-loss no-profit basis.


.

Sewage Treatment Plant (STP) – To be responsible for pollution free facilities for residents although this increases the cost to the developer.


.

24 Hour Security Services with a compound wall along with boundary plantation.


.

Free Maintenance for 2 years and thereafter will be passed onto the residents' association and will be facilitated by promoters.


.

Rain Water Harvesting


.

High Density Avenue Plantation with Exotic Trees : Special emphasis given to select different kinds of flowering plants / colored leaf trees to give each street a unique character / look and feel.


.

Villas designed by award winning architect from Bangalore – Mindswork, who agreed to provide few designs for us to offer villas to interested investors on a built to suit basis.


.

Multiple park zones spread over phases with Childrens' Play Areas, Mini Jogging Track, Meditation zone and Water bodies


.

Mini Skill Development Center cum Social Service Club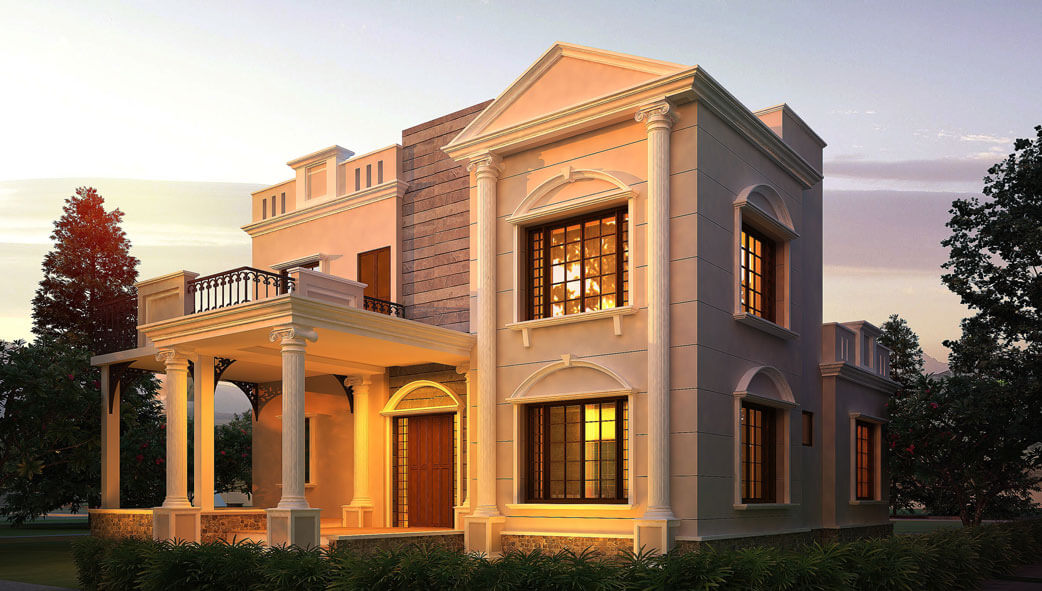 MODEL VILLA @ Alankrita (Style 2) – Designed by Award Winning Architects MindsWork from Bangalore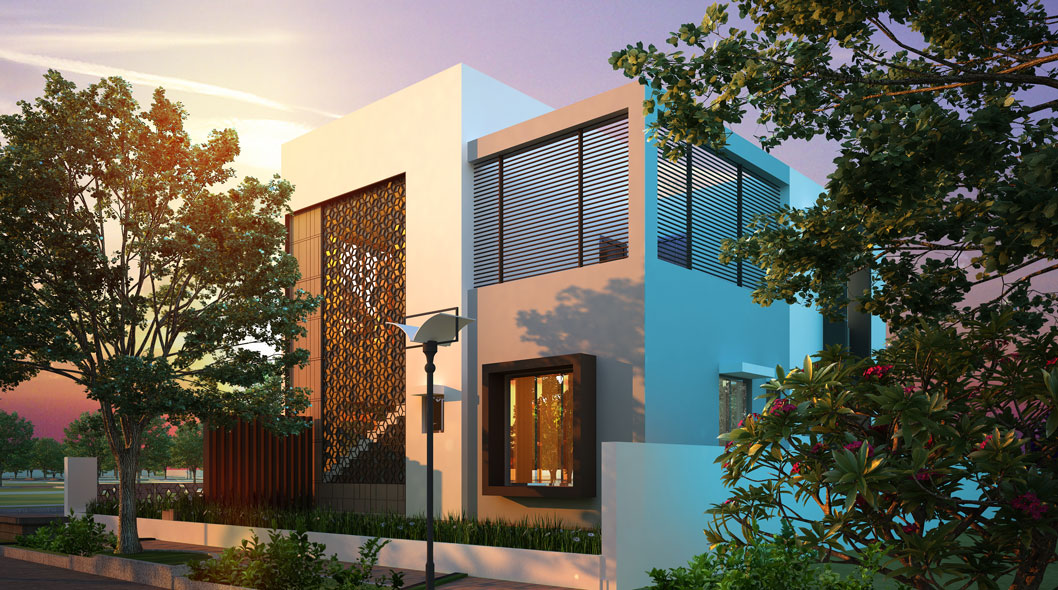 MODEL VILLA @ Alankrita (Style 3) – Designed by Award Winning Architects MindsWork from Bangalore

Plot Sizes & Payment Schedule
PLOT SIZES

200 Sq Yards

220 Sq Yards

260 Sq Yards

330 Sq Yards

400 Sq Yards


You can purchase in multiples / combination of above sizes.

PAYMENT SCHEDULE
75% payable on the spot and balance 25% payable at the time of registration, which will be 

at the time of public launch in July 2016.
The best option is to buy 4 plots of 200 to 260 sq yards as you can then make 2 plots free by reselling other 2 plots after 2 years, by which time they are expected to double in value.

Launch & Completion
The launch will be in phases, with the 1st phase comprising 18 acres.

However, entire 80 acres are already in the developer's possession and have already been converted for residential use.

Phase 1 of 18 acres will be completed within record 4 to 6 months as work at the site is going on aggressively.

For the balance phases, completion of basic infrastructure along with landscaping will be in 2 years time.

Current Project Status
Site Progress Photos
For Bookings & Enquiries, please contact :
Ravikumar K
GM – Business Development
M: +91 81428 94455
E: ravikumar@gcglobal.in
Based at Vijayawada
G&C Global Consortium
Next to Ramalayam,
Gollapudi – Vijayawada Bypass Road,
Vijayawada – 520012