Affordably Priced
Premium Apartments


in the heart of Gachibowli



  Priced 21% LOWER  
than neighbouring properties!
Next to Rolling Hills Villas, opposite Ramky CEO Enclave
& walking distance to Meenakshi Trident Towers & Ramky Towers
Hitech City Phase 2, Gachibowli
Construction 70% Complete  /  Handover by December 2018
Starting @
2 BHK : Rs.65 Lakhs  /  2.5 BHK : Rs.70 Lakhs  /  3 BHK : Rs.88 Lakhs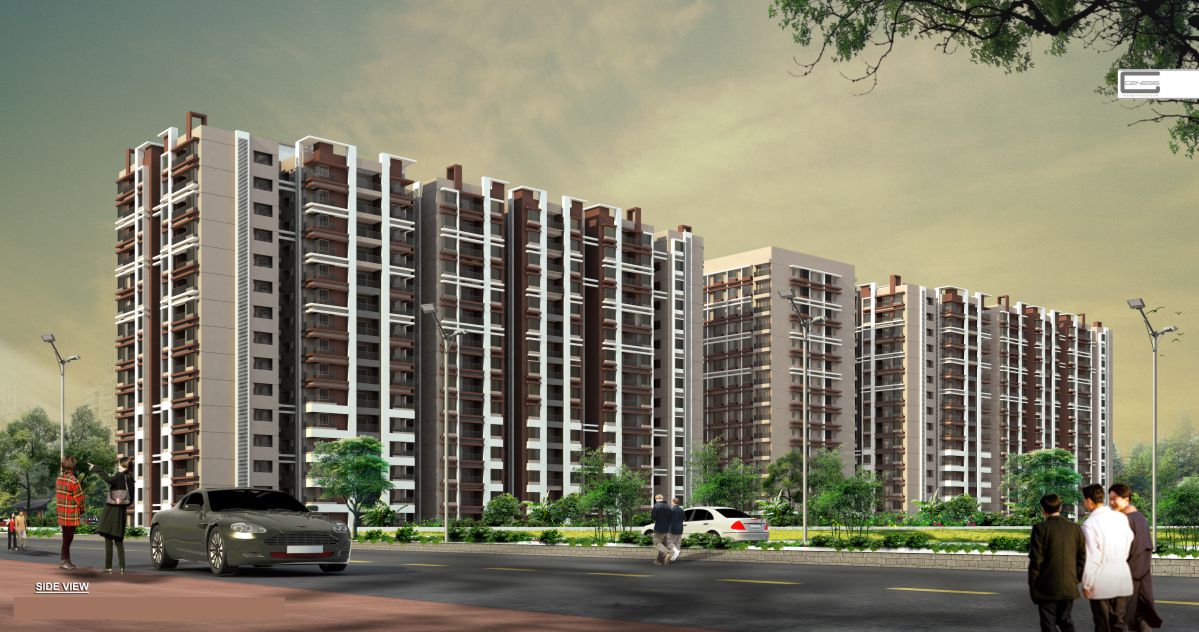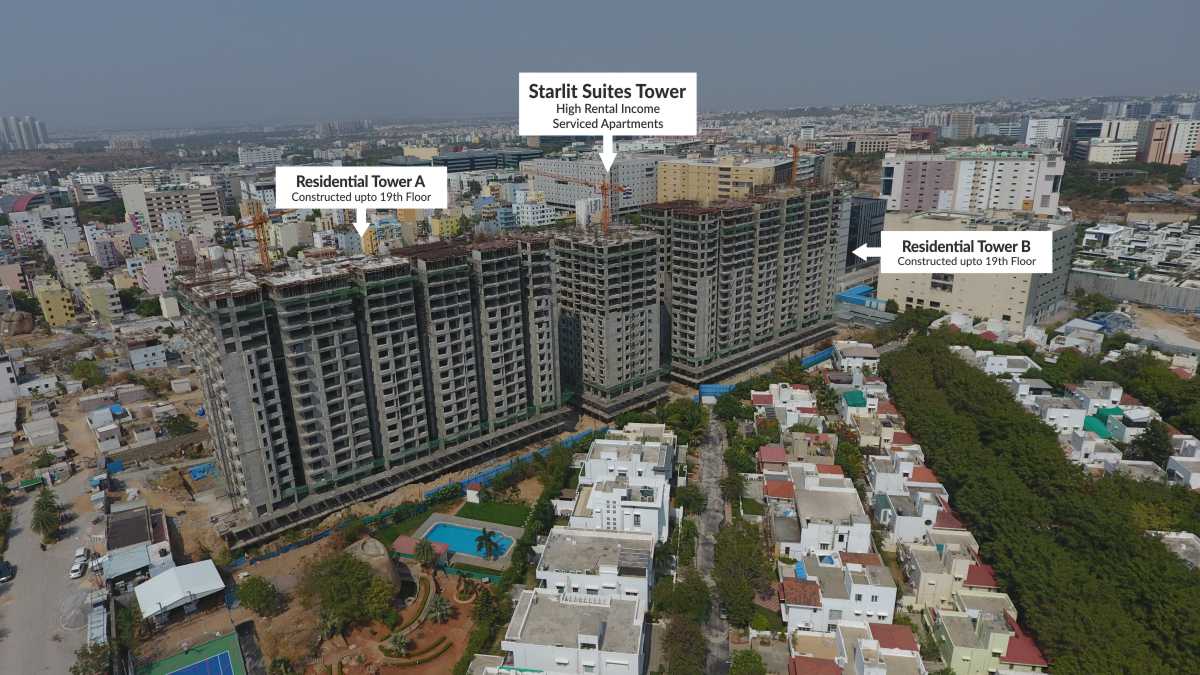 Actual Photo Shot at Site on 1st May 2017
While above photo shows only 14 floors, the building is now finished upto 19th floor.
Size of Project
2 Buildings with 480 units
Built on 4 Acres
Number of Floors
Double Basement + Ground
+ 19 Liveable Floors
Size & Type of Units
2BHK (990 Sft); 2.5BHK (1120 Sft) & 3BHK (1400 & 1435 Sft)
Approvals
GHMC Approved
All sanctions Received
Completion Date
December 2018
Work is 70% Complete
Price Range
Rs.65 lakhs for 2 BHK
Rs.88 Lakhs for 3 BHK
In the hottest growth corridor of Hyderabad and priced at an unbelievable Rs.5300/Sft – which is 21% lower than comparable apartments in the area.
Located in the heart of Gachibowli and amidst some of Hyderabad's most premier corporate / MNC tenants and IT Parks, this premium 20 storied apartment tower is the MOST AFFORDABLY PRICED project in the entire locality.
While apartments right next to this project are selling at a minimum of Rs.6500 or higher, you can get these at almost 21% lesser – making these an incredible value for money option and the ONLY such reasonably priced option for luxury apartments in Gachibowli.
Consisting of two 20 storied towers (with a 3rd tower dedicated for high monthly rental income generating Serviced apartments – in which you too can invest), this project is 70% complete and will be handed over for occupation by December 2018.
This will be one of the tallest residential project of Hyderabad and situated very close to some of the world's biggest and most reputed multinational corporations like Microsoft, IBM, Dell, Deloitte, CA, Wipro, Deloitte, GE, Polaris, Cap Gemini, Cognizant, TCS, Nvidia, CMC, Sierra Atlantic, Infotech, Honeywell, Virtusa, and HSBC within a 3 to 5 km radius.
You will be just 1 Km away from the 200 ft wide 8 lane Nehru Outer Ring Road that connects to the International Airport – which takes just 25 minutes from this project – and you can reach any part of Hitech City, Banjara Hills & Jubilee Hills in just 15 to 30 minutes or less.
Other major landmarks nearby are :
15 minutes drive to one of India's biggest convention centres – HITEX (located on a 50 acre campus with a 7 star hotel, International Crafts Bazar and International auditorium, Shilparam).


.

Towards the North of this project : M.M.T.S. Stations ( Hi-Tech, Hafeezpet and Fatehnagar), J.N.T. University, B.H.E.L., etc.


.

Towards the South of this project : ORR, Shamshabad Airport, Narsingi, Manikonda, Vikarabad road, Gandipet Road, etc.


.

Towards the East of this project : Meenakshi IT Office and Residential Project, Mind Space, InOrbit Mall, Gachibowli Road, Mehdipatnam, Secunderabad, Jubilee Hills, Banjara Hills, etc.


.

Towards the West of this project : IT Companies, Financial District, ORR, Old Bombay Pune Highway, Botanical Gardens, Central University, etc.
The developer is one of the largest reality and infrastructure major, who has already done projects in Mumbai, Bangalore, etc. with over 60 years of experience and order book exceeding Rs.12,000 crores across India and abroad.
We are thus proud to bring you this rare and low capital investment opportunity where you can be rest assured of atleast 20% to 30% capital appreciation over the next 3 to 4 years.
A a very rare opportunity to acquire branded premium apartments at such an affordable price!
Exploding Growth Zone of Hyderabad's Real Estate
Some of the world's biggest and most reputed multinational corporations like Microsoft, IBM, Dell, Deloitte, CA, Wipro, Deloitte, GE, Polaris, Cap Gemini, Cognizant, TCS, Nvidia, CMC, Sierra Atlantic, Infotech, Honeywell, Virtusa, and HSBC have their operations within a radius of 5 kilometers.




.

The world-renowned Indian School of Business and other nationally famous universities / colleges and international schools are within a 2 to 5 Kms radius.




.

This project is also close to numerous premium shopping malls, restaurants, and super-specialty hospitals.
Major Landmarks

& their Distances
Corporates & MNCs
Deloitte & HCL – Walkable

CapGemini & Cognizant – 1.6 Km

Raheja Mindspace IT Park – 2 Kms

CyberPearl IT Park – 2.2 Kms

Amazon Dev Center – 2.5 Kms

TCS & Accenture – 2.6 Km

Tech Mahindra & Dell – 2.8 Kms

Facebook India HQ – 3.2 Kms

Google India HQ – 3.8 Kms

Microsoft & Infosys – 6 Kms

Financial District – 7.8 Kms
Colleges & Universities
Phoenix Greens International School – 3.7 Km

Chirec Public School – 3.8 Km

Delhi Public School -4.2 Km

Oakridge International School – 5 Km

The Gaudium School (IB) – 5.3 Kms

The Future Kids School – 6.5 Km

Bharatiya Vidya Bhavan School – 12 Km
Colleges & Universities
Indian School of Business – 4 Kms

International Institute of Information Technology – 3.7 Km

Hyderabad Central University – 5 Km

Narayanamma Engineering College – 6.9 Km

Maulana Azad National Urdu University – 4.1 Km

Vasavi Engineering College – 11Km
Hospitals & Medical Facilities
Care Hospitals – 3.4 Km

Image Hospitals – 5.3 Km

Continental Hospitals – 6.5 Km

Apollo Hospitals – 8.4 Km
Entertainment Destinations
Inorbit Mall – 3.2 Kms

Botanical Gardens – 2.2 Kms

Shilparamam Food Courts – 5 Kms

EMMAR Golf Course – 2.9 Km

Jubilee Hills Road 36 – 8 Kms
Standout 1st of its kind
Features & Amenities
Apart from the usual list of amenities provided by top builders nowadays, this project will have SMART FEATURES never seen before in this price bracket, such as :
Designer Entrance and Lift lobby


An architecturally magnificent entrance to the main building with a huge lift in main lobby for an elegant arrival experience with landscaped forecourts and water bodies.


.

Concierge with Intercom Facility


To meet and greet your visitors while they wait for you.


.

Luggage Carts (like in hotels!)


Convenience just like in airports to serve as a retrieval system for your luggage, bags, boxes, oversized items, etc.


..

Valet Parking : A first of it's kind in Hyderabad


For those who would like to save even on parking time!


.

100% Vastu Complaint


Although it's nearly impossible to ensure that an apartment project is 100% vastu-compliant, this developer has achieved 100% vastu-compliance through perfect placement of bedrooms, kitchen, and other important areas.


.

Balcony & Utility Areas Extras


Elegant railings with integrated clothes drying facility and s

eparate Utility / Dry yard with active ventilation in each apartment. 

Balconies and terraces also come with anti-skid ceramic flooring and railing are designed as per safety norms – thus ensuring complete safety even during rain.


.

Power Back-Up


100% power backup for common amenities + Power back up for each apartment for upto 1KVA – Enough for normal usage such as lights and fans, TVs, Computer/internet, phones, etc.


.

4 high-speed guest elevators + 2 Dedicated Service elevators for EACH tower ensure lesser time spent in travelling.


.

100% Covered Parking


This is among the few projects in Hyderabad that will have 100% covered parking as generally such apartment complexes have a mix of open and covered car parking.
Home Loans Pre-Approved By
HDFC

Axis Bank

State Bank of India

LIC Housing Finance Ltd

and many more…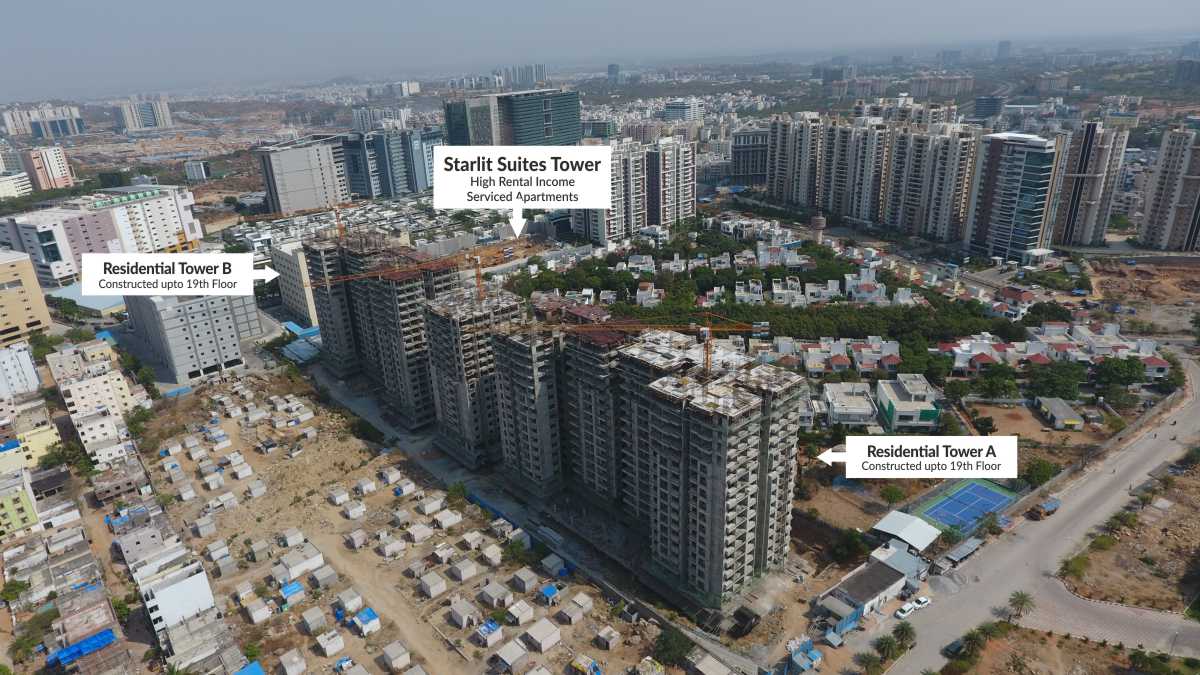 Actual Photo Shot at Site on 1st May 2017
While above photo shows only 14 floors, the building is now finished upto 19th floor.
Builder Profile & Track Record
This developer is among the world's largest infrastructure development companies with an order book of over Rs.9000 crores across the globe. They have a highly accomplished and successful track record in heavy engineering and construction projects spanning 6 decades.


.

With more than 78 dams globally, 40 hydro power projects, 33 micro tunneling projects covering more over 175 kms, and an annual turnover of over Rs.2500 crores, this developer is extending it's foray into residential spaces backed by sound technology and profound knowledge & experience of the real estate needs of each region in India.


.

While they have already done signature projects in Mumbai, this flagship project in Gachibowli is going to be the 1st of its kind.
Current Status
Shot on 4th September 2017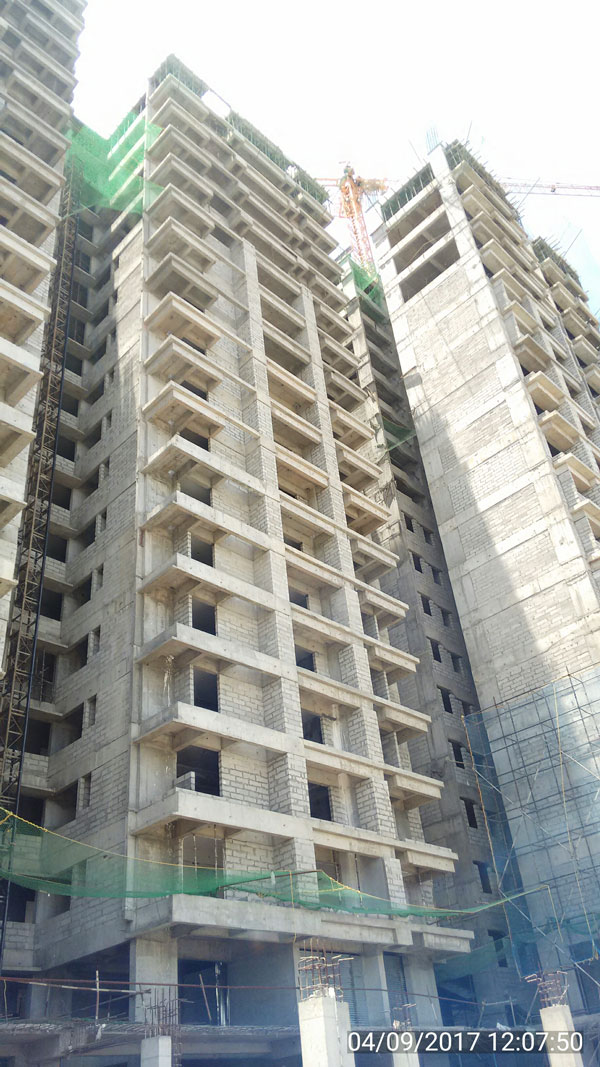 Contact Us to Know More
For more info, price quotes & booking, please call our below team members :
Invest in this unique apartment complex of Hyderabad and
earn 20% to 30% ROI in 3 to 4 years time!