High Monthly Rental Income Generating Hotel Apartments at
SHIRDI
Earn Rental Income of Rs.40,000 to 55,000 per month

by

investing in Serviced Hotel Apartments in Shirdi
This serviced hotel apartment asset gives you rental income of Rs.40,000 to 55,000 per month on an investment of just Rs.43 & 62 lakhs payable over 6 months.
By Invitation & Exclusively for G&C's Patrons Only
4x Greater Rental Income
than Normal Apartments
Exploding Demand for
Hotel Apartments in India
Managed by India's Leading
Hotel Apartment Operator
Already Operating @
Bangalore & Cochin
Home Loans Available
from Leading Banks
Huge Tax Savings (80C & 24)
Upto Rs.3,50,000 p.a.
Enjoy FREE Stays Every Year
7 Free Days across India
Zero Maintenance Asset
with 20 Year Lease
Outstanding Location
Just 10 Mins to Sai Ashram
Construction is

85% Complete
Project is on Schedule – Expected to Become Operational by November 2017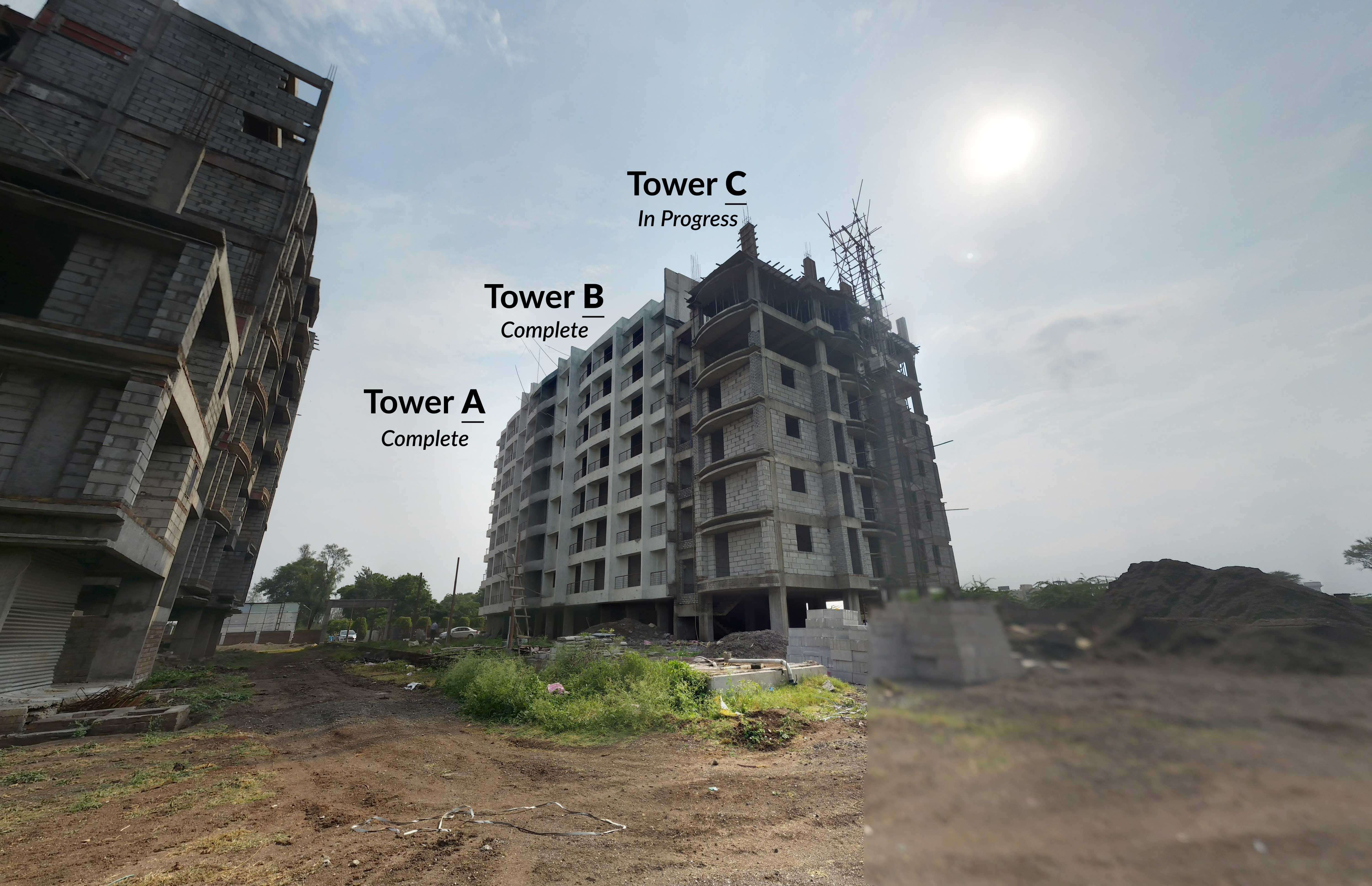 For your quick reference, this entire offer document is organised in the below manner :
What is Starlit Suites / Serviced Hotel Apartment concept?
Why Should I Invest in Serviced Hotel Apartments ?
How does this asset generate high monthly rental income?
What are the biggest benefits of this investment?

What makes this income so predictable & stable?

How much demand do such serviced hotel apartments have?

Starlit Suites – Operator Profile

What are my exit options from this investment & how easy is it to exit?

How this asset becomes free in 8 Years if you invest using a Home Loan

Who can benefit from investing in these hotel apartments by Starlit Suites?

Where is this coming up in Shirdi? What are the advantages of the location?

Builder Profile and Background

Financials – Returns Matrix, Payment Schedule, Booking Amounts & Home Loans

Documentation Involved & Booking Process

Contact Details of Our Team Members for Further Info or Bookings
Earn Rs.40,000 to Rs.55,000 per month
on an Investment of Rs.43 & 62 lakhs paid in 6 months.
What is Starlit Suites / Serviced Hotel Apartment Concept?
Starlit Suites is a leading 3 star serviced hotel apartment operator of India and by investing in their hotel apartments at Shirdi and other major cities, you can earn highest monthly income of Rs.40,000 to 55,000 per month on lowest investment of just Rs.43 & 62 lakhs payable in instalments spread over 6 months.
You invest in an fully furnished, fully air-conditioned and fully serviced hotel apartment that will be built to the standards of a 3 star hotel, which is then managed on your behalf by Starlit Suites Group and marketed to the leading Indian corporates and MNCs in India as a 3 star corporate serviced hotel apartment.
The total revenue generated by the entire tower is then shared in a 50:50 ratio between you (the investor/owner) and Starlit Suites (the operator), giving you rental yield of 10% to 12% in the beginning which is 4 times greater than rental income from normal apartments or villas.
The operator Starlit Suites is currently managing hotel apartments in 4 locations in India (Delhi, Pune, Bangalore and Cochin) and work is in progress at few other key locations (Hyderabad, Tirupati, Pune, Trivandrum, Shirdi, Amritsar and Varanasi to name a few). They have also shortlisted 20 other high potential cities across India and abroad and are in constant negotiations with G&C or otherwise to finalize such signature hotel apartment towers.
Continue reading to learn more and please DO NOT MISS to view the "ANNEXURE" section at the end of this offer document for exhaustive information on income projections, payment schedule, location map, floor plans and much more.
Located just 10 Minutes from Sai Ashram, Shirdi

Starlit Suites Shirdi is located right next to Shirdi Railway Station (Sainagar) and is 10 minutes walking distance to the Ashram.
Why should I invest in Serviced Hotel Apartments?
So far, the only way most of us could earn regular monthly income was to purchase an apartment, villa or shop space and rent it out.
But through these traditional assets, you cannot earn more than 2% to 3% ROI per annum (maybe 5% to 7% in case of shop or office space).
After you back out income tax and inflation, you end up with almost NEGLIGIBLE or in most cases, NEGATIVE INCOME – i.e. you lose money every year, making such assets a very unproductive and dead investment.
To add to the pain, you also have to go through the trouble of finding a tenant, negotiating rents, maintaining the property, collection of rents on time, loss of income when property goes unoccupied, etc. to name a few, all of which make such investments a very inefficient and bothersome way of earning regular monthly income.
Of course some classy commercial assets may give you 8% to 10% ROI p.a. if you are lucky to find such an asset but even in such a case, you would need to invest nothing less than Rs.3 to 5 crores, which may not be practical for most of us.
Now that these serviced hotel apartments are available, you must start of by investing in atleast 1 unit as these will give you 12% to 20% ROI p.a. – which is 4 to 5 times greater income than rental income from traditional apartments and villas – but without any of the associated hassles described above.
The biggest benefits of investing in a serviced hotel apartment are :
4 Times Greater Rental Income than that of Normal Apartments or Villas
Serviced hotel apartments give you 10% to 12% ROI per annum in the beginning which gradually doubles to almost 20% in 15 years – which means you earn Rs.40,000 to Rs.55,000 per month in the beginning on an investment of Rs.43 & 62 lakhs (invested in instalments over 6 months) and this will double to as much as Rs.80,000 to Rs.110,000 per month in 15 years.


.

To put this in perspective, a Rs.43 lakh 1 BHK apartment in Starlit Suites Shirdi will fetch you Rs.40,000 per month whereas you would have to purchase a 3 or 4 BHK apartment by investing atleast Rs.1.2 to 1.6 crore (3 to 4 times more than the hotel apartment) to earn the same Rs.40,000 as rental income.
Zero Maintenance Cost + Stress Free Management
These hotel apartments are managed by a leading hospitality partner on your behalf where

you are not at all involved in day to day management

& hence are free of all the hassles that are typically involved in renting out property on your own.


.

Your property is completely maintained by the operator at no expense to you (all operating expenses are borne only by the operator) including replacement of damaged furniture and appliances in your unit.


.

This eliminates the need of your physical presence – which means you can simply sit back and enjoy your income no matter which part of the world you reside in. Imagine 20 years of hands off management versus renewing a lease every 11 months besides continuous monitoring month after month as is the case with traditional apartments / villas.
Highly Affordable Ticket Sizes & Relaxed Payment Schedules
Starting as low as just Rs.43 lakhs which itself is payable in instalments over 6 months, these hotel apartments are very affordable and easy on your finances.


.

You can also get a home loan for upto 65% of total unit cost, from the top banks of India which have already pre-approved the project and hence, you pay only 35% of unit cost from your pocket, that too spread over a period of 2 years.


.

Therefore, you can get started with as less as just Rs.14 to 26 lakhs in your pocket, which itself is payable in instalments spread over 6 months.
Asset Pays for Itself & Becomes Free in 8 Years
If you invest in a normal apartment using a home loan and then rent out that property, the EMI you would pay on the loan would be atleast 3 times greater than the rental income, which means you lose money if you invest in a normal apartment to rent it out.


.

In the case of these hotel apartments, your income is greater than the EMI you pay on the loan and hence, once income starts, you no longer have to pay from your pocket as the income is greater than the loan EMI – i.e. the asset pays for itself.


.

Further, due to excess income left over after having paid off the EMI, you will accumulate enough funds to recover your entire initial investment (i.e. 35% to 40% of unit cost) in 8 years, unlike a regular apartment which can take upto 20 years to achieve the same.
Tried & Tested Model + Exploding Demand for Hotel Apartments
Numerous investors round the world have been been reaping benefits of this concept as Starlit Suites – with their combined experience of over 40 years of setting-up and running numerous star hotels – has perfected this concept over the last 6 years as they have been successfully running 4 such hotel apartments at key locations.
Timely & Automated Receipt of your Monthly Income through ECS
Each month's income is credited directly to your bank account through ECS on the 25th of the following month, making collection of rent a stress-free and automated experience. You don't have to worry about whether or not you'll receive your rent on time or run around to collect and deposit rent cheques, etc.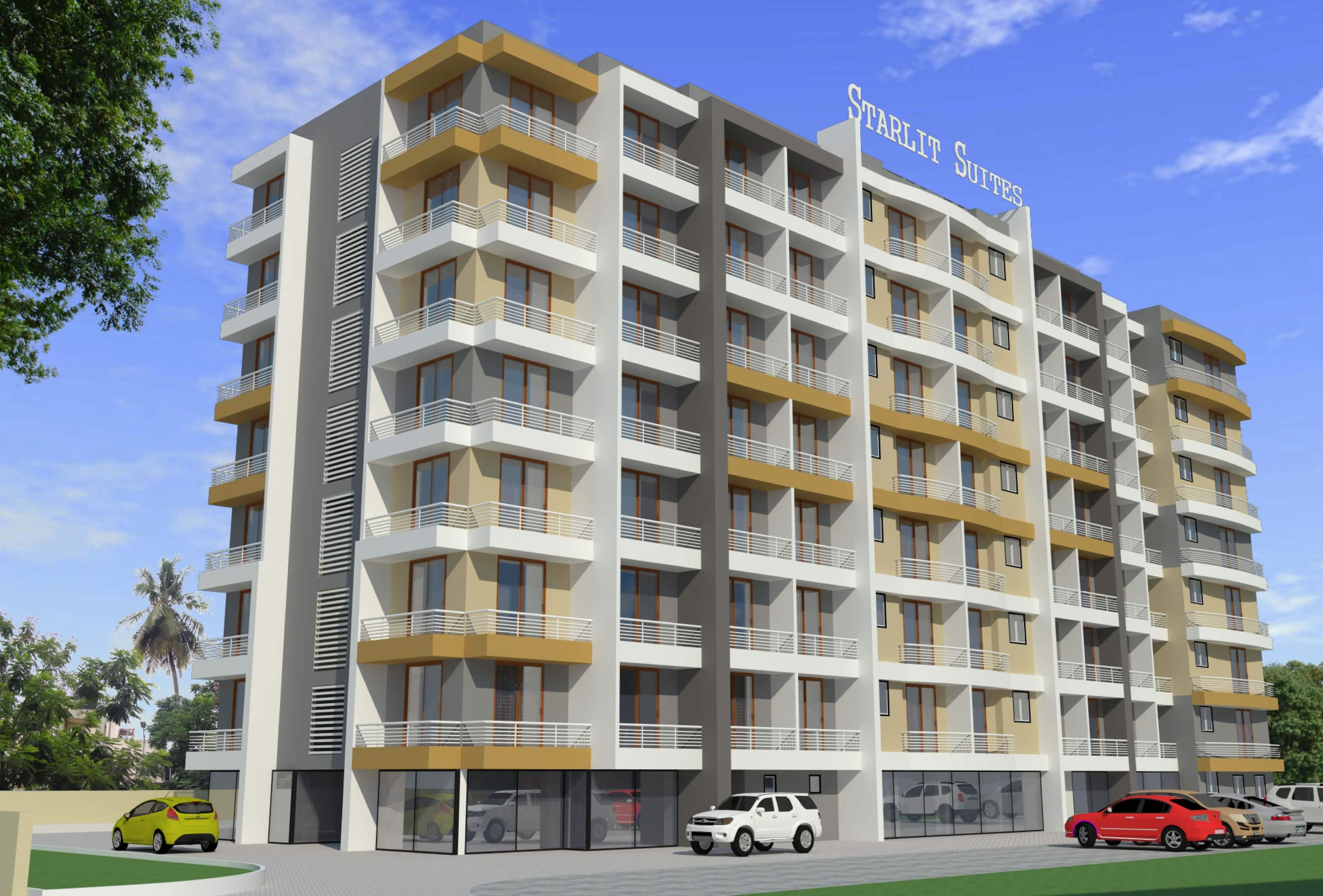 Artist's Rendering of External Elevation of Starlit Suites Shirdi
How does Starlit Suites serviced apartment

generate such high monthly rental income?
Starlit Suites operates in the following manner to generate high monthly rental income for you :
A serviced hotel apartment tower is constructed by a leading builder,

on a built to suit basis, with all the facilities of a 3 star hotel.




A typical signature tower includes gym, pool, bar & restaurant, meeting rooms, etc. on ground and 1st floor. From the 2nd floor onwards, the tower consists of Studio, 1 BHK, 2 BHK and 3 BHK units (the mix of inventory varies at each location based on demand), which are fully furnished to support extended stays with facilities like microwave, cooktop, fridge, etc.




In some locations, based on market dynamics, the signature tower may have commercial complex / convention halls on the ground floor and all the way upto 3rd to 5th floors.




.

Individual investors like yourself would buy 1 or multiple units which will be owned by you and at the time of booking itself, you and other investors are also required to compulsorily enter into a 20 year rental management agreement with Starlit Suites (the hotel operator), as this asset is only meant only for you to earn high monthly income and not for end-use / self-occupation.


.

The price that you pay for the unit is

all inclusive

– that is, basic cost of the unit plus cost of furniture, fitouts, taxes, deposits, registration and stamp duty.


.

Since these hotel apartments are categorised as residential property in most locations (most of the states in India barring a few, have statutory provision to allow residential towers to be operated as serviced apartments (special residences), you can also apply for a home loan

through which upto 65% of unit cost can be funded via the loan and you need to pay just 35% from your own funds

, making this highly affordable and easy on your finances.


.

Like any other residential apartment, you pay the cost of the unit in 12 to 18 instalments linked to progress of construction (in this case, spread over 2 years) which means even the 40% that you have to pay from your own funds, can be paid in instalments over 2 years.




.

Once construction is complete, the unit is registered in your name and will be completely owned solely by you forever and will be inherited by your children like any other traditional apartment or villa. After registration, you along with all other unit owners in this hotel apartment will then handover your respective units to Starlit Suites (the operator).


.

Starlit Suites (the operator) will then bring in their back end infrastructure, manpower and invest working capital to run this hotel apartment and rent out the units for a long stay to India's leading corporates and MNCs (including Fortune 500 companies) with whom Starlit Suites (the operator) has rate contracts that pre determine demand for the rooms across the country. A typical stay in these extended stay hotel apartments lasts for around 10 – 14 days.


.

The total gross income from renting all the units in the hotel apartment tower is pooled into one single account at the end of each month and then

50% of such total income is distributed equally among all investors

– ofcourse based on the proportion of area owned by them in the tower like Studio, 1 BHK or 2 BHK.




.


* For the 1st & 2nd year, you are given 40% of total income and from 3rd year onwards, you are given 50% of total income. This is done as operator incurs massive expenditure in marketing & promoting the new building in the beginning and is hence given 60% of the total income in the 1st & 2nd year and from 3rd year onwards, the total income is shared equally in a 50:50 ratio between you (the investor) and operator.


.

Your share of the above 50% of total revenue paid out to all the unit owners will translate into an ROI of approx 8% in the first year, 12% by the 3rd year and will grow to as high as 20% by the 20th year of operations

–

which is 4 times greater than the rental income of a regular apartment or villa (which ranges between 2.5% to 3% at the best).




.

Since entire building's income is pooled into a single bucket and then divided among all unit owners, you will earn as much income as any other similar unit owner in the building irrespective of whether your own unit is occupied or not.


.

Also, since you and other unit owners are being given 50% of the TOTAL / GROSS income (that is, the total revenue before any expenditure incurred by the operator for running the hotel apartments are deducted) you will always earn high rental income irrespective of the expenses incurred by the operator.
In other words, your income does NOT depend on the expenditure incurred in running these hotel apartments and hence you do not have to bother about its profitability as you will earn your high monthly income irrespective of the same.


.



Your share of the rental income will be credited to your bank account every month through ECS credit (normally 25th of every month for the previous month's income), creating a high passive income stream that needs absolutely no maintenance or monitoring.

Enjoy 7 FREE Star Nights per Year
As an investor, you get 7 nights free stay per unit per year, with complimentary breakfast. Out of the 7 nights, 4 nights can be used in any location in India, where Starlit Suites has a property (they have targeted 32 locations across the country).
Photos of a Typical Starlit Suites Room
These are actual photos of Starlit Suites Cochin tower,
which started generating income from August 2016.
Zero Operational Expenses to the Investor
The beauty of this model is that the investor does not bear any costs incurred in running the property. Below costs are completely borne by the operator
OPERATING EXPENDITURE


Staff salaries, electricity and water costs, licenses, etc are completely under the purview of the operator and hence will NOT be paid by the investor.


.

FURNITURE REPLACEMENTS


The unit is purchased with the furniture, appliances and fitouts included, which are executed by the operator to ensure highest quality. However, incase of any damage to the items, they are replaced at the cost of the operator only and hence you as an investor need not worry about the quality and safety of your furniture.


.

INTERNAL MAINTENANCE


The operator takes complete responsibility of maintaining the property on the lines of a 3 / 4 star accommodation to ensure highest occupancy. This automatically ensures the highest upkeep of your property and strong capital values and appreciation.
What are the biggest additional benefits?
Besides earning 4 times greater income than that of traditional apartments or villas with zero maintenance on your part, you can also enjoy below additional benefits :
Seven Days Free Complimentary Stay at Starlit Suites

 – You get 7 days free stay for 1 unit owned by you per year with complimentary breakfast.
– Out of this, 4 days can be at any location where Starlit is operating and balance 3 days can be availed at the location where you have invested (in this case, Shirdi).
– You can accumulate the same for 2 years and also can gift free stays to family, friends and colleagues.
.
Due to this unique feature, many industrialists, IT company owners and budding entrepreneurs from abroad and India having or setting pan India operations are taking full advantage by investing in multiple units at various locations as this way, they can save cost to the company besides rewarding vendors, associates, loyal employees and so on by utilizing their 7 days free stay benefit for every unit owned by them.
.
For example, one of our investors has decided to invest in atleast 36 units over the next 2 years, which will give him combined free stays for 252 days in a year which he can use across Tier 1 and 2 cities of India, besides earning a massive stream of monthly income.
.

Chance to Acquire Property in Prime Commercial Locations


Apart from monthly income, you are also going to earn capital gains as you are acquiring an asset in very prime and key commercial localities of key cities of India. Normally, it would not be possible to acquire such prime property at such low ticket sizes and because of this, you will also enjoy tremendous capital gains in addition to high monthly income.
.

Once in a lifetime opportunity for HNIs and professionals to spread their capital in small ticket sizes across most diversified markets of India

This concept is an excellent way for you to build a diversified portfolio of assets by investing small amounts in multiple locations, which is a lot less risky than investing all your money into a single asset or city which is a very dangerous way to invest, as experienced by many in the past.
What makes this income so

predictable

and

stable

?
In other words, what is the guarantee that I will earn the income that is being showcased here and what if it does not work? What can go wrong?
This model is tried and tested and has been running successfully for the last few years at Delhi, Pune and Bangalore with Cochin being the latest signature tower to become operational.
Also, the below 5 features make it a foolproof investment where all your interests as an investor are safe guarded and no one can manipulate your investment and returns.
1. Stable & Predictable Demand Locked-In In Advance
The operator has already established relationships with many MNCs (and signed definitive rate contracts with a good number of top notch companies among them), many of which are Fortune 500 companies, unlike most hotels where there is no way to safely predict the occupancy levels in advance.
For example, if HCL Chennai executive tours any other key city of India where Starlit has operations, the company (HCL) books his or her accommodation centrally and directly with Starlit Suites as they have annual rate contract and the same executive cannot book any other hotel directly ensuring predictable and almost guaranteed occupancy.


.

Due to these annual rate contracts with many such established companies, the operator can safely predict and assume consistent and healthy occupancy levels, which in turn ensure consistent and high monthly income to you as projected in their income projections.


.

You can view a short list of some of their marquee clients in the operator profile available at the end of the page in the annexures section.


.

This also acts as a virtual guarantee to the fact that the operator will almost always deliver as per his initial income projections (this income projection sheet is available at the end of this page in the annexures area).
2. Gross Income Sharing : No Scope for Operator to Cheat You
You are given 50% of Gross Income before any expenses are deducted by the Operator and hence there is no scope for manipulation of your income as you are getting 50% of total income BEFORE any expenses are deducted – making your income independent of running expenses incurred by the operator. This means operator cannot inflate expenses and show less profit to try and cheat you etc.
3. You Earn Income Irrespective of Whether Your Unit is Rented Out or Not
Irrespective of whether your particular unit is rented out or not, you will still earn as much as every other unit owner in the building as the entire building's revenue is pooled into one single bucket and then divided equally among all unit owners. Hence, you need not worry about whether or not your individual unit gets rented out or not.
4. Audited Statements Issued to You every 3 Months
Once every 3 months, you are given a statement of income of the entire Starlit Suites hotel apartment which is audited and certified by a chartered accountant. An account of the rooms occupied per night, average room rental charged and overall occupancy is shared with all investors. This along with above aspect of sharing of gross income will ensure the highest level of transparency as this leaves no scope for operator to manipulate accounts in any manner.
5. No Cash Transactions
Since the accounts are always settled directly by the companies in most occasions or through the occupant's credit card, there is hardly any scope for manipulating the occupancy and thereby hiding the income. Even incase of private bookings by let's say marriage parties, tourists, a very clear operating procedure at the front desk has been established by the operator to eliminate any unaccounted occupancy.
How much demand do such serviced / hotel apartments have?
There is a growing trend of business travellers & corporates choosing Serviced Hotel Apartments over traditional star hotels due to the following main reasons :
FOR THE TRAVELLER
The operator's main target audience is the corporate traveler (usually travelling for training, conferences, exhibitions, short term projects, etc.) where t

he typical stay lasts for around 10 – 14 days and can even extend up to 6 months to 1 year.


.

Such long term travellers would always prefer a serviced hotel apartment over a traditional hotel when staying for extended periods of time because they can cook their own meals, order room delivery of food from their favorite restaurant and entertain guests in their rooms.


.

And they can enjoy all of this with an ambiance similar to a 3 star hotel, but in much bigger rooms with more space giving the comfortable home away from home feel.
FOR THE COMPANY
The companies paying for the travel would also prefer serviced hotel apartments as the same are much more reasonably priced when compared to a traditional hotel (

sometimes costing as less as half the cost of a normal hotel

), especially when staying for extended periods.


.

The operator also complies with their requirements for fire and safety measures, ensuring highest safety for their employees in line with corporate insurance policies.


.

This coupled with the close proximity of these hotel apartments to major IT/ITES, finance & other business hubs, is greatly contributing to the increasing demand for such corporate serviced residences.

Operator Profile and Experience
To understand their leading position in India in this segment and their unique strengths to ensure good monthly income in the long run, you must read their profile : Click Here to View Starlit Suites' Operator Profile

Who is the Competition?
As on date, there are no established serviced hotel apartment chains of this magnitude and in this category with either dedicated or multiple properties across the country.


.

Serviced apartments have mostly been boutique businesses with no large organized chains or brands. Starlit Suites is the first such national chain and is leading the market as a domestic brand.


.

The bigger hotel / hospitality brands in India are focused entirely on the hotel side of the industry which is completely different from serviced apartments in terms of target travellers, room rates, length of stay, amenities and facilities.


.

The only other comparable hotel apartment operators like Oakwood and Frasers are focused on the high end serviced apartments category which are almost as expensive as 4 or 5 star hotels and cater to the niche luxury segment, whereas Starlit Suites focuses purely on value segment from corporate world (equivalent of a 3 star hotel) which has a much larger audience and consistent (rather, growing) volumes year after year.
There are no similar and reliable models for income generation in India.
Moreover, Starlit Suites is exclusive to G&C's patrons, thereby making it impossible to get similar opportunities elsewhere.
What are my exit options from this investment and how easy is it to exit?
You can sell your unit to any 3rd party at any point of time and exit with substantial capital gains, in addition to the monthly income that you would have earned until then. The 3rd party must continue with Starlit Suites for the remaining period of the contract.
Below points will show you why its easy to sell such properties as there is a high demand for such high monthly rental income generating assets in India.
1. Greater Appreciation of Capital Value than Normal Residential Assets:
As these apartments are fully furnished, fully air-conditioned and fully serviced and come with a long lease with high monthly income, these apartments will appreciate a lot more in capital values  when compared to normal residential apartments or villas.
2. Income based Premium Selling Price
There are literally 1000s of investors who will happily invest in any asset that gives them more than 9% to 10% regular monthly income – which this hotel apartment exceeds by a large margin.


.

Therefore, a few years down the line when your asset is earning over 14% to 15% ROI per annum, you will be able to sell your unit for 50% premium over your initial purchase price as even after paying this 50% premium, the new buyer will still earn ROI of 10% to 12% on his invested capital.


.

What more, in those first 5 to 6 years of operation by which time ROI per annum would have reached 15%, you would have also earned rental income equivalent to 50% of the total unit cost, thus giving you 100% returns in 5 to 6 years.


.




Example :

Assume you purchased a hotel apartment in Starlit Suites for Rs.30 lakhs. 5 years after income begins, you would be earning atleast 14% to 15% p.a. which means an income of Rs.45,000 per month. If you were to sell your unit at Rs.45 lakhs, the new buyer would still earn Rs.45,000/Rs.45 lakhs = 12% ROI per annum. Hence, you can easily sell your unit at 50% premium. In addition to this 50% capital gains, you would also have accumulated Rs.15 lakhs plus cumulative income after 5 to 6 years of operation, making total gains of Rs.30 lakhs plus, thus recovering 100% of unit cost in 5 to 6 years of operation.
3. Additional Premium while Selling as Buyer Gets Income from Day 1 of Investment
When you decide to exit in the future, the apartment would already be earning steady and high monthly income and you would have a bank statement to prove the same. The person who is buying this asset from you would start earning rental income immediately (i.e. from Day 1 of his investment) and thus would be willing to pay you a premium to acquire such a proven asset from you.
4. Massive Demand for High Monthly Income Generating Investments in India
The maximum you can earn from a fixed deposit or any other traditional monthly income investment such as mutual funds, post office schemes, provident fund or even normal residential properties is 8% to 10%.


.

These hotel apartments on the other hand will give you 10% to 12% on an average in the beginning itself and a few years down the line when you plan to exit, they could be generating as high as 14% to 16% ROI in say 5 to 6 years.


.

Hence investors would queue-up outside your door to acquire such a high income generating asset from you as there are no other safer, stable and predictable income alternatives in India.


.

We at G&C have consistently received enquiries from many conservative / elderly investors who are happy and enthused about acquiring assets that give them as less as just 6% to 7% ROI p.a. as they are more bothered about safety of their capital and steady income and hence are ok with lower returns as well.
5. Home Loans make these Hotel Apartments Highly Affordable
Since these hotel apartments can be funded via home loans which are easy to procure nowadays (upto 60% of unit value can be funded via loan), they become highly affordable to many investors as they need to pay just 40% from their pockets as down payment.


.

And since the income from these apartments is higher than the EMI you pay on the above loan, it becomes a very self sustaining asset which pays for itself – where you don't have to pay too much from your pocket beyond the initial downpayment and infact, you can even recover your entire initial investment in 7 to 8 years time.


.

Due to this ease of investing and low ticket sizes, there is a huge market for these hotel apartments which give high returns on a low investment.
Complimentary Stay across India
Bonus Feature for NRIs Visiting India
As an investor in this project, you get 7 nights of complimentary stay with breakfast per unit per year.


.

Out of these 7 nights, you can spend 4 nights at any of Starlit Suites locations (the operator aims to have a total of 32 locations covered in the 7 to 8 years).


.

That is, if you invest in Starlit Suites Shirdi, you can use all the 7 free nights at this location or you can also use upto 4 nights at any other location such as Bangalore, Hyderabad, Delhi-Neemrana, Pune, Tirupati, Cochin, Trivandrum and many more in pipeline.


.

You can also gift these free nights to your family, friends, colleagues and business associates – which is one reason why many industrialists / BPO / IT companies are showing keen interest to acquire multiple units across India as they can always take pride of offering all their employees / vendors / associates / visiting dignitaries a complimentary stay whereby they enjoy dual advantage of cutting costs and earning very high income year after year.


.

Any unused free nights can be rolled over to the next year (for a maximum of 2 years).


.

Imagine an NRI buying this asset in his name & assigning income to his parents in India. What else can be better than having a 3 star accommodation on his visit to India with facility to even cook / warm light meals / snacks right in the heart of the business districts and having 24 hours room service with a coffee shop & restaurant in the same tower – the most ideal and blissful way to enjoy their visit to India!


.

Further, the ultimate luxury could be getting one's favourite food/savouries from the most popular food joint of the town through parcel service and getting it delivered to the room which is never allowed by star hotels, making this truly a home away from home for all those NRIs visiting their home towns and reliving the old memories.
Asset Becomes Free in 8 Years if You Invest using a Home Loan
If you invest in this hotel apartment using a home loan, the income from these hotel apartments will be greater than the EMI you pay on your loan – as the EMI you pay is calculated as 10.5% on 60% of the unit value, whereas you are earning income of 8% to 9% on the total value (i.e.100% of unit value) which will keep increasing every year.
Due to the excess income that is left remaining in your hands after you have paid the EMI, you will accumulate enough funds to recover your entire own investment of 40% in 8 years time.
Therefore, from the 8th year onwards, you will continue to earn monthly income FOR FREE as technically, you will continue earning high monthly income on ZERO investment – as you have already recovered the entire investment made from your own funds.
Therefore, investing in this hotel apartment using a home loan is the smartest way to create wealth and earn higher ROI in the long run.
Even if you can afford to pay the entire cost of unit from your own funds, it is financially more lucrative to invest using a home loan.
Who Can Benefit from Investing in these hotel apartments?
Any salaried professional or business owner who wants to develop a portfolio of strong assets that can help generate an increasing stream of high passive income to supplement their primary source of income and elevate their lifestyle.


.

All those NRIs who dream to return to India but are hesitant as they are unsure of or have no safe avenue to maintain the same lifestyle that they currently enjoy abroad, once they are back home in India.


.

All those veteran NRIs who have settled abroad (and have decided not to return to India as they are totally established in their country of residence abroad and even their children are never going to return to India) BUT at the same time, their heart is in India where given an opportunity, they would like to keep visiting by creating a hassle free high income generating asset to psychologically take care of their visits to India.


.

All those who dream of owning a chain of hotels or assets across India by investing in multiple micro assets across various top locations rather than sinking all their funds into a single asset and where entire property management is taking care off by the country's leading professionals rather than having to manage these assets by themselves.


.

All those wanting to retire early or those who are about to retire and want to create a steady stream of stable, predictable and high monthly income.


.

All those who have recently retired and are unsure of investment opportunities that can generate safe and secure monthly income without having to lock-in their capital for a long time, which is the case with most of the options available today for those who want to earn monthly income – such as  fixed deposits, PF, finance or chit fund companies which provide low monthly returns, no capital appreciation and also block your funds for a very long time.


.

All those who have daughters who may be getting married in next 3 to 5 years as parents can empower their daughters and make them financially independent of the husband by gifting this high monthly income generating asset which acts as a safety net and compliments the daughter's regular income. In comparison, the other traditional assets such as land/apartments/gold that parents generally tend to gift is of no real benefit to their daughter's as such traditional assets provide no regular income and lie idle for long periods of time.
Income of Rs.40,000 to Rs.55,000 per month
on an Investment of Rs.43 & 62 lakhs paid in 6 months.
LOCATION
 Opposite Shirdi Railway Station, just 10 mins from Shirdi Sai Baba Ashram
SIZE OF PROJECT
77 units spread across 7 Floors
TYPE, SIZE & COST OF UNITS
 Studio (455 Sft) SOLD OUT
 1 BHK (690 Sft) : Rs.43.19 Lakhs – Last 4 Units Left
 2 BHK (990 Sft) : Rs.62 Lakhs – Selling Fast
EXPECTED COMMENCEMENT & COMPLETION DATES
Construction of structure is 100% complete and interiors / fitouts are in progress. Tower will be operational by November 2017 – just in time to coincide with 100 Years Celebrations of Sai Baba's Anniversary which is expected to draw between 40 to 50 MILLION visitors to Shirdi over a 6 months span.
SANCTION / APPROVAL STATUS
All sanctions & approvals received and project is also pre-approved for loans by HDFC.
Where in Shirdi is this serviced hotel apartment situated?



Located right next to the Shirdi Railway Station and just 10 minutes from Shirdi Sai Baba Ashram, Starlit Suites is located close to the main ashram but away from the noise and dust of the main central road.
With Shirdi's masterplan execution on fast track to be ready in time for Sai Baba's centennial celebrations in 2017, Starlit Suites (which will also be ready by then) will be well connected to the ashram and the airport.
With a bar & restaurant, it is also close to the only amusement park in town – Wet n Joy, thereby having something for both children and adults.
Number of Visitors to Shirdi (Per Day) –
6,00,000 during weekends & festivals | 1,00,000 during Off-Peak Season
A huge and increasing influx of pilgrims has catapulted Shirdi into one of the most highly visited tourist and pilgrimage destinations in the world, thus giving immense scope for the hospitality industry (i.e. operators like Starlit Suites) to grow and flourish in perpetuity.
Builder Profile & Track Record
The builder is a large infrastructure group having executed construction of Jetties, Wharves, Culverts, Retaining Walls, Mooring Dolphins, Bridges, Reclamations, Bunds, Residential & Commercial Buildings, Pile Foundation for Oil Refineries, Metro Rails, Buildings, Power Stations etc, and Geo-Technical Investigation for various on-shore and off-shore projects.
They have worked for leading giants like L&T, Patel Engineering, IVRCL, NCCCL, ABB and Punj Lloyd and few of their infrastructure projects include :
Marine projects (dockyards, jetties, dry docks, etc) for private and government orgainzations including the Indian Navy.

Bridges and flyovers across India

Piling Foundations and Technical Studies on works totaling over 50 crores including the Bangalore Metro

Multiple buildings for State Governments, Leading Private Builders
FINANCIALS
Returns Matrix, Payment Schedule, Booking Amounts & Home Loans
Affordable Ticket Sizes
Studio (445 Sft) – SOLD OUT
1 BHK (690 Sft) : Rs.43.19 Lakhs – 4 Units Left
2 BHK (990 Sft) : Rs.62 Lakhs – Selling Fast
These figures are of :
 – Inclusive of all furniture and fitouts as per list of furniture and fitouts available in the annexure section at the bottom of this article
 – Inclusive of Registration and Stamp Duty as applicable on date of registration (subject to changes by govt from time to time)
 – Exclusive of G&C's service fee of 1.5% on the basic value.

Unlike other apartment projects where you are charged an additional premium for floor rise or premium location etc, there are no such additional charges in this hotel apartment and everyone pays the exact same cost irrespective of position of your unit in the tower. This ensures that everyone in the apartment earns equal returns irrespective of unit position.
Easy Payment Schedule
Booking Amount :
10% on booking.


.

On Execution of Agreements :
10% on execution of agreement in 2 – 3 weeks from booking as construction is already at advanced stage.


.

Balance 80% :
 – Incase of self funding, another 50% becomes due immediately as building is already in advance stages of completion. Another 30% becomes payable in 3 equal instalments of 10% each until October 2017.
– Incase of home loan funding, another 15% become due immediately as building is already in advanced stage of completion and home loan will also have to be disbursed immediately to cover another 35% which is also due immediately. Another 5% becomes due from your own funds until October 2017 and bank will disburse another 25% paralelly.
Home Loan Available for upto 60% of Unit Cost
If you invest using a home loan, upto 60% of unit cost can be funded via the loan which means you pay only 40% out of your pocket.


.

For those going for a home loan,

it is mandatory for unit to be registered

as banks will disburse the loan only AFTER the unit is registered. For this purpose, you can either visit Shirdi yourself or appoint a Power of Attorney to physically represent you at Shirdi for registration process, which will take not more than 2 hours at Shirdi.
Easy Redemption / Collection of your Monthly Income
Each month's income is credited to your bank account on the 25th of the following month and hence there is no hassle in even collecting your income unlike other forms of investment where you have to physically deposit cheques, etc to redeem your income.
Extra ROI as a Benefit of Investing Using a Home Loan
As explained previously, if you invest using a home loan, the income will be greater than the EMI you pay on the loan and in 8 to 9 years time, you can recover your entire initial investment of 40% due to the excess income left over after having paid off EMIs.
TAX BENEFITS
The EMI paid on the loan can also be written off against the income earned from this asset, which effectively reduces your taxable income. This is big advantage of investing using a loan (Tax benefits may vary from person to person based on their individual financial planning and hence the above may not apply to everyone in the exact same sense).
CAPITAL APPRECIATION
Also in these 8 to 9 years in which you recover your entire investment, your unit would have also appreciated by atleast 100% in capital values & hence your returns against own funds deployed will technically be almost 500% in 9 years.
Example: If you invested in a 1 BHK unit of Rs.56 lakhs for which you pay only Rs.23 lakhs (40%) as rest is payed through the loan. This studio which is currently worth Rs.56 lakhs will be worth atleast Rs.100 lakhs by 9th year. By this time, you would have already recovered your initial investment of Rs.23 lakhs.
Hence your ROI is 500% (Rs.100 lakhs on investment of Rs.23 lakhs).

Above is ignoring the rental income that you will continue earning for the rest of the lease period.
Sale and Construction Agreement (SCA)

This is the agreement between you and the builder and is an industry standard format that covers the terms and conditions of sale and construction of the hotel apartment and the timelines involved. This agreement will also have clauses to compensate you incase of delays in construction.
.

Furniture & Fitouts Agreement (FFA)


This agreement is between you and Starlit Suites (the operator) and it covers the cost and schedule of items that will be used to furnish and fitout your room as per 3 star hotel apartment standards.The furniture and fitouts are purchased and fixed by Starlit to ensure best quality and the operator also takes responsibility to replace any defective or broken furniture and fitouts at his expense throughout the lease period as part of the regular maintenance and upkeep of the hotel apartment. This takes away the need for you to personally monitor the quality and maintenance of your unit.
.

Rental Management Agreement (RMA)


This is the crux of the business and captures the terms and conditions of the revenue sharing lease agreement between you and Starlit Suites as an operator. It contains clauses related to revenue sharing, operator's responsibilities, complimentary stay, period of contract and other important clauses.
.

Power of Attorney (POA)

This is a legal document giving Starlit Suites the power to operate the  unit on your behalf and is a matter of legal formality.
Next Steps and Booking Process
The booking process is fairly simple as explained below :
Step 1
Once you decide to invest and inform one of our team members / your relationship manager the booking form will be sent to you. You can then fill and send us a soft copy of the same along with details of payment of booking amount as explained in the "Financials" section above.
Step 2
You can pay the booking amount either by wire /online transfer / net banking or by issuing a cheque from your savings / NRO/NRE account in India.
Step 3
Based on your preference if any, a short list of available units will be sent to you and you can chose from the same to proceed further. Since all units are priced the same and the returns are distributed equally, it is ok to chose any unit out of whatever is available without bothering too much about floor or facing.
Step 4
When the agreements are ready to be issued, you will have to pay 20% of unit cost MINUS booking amount already paid and builder will then execute those agreements with you.
Step 5
You can keep paying the balance 80% in instalments as per construction progress and you can also apply for a home loan at this stage where upto 60% to 65% of unit cost can be funded via loan.
You can contact our in-house Home Loan expert Sridhar Kumar on +91 9686627071 / sridhar.kumar@gcglobal.in for further info or assistance on home loan application process and to estimate your home loan eligibility.
We strongly suggest that you contact our above Loan Expert as soon as you submit your booking form so that you do not end up paying any penal interest to the builder, once he raises demand note after execution of sale agreement.
Annexures
Click on below links to view additional important information about this high monthly income project in Hyderabad :
Contact Details
For bookings or queries please call any of our below team members :