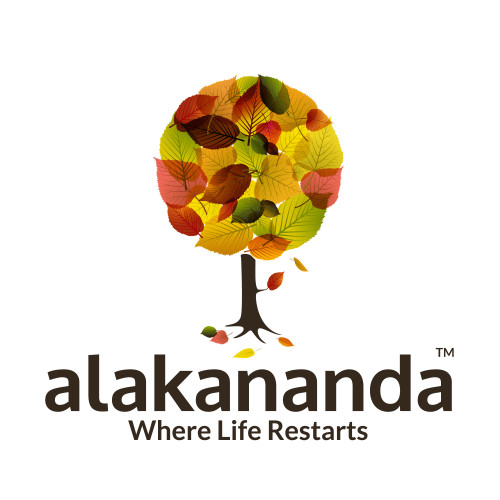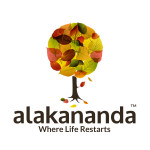 Largest CSR Initiative at
Alakananda Riverfront

300,000 visitors over 12 days
  Recognised & Awarded as "Best Private Ghat" by
Chief Minister of Andhra Pradesh  
Private Ghats were developed for the general public, free of cost, during the Krishna Pushkaralu at Alakananda Riverfront, a massive 310 acre Integrated Mega Tourism and Infrastructure Development Project and Gated Community of Villas Plots and Villas at Jaggeyyapeta, AP.
For the first time ever, Telugites in both AP and Telangana had the chance to enjoy a peaceful and hassle-free Pushkaralu at our Ghats – just 3 hours from Hyderabad and 1 hour from Vijayawada.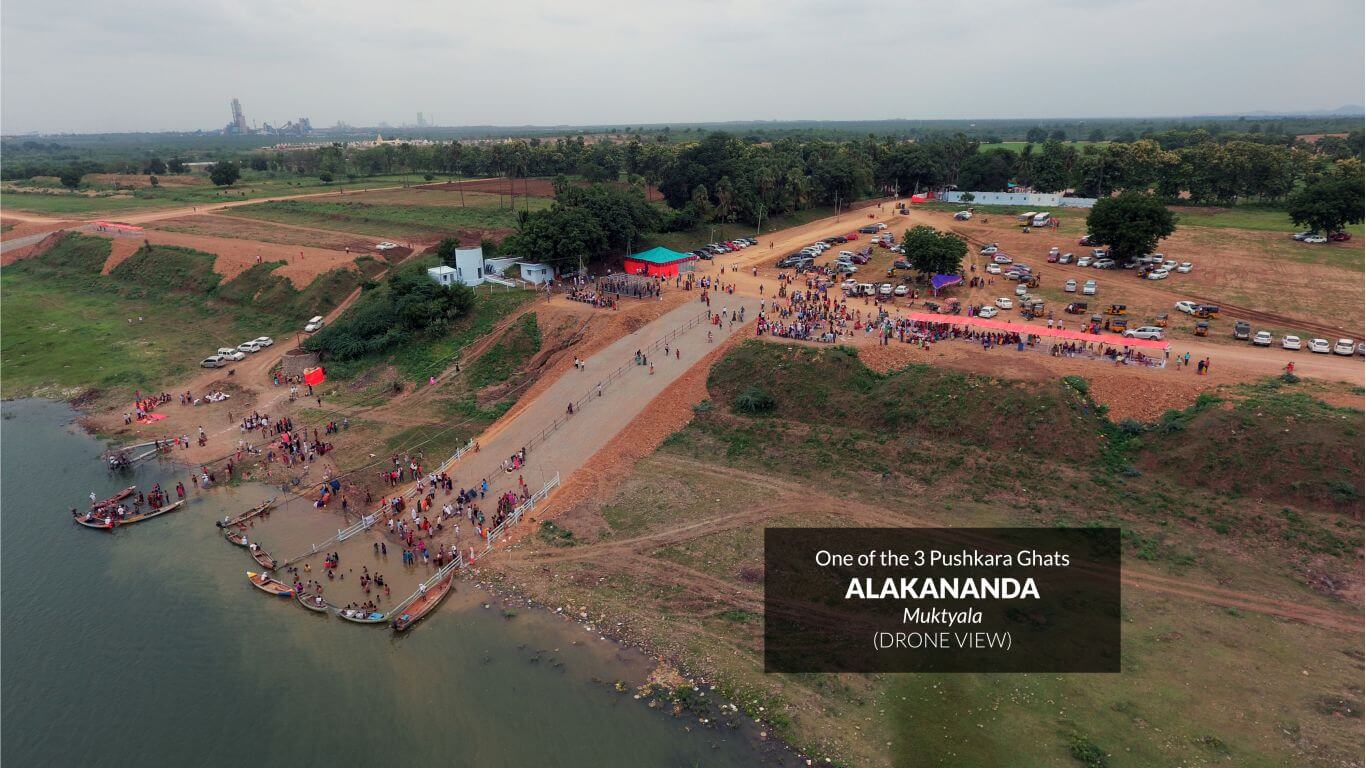 With the below major facilities and conveniences available at our ghats, this was probably the best and most comfortable Pushkaralu experience.
car parking space for 7000 cars (the largest parking space in Andhra Pradesh for this purpose)
capacity to accommodate over 1,00,000 people per day at the ghats
puja sheds with 60 pujaris to help you perform "pindapradaanam" right on the riverbanks
"Jallu Snanaalu" for those who do not want to walk down into the river
changing rooms and 30 permanent toilets exclusively for ladies

free breakfast for 4000 people and meals for 2000 people, per day;

the very famous and powerful "Koti Lingaalu Temple" abutting our project which you can visit right after taking a dip at our ghats,

and much more (the complete list of facilities available is shown further down this page)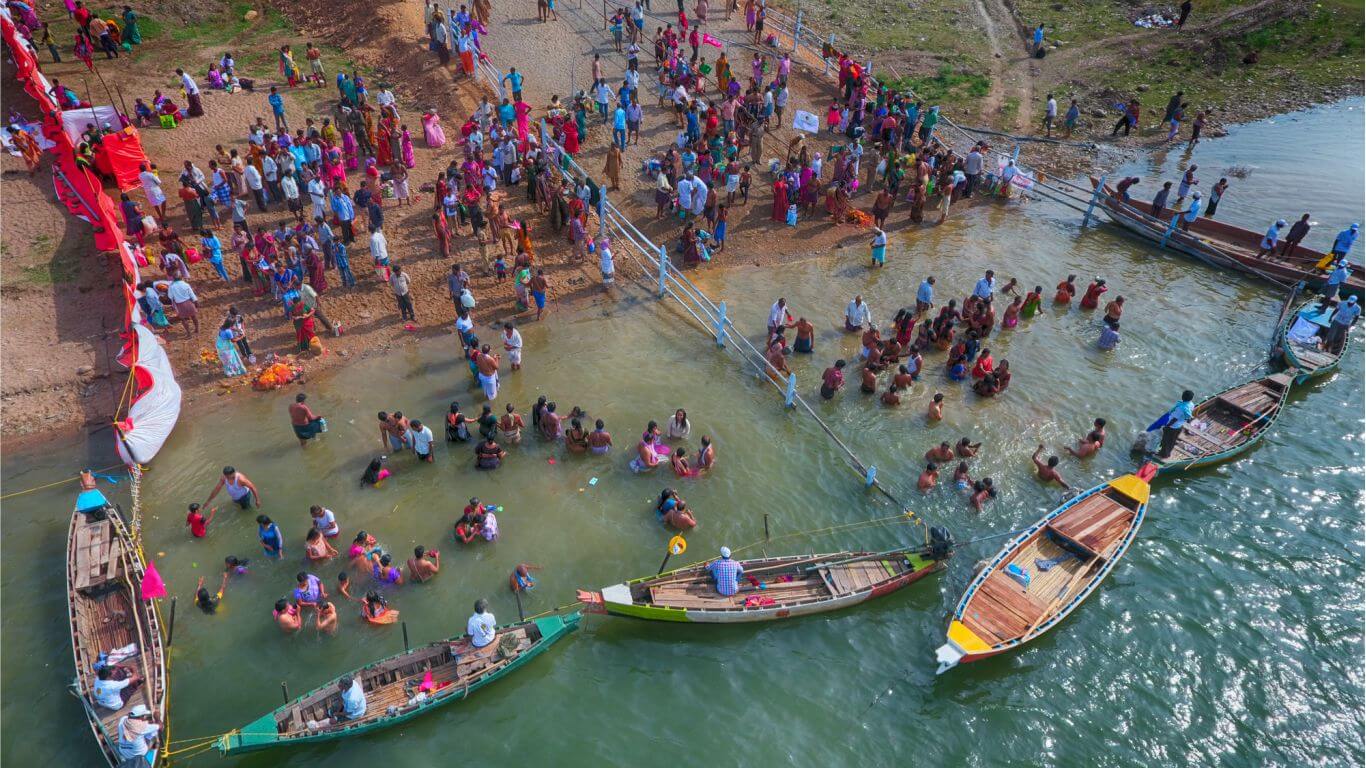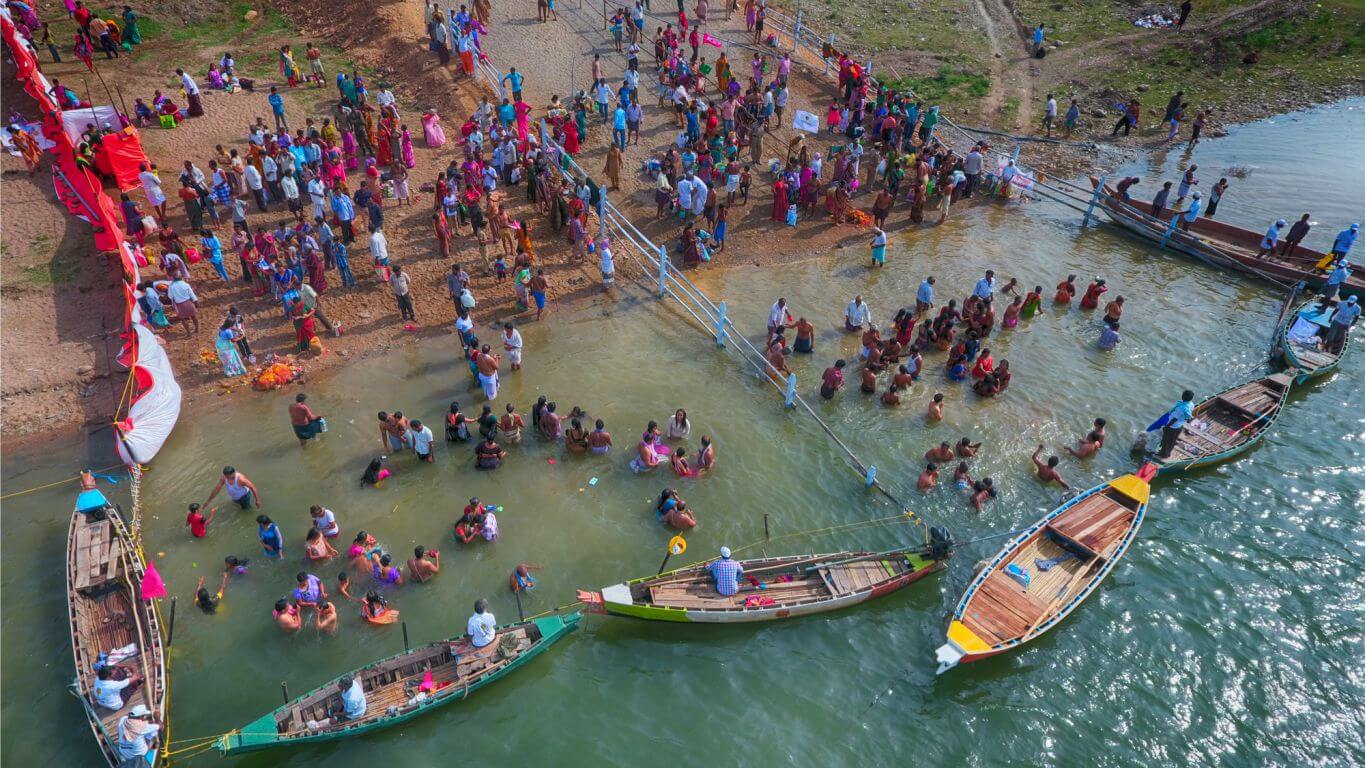 Message about our private ghats went viral and we witnessed over 3 lakh visitors and served over 30,000 people PER DAY which is substantially higher than the number of visitors at all other ghats in the vicinity.
Be Part of this Best Ever Gated Community of Andhra Pradesh
While bookings for villa plots and villas in this 1st of its kind and best ever gated community in Andhra Pradesh's history will be opened to public sometime in March this year, you can get a chance to participate in the pre-launch offer that will be given to our existing investors and few others like you by invitation only.


.

By investing in the pre-launch phase, you will enjoy a first mover advantage both in terms of getting a special price and also get a chance to book the best plots of the entire community, before the rest of the world is given a chance to invest.

[cq_vc_hotspot image="8315″ position="2%|50%,8%|35%,11%|56%,17%|41%,17%|25%,4%|17%,19%|9%,14%|14%,20%|4%,26%|3%,26%|13%,37%|19%,38%|24%,26%|21%,30%|31%,27%|36%,22%|43%,39%|46%,29%|44%,33%|51%,29%|53%,34%|61%,36%|72%,41%|82%,62%|65%,52%|68%,60%|47%,53%|80%,82%|81%,54%|87%,18%|75%,24%|85%,31%|90%,24%|94%" circlecolor="#27ebf9″ pulsecolor="pulse-blue"][hotspotitem] Grand Entrance & Statue Boulevard
[/hotspotitem] [hotspotitem] 2000 Seater Convention & Marriage Hall
[/hotspotitem] [hotspotitem] 60 Acre DTCP Enclave with Private Club House
[/hotspotitem] [hotspotitem] Grand Central Plaza
[/hotspotitem] [hotspotitem] Villa Plots (1000, 1200 & 2000 sq yards)
[/hotspotitem] [hotspotitem] Koti Lingala Temples
[/hotspotitem] [hotspotitem] Senior Citizen Active Living
[/hotspotitem] [hotspotitem] High Rise Apartments (Future Development)
[/hotspotitem] [hotspotitem] Exclusive Riverfront Park for Seniors
[/hotspotitem] [hotspotitem] Meditation Deck on Krishna River
[/hotspotitem] [hotspotitem] Children's Play Park
[/hotspotitem] [hotspotitem] 4 km Riverfront Boulevard
[/hotspotitem] [hotspotitem] Walking & Cycling Track
[/hotspotitem] [hotspotitem] Riverfront Premium Plots
[/hotspotitem] [hotspotitem] 10 Acre Club House | 50 Guest Suites | Bar & Restaurant | Infinity Pool
[/hotspotitem] [hotspotitem] 5 Acre Artificial Lagoon
[/hotspotitem] [hotspotitem] Ultra Luxury Lagoon Front Enclave
[/hotspotitem] [hotspotitem] 6 Acre Mini Golf & Putting Green
[/hotspotitem] [hotspotitem] Cricket Ground
[/hotspotitem] [hotspotitem] Football Field
[/hotspotitem] [hotspotitem] Tennis & Basketball Courts
[/hotspotitem] [hotspotitem] Amphitheatre
[/hotspotitem] [hotspotitem] Wellness & Ayurvedic Therapy Center
[/hotspotitem] [hotspotitem] Sports & Adventure Complex
[/hotspotitem] [hotspotitem] 4 km Riverfront Boulevard
[/hotspotitem] [hotspotitem] Riverfront Water Park with Central Fountain
[/hotspotitem] [hotspotitem] Fishing Deck
[/hotspotitem] [hotspotitem] Observation Deck
[/hotspotitem] [hotspotitem] Boat Jetty (reach Amaravati in 20 mins)
[/hotspotitem] [hotspotitem] Future Development
[/hotspotitem] [hotspotitem] Villa Plots (1000, 1200 & 2000 sq yards)
[/hotspotitem] [hotspotitem] Riverfront Premium Plots
[/hotspotitem] [hotspotitem] Horse Riding
[/hotspotitem] [hotspotitem] Boat Anchors
[/hotspotitem][/cq_vc_hotspot]
Move your cursor / mouse over the blue spots above to explore all the exclusive amenities and features that you can enjoy as an investor at Alakananda Riverfront (may not work if you are viewing this on a mobile)
If you are interested in this pre-launch phase, please send us your name, mobile number and email

by sending an email to Mr.Divyendhu Roy Chowdary at adrc@gcglobal.in / +91 9980319639

and you will be among the first few people to invest in this project at a special rate before we open it up to public.




.

Incase you are unable to reach Mr.Divyendhu, you can also send your details or call Mr.Jhashank Chowdary at jhashank@gcglobal.in / +91 9900123737.
Photo Gallery of Our Ghats
Government of Andhra Pradesh signs MoU with G&C (the developer) for a 310 Acre Integrated Mega Tourism & Infrastructure Development Project
The Govt. of Andhra Pradesh under the direct guidance of Honourable Chief Minister Shri. Nara Chandrababu Naidu himself, signed an MoU with G&C Global Consortium Pvt Ltd on 4th August to develop Alakananda Riverfront : An Integrated Mega Tourism & Infrastructure Development (IMTID) project spread over 310 acres at the confluence of Krishna & Paleru rivers and bang on the banks of both these rivers.
This has been widely published and covered in all leading English and Telugu newspapers and electronic media and for your ready reference, you can view the news coverage by clicking here.
Facilities Available at our Ghats
We are fortunate that our riverfront project is located on upstream Krishna, which means you have pure Krishna water at our project site, unlike Vijayawada and other surrounding areas which will have a mix of water from both Krishna and Godavari rivers – this has actually become a hot topic of contention specially among spiritual circles who are increasingly advocating and encouraging people to take a dip in pure Krishna river water.
7000 Car Parking Space
The biggest challenge for anyone attending Pushkaralu is to find parking space for their cars as normally at any public ghat organised by state government, one has to leave their vehicles atleast 1 to 3 kms away and walk all the way to the ghat and then struggle to take a dip among 1000s of people while exposing yourself to the discomfort and danger of rains / pollution / suffocation by being in a virtually stampede kind of situation at times.


.

However at Alakananda Riverfront, you can drive your car straight to a massive and dedicated parking space near the river and then walk just 100 to 200 meters to the river banks through outstanding & sceneic walking paths in a picnic ambience, and after taking a dip / shower (jallu snanaallu as explaiined below) and completing other rituals, walk back to your car and drive to the neighbouring and very famous "Kotilingaalu Temple" – which is abutting our project compound wall – on a specially laid out 40 feet road and then finally drive back home, making this one of the most stress-free Pushkaralu experiene ever possible, not only in this Krishna Pushkaralu but also any other Pushkaralu conducted anywhere in the country.
3 Exclusive Ghats
We created 3 exclusive ghats for people to directly enter the riverbed to take a dip.


.

We made a safety enclosure guarded by 6 lifeguards on boats to ensure safety for everyone entering the riverbed and also installed nylon ropes to hold onto while walking into and out of the ghat / riverbed.
Jallu Snanaalu / Sprinkler Bath Facilities
For the benefit of elderly people or those unable to get down to the riverbed or ladies & children who may not want to get into the river, we erected a staggering 800 meters of overhead water sprinklers / showers spread over 3 ghats for people to have "Jallu Snanaalu".


.

We created 3 clusters of these "jallu Snaanalu" – one for each of the 3 ghats – to ensure that the whole family can be together and does not have to split to complete the formalities if required.
Permanent Toilets & Changing Rooms Exclusively for Ladies
We erected enclosed dress changing room right next to the "Jallu Snaanalu" / sprinkler bath enclaves for the comfort of ladies.


.

We also constructed 30 permanent and few temporary toilets exclusively for ladies and can increase this number if the situation demands.
Drinking Water & Food Arrangements for Visitors
Our on-site cooks prepared breakfast for 4000 people everyday (as few visitors may come for early morning bath and might be sugar patients etc and hence this provision may help them).


.

We also provided meals / food packets for approx 2000 people, basically meant for volunteers and support staff, besides limited number of visitors.


.

Mineral Water Plant (MWP)
60 Pooja Sheds with Pujaaris
We put up covered sheds along the river bank next to each ghat for pindapradaanam / pujas for departed family members.


.

We also arranged for pujaris who will be stationed permanently at the ghats for people to have smooth conduct of the rituals.
Just to capture the importance & advantage of these private ghats, imagine the below :
If an Andhrite living in Hyderabad wants to visit Vijayawada, he would have taken not less than 6 to 8 hours to reach due to massive ques at toll gates – as has been experienced during Sankranti and other such major festivals – and after travelling without checking into a hotel (as all hotels in Vijayawada are sold out for these dates and its almost impossible to get rooms in this period) and without having access to public / private toilets, they would have to leave their vehicles and travel by public buses or walk 1 or 2 kms tot he ghat and then rub shoulders with 1000s of people who are in a rush to get in, etc.


.

Whereas at Alakananda Riverfront, it took just 4 hours to reach the site from Hyderabad (after considering the heavy traffic and jams at toll plazas), say leaving Hyderabad at 6 AM and reaching our site at 10 AM and the entire process at our site including temple visit was over in 2 to 3 hours max and after utilising toilet facilities / resting in serene ambiance, they could reach back Hyderabad by 6 to 7 PM, thus avoiding the mad rush and torture of visiting public ghats.


.

We had complete support of the state government machinery and voluntary organisations to make this a memorable experience for all visitors.