Premium Grade-A Commercial Space /
Office & IT Tower


in the heart of Gachibowli



  Very close to DLF CyberCity  
& behind Hotel Radisson Gachibowli
Invest in high monthly rental income generating commercial space @ the junction of Gachibowli, Madhapur & Kondapur.
Very close to high-end residential communities such as Botanika, Rolling Hills, Ramky CEO Enclave, Meenakshi Bamboos, Meenakshi Trident Towers & Ramky Towers

All Approvals are in the final stages and basement excavation has begun…
Completion & Handover by December 2024
Units sizes ranging from
 2023 to 5744 Sft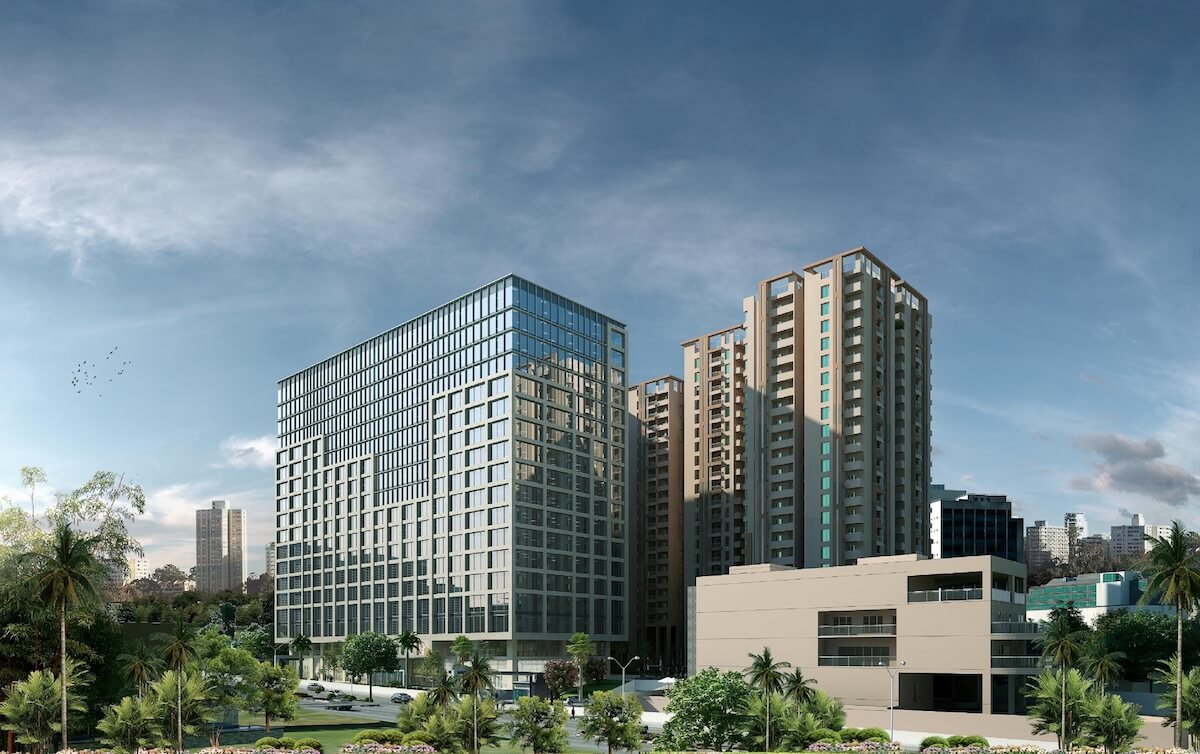 This is also one of Hyderabad's first few
Walk-to-Work Gated Communities!

Consisting of One Commercial Tower of G+19 Floors and Three Residential Towers consisting of Premium 3 BHK apartments (1700 to 2300 Sft)  – making this a very highly-sought after communities as people now want to live closer to workplaces to avoid the growing traffic & congestion…
Size of Project
1 Commercial Tower (G+19)
3 Residential Towers (G+20)

Completion Date
December 2024 (36 Months)
Work has already started…
Approvals
GHMC Approval In Process
RERA Compliant Project

Size of Commercial Tower
Triple Basement + Ground
+ 19 Liveable Floors
Size & Type of Units
2023, 2229, 2259, 2460, 2878 & 5744 Sft
Expected Rental
Rs.70 per Sft or more
Approx 7% & above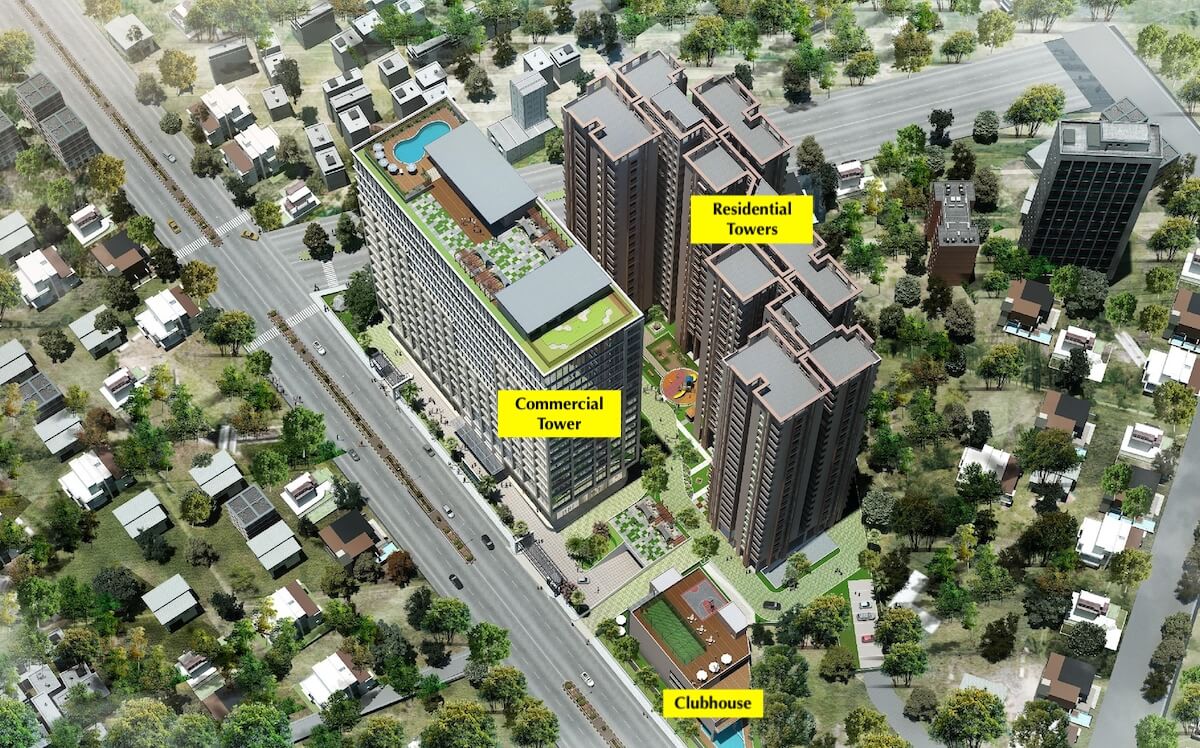 In the hottest growth corridor of Hyderabad and part of a mixed-use development, consisting of commercial / retail space + premium residential apartments – making it a rare walk-to-work option in Gachibowli…
Located at the junction of Gachibowli, Madhapur and Kondapur – amidst some of Hyderabad's most premier corporate tenants and IT Parks – this premium 19 storied commercial / office spaces tower is the latest & most likely the last premium office tower that can be built in this CBD (central business district) – as there is almost no land left in this densely populated prime locality.
Hyderabad has the Highest Absorption + Lowest Vacancy levels for Office Spaces in India
With an average vacancy rate of just 2.49%, Madhapur & Gachibowli have turned red hot as the most densely packed business hub / IT districts of Hyderabad and are hence witnessing tremendous growing demand for Grade-A office spaces which are in short supply.
Due to limited supply & sustained occupier interest, rental growth has been robust in the range of 8% to 12% per annum – thanks to the continuous influx of global giants such as Facebook, Amazon, Google, Uber, IKEA, Oracle, IBM & JP Morgan Chase to name a few.
Hyderabad has overtaken Bangalore as the most preferred hub for new office spaces in India – due to the ease of business, quick project approvals, power supply surplus, proactive governance and good infrastructure.
This is hence the hottest rental market to invest in India and also the right time for you to invest and take advantage of this booming market!
The minimum investment in this tower is approx Rs.1.8 Crores (registration & stamp duty extra) for a 2023 Sft unit when paid upfront…
Want something smaller, more affordable instead?
Something priced much lower – in the Rs.35 to 90 lakhs range – but which gives you the SAME HIGH RENTAL INCOME as this commercial property?
At the end of this article, you will find a brief overview of a first-of-its-kind micro commercial high-income asset for any family across India (as its available across multiple cities)
Tower Structure
Ground + 19 Floors of boutique office spaces spread over 3.30 lakh Sft

 – Triple Basement : 1 Reserved Car Parking Slot for every 1000 Sft of Space
– Ground Floor : Reception Lobby, Café and retail spaces (16,000 Sft)
 – 1st Floor : Leisure Zone and Corporate Entertainment
 – 2nd to 19th Floor : Office space units (2023 to 5744 Sft units)
Total Number of Units : Around 100
Unit Sizes
2023, 2229, 2259, 2460, 2878 & 5744 Sft
(buy multiples of these sizes for bigger space)
This commercial tower is part of a Mixed-Use Gated Community that houses this commercial tower + 3 residential towers with 350 apartments (3 BHK units ranging from 1700 to 2300 Sft)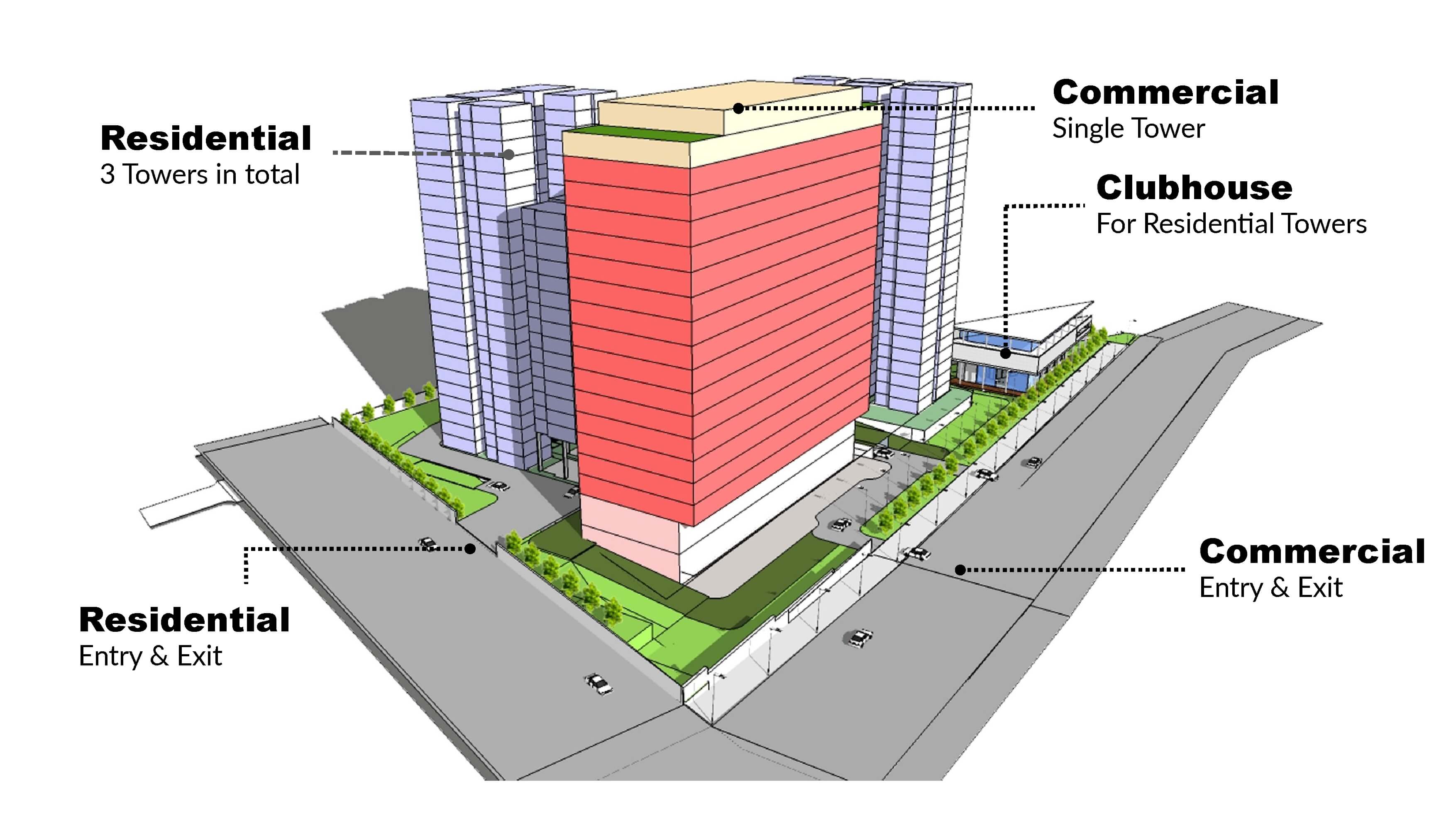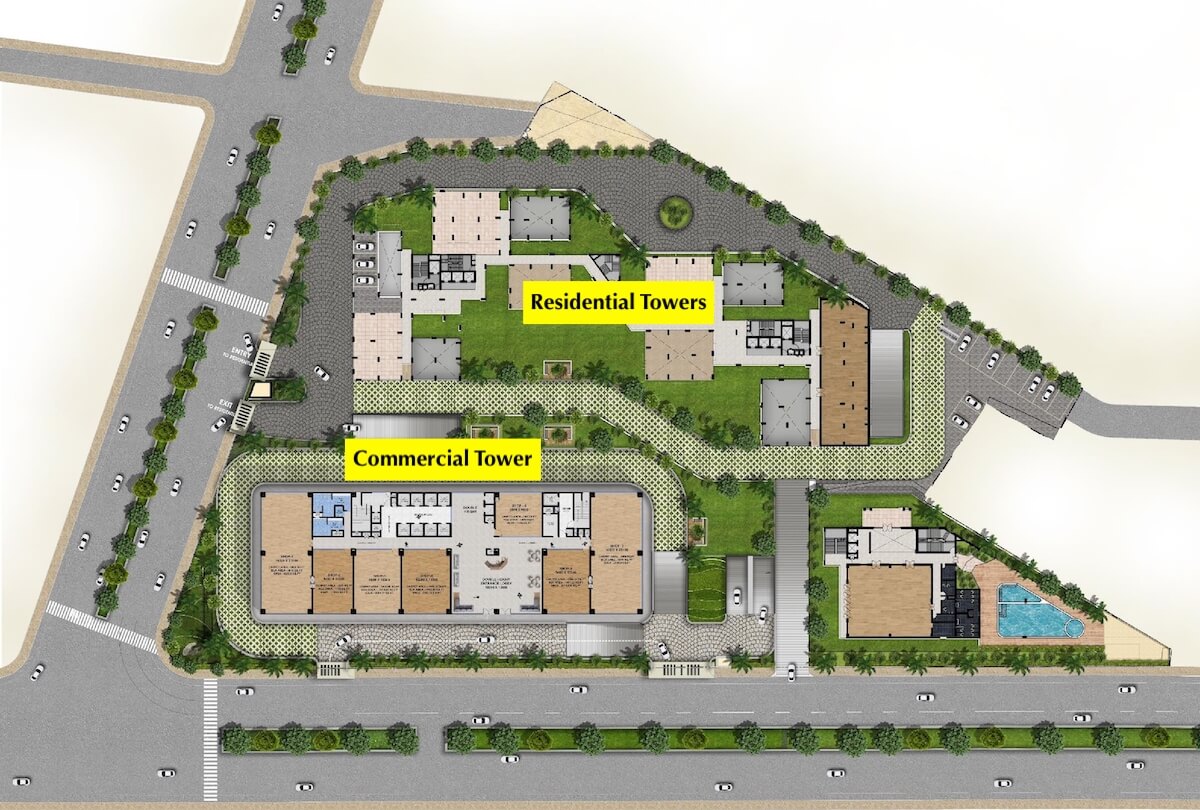 Located in-between Madhapur, Gachibowli & Kondapur
Exploding Growth Zone of Hyderabad's Real Estate Market
This tower is in a truly rare location – at the confluence of Madhapur, Gachibowli & Kondapur – the fastest growing & most prime business district & residential hub of Hyderabad.
This tower is within a 5 Kms radius of the top corporate tenants, educational institutes, residential hubs, shopping districts & super-specialty hospitals of Hyderabad.
Major Landmarks

& their Distances
Corporates & MNCs
Deloitte & HCL – Walkable

CapGemini & Cognizant – 1.6 Km

Raheja Mindspace IT Park – 2 Kms

CyberPearl IT Park – 2.2 Kms

Amazon Dev Center – 2.5 Kms

TCS & Accenture – 2.6 Km

Tech Mahindra & Dell – 2.8 Kms

Facebook India HQ – 3.2 Kms

Google India HQ – 3.8 Kms

Microsoft & Infosys – 6 Kms

Financial District – 7.8 Kms
Colleges & Universities
Phoenix Greens International School – 3.7 Km

Chirec Public School – 3.8 Km

Delhi Public School -4.2 Km

Oakridge International School – 5 Km

The Gaudium School (IB) – 5.3 Kms

The Future Kids School – 6.5 Km

Bharatiya Vidya Bhavan School – 12 Km
Colleges & Universities
Indian School of Business – 4 Kms

International Institute of Information Technology – 3.7 Km

Hyderabad Central University – 5 Km

Narayanamma Engineering College – 6.9 Km

Maulana Azad National Urdu University – 4.1 Km

Vasavi Engineering College – 11Km
Hospitals & Medical Facilities
Care Hospitals – 3.4 Km

Image Hospitals – 5.3 Km

Continental Hospitals – 6.5 Km

Apollo Hospitals – 8.4 Km
Entertainment Destinations
Inorbit Mall – 3.2 Kms

Botanical Gardens – 2.2 Kms

Shilparamam Food Courts – 5 Kms

EMMAR Golf Course – 2.9 Km

Jubilee Hills Road 36 – 8 Kms
Commencement : Triple basement excavation in progress (formal plan sanction is expected by October)
Completion / Handover : December 2024 (36 months)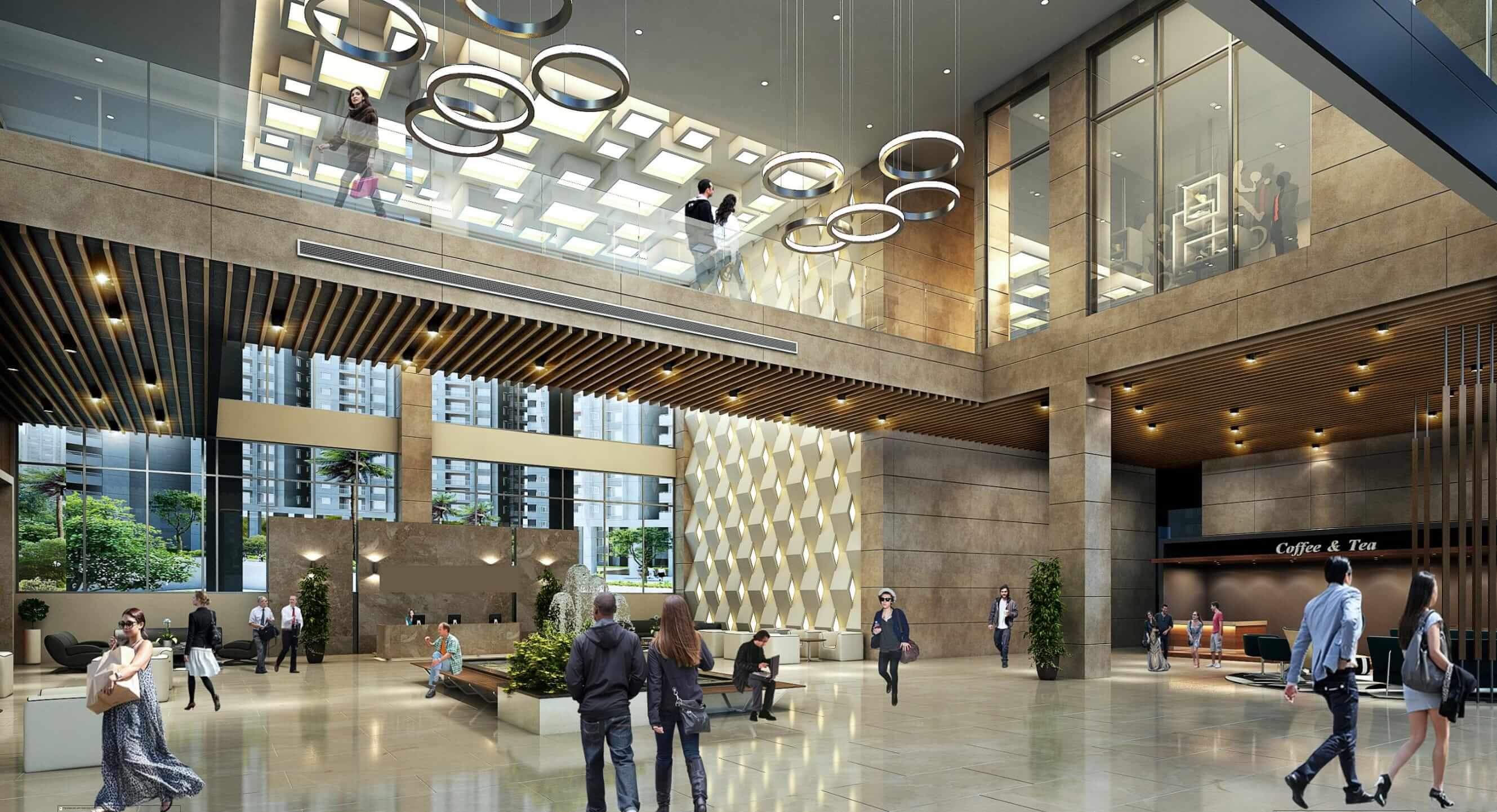 Luxurious Triple Height Lobbies
Average Rate

for

Grade-A

Commercial Spaces in
Madhapur / Gachibowli is…
Rs.10,000 to 12,500 per Sft
* Above is basic rate, excluding Registration & Stamp Duty
Do keep in mind that Madhapur – which is where this project is located – is considered more upscale / central / prime when compared to Gachibowli – hence prices in Madhapur tend to be higher than Gachibowli.
* Above is basic rate, excluding Registration & Stamp Duty
Compared to above, you can get this brand new tower through G&C at a much more competitive & attractive pre-launch price as shown below, giving you an instant advantage over public launch price…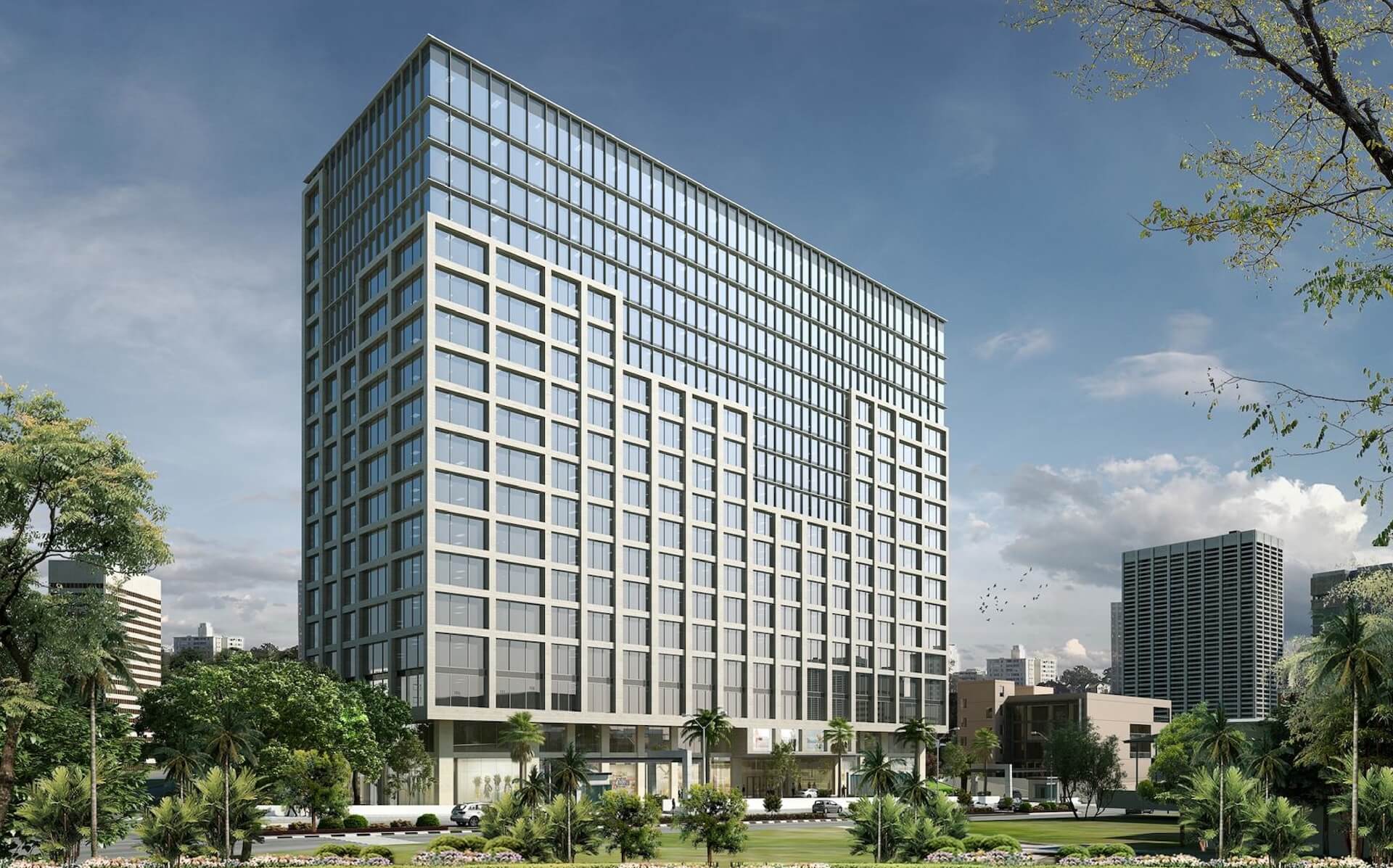 Premium Glass Facade for Commercial Tower
Special Pre-Launch
Offer Price
Base Rate : Rs.7950 per Sft
if paid at One-Shot / Upfront – which is almost 25% less than the current market rate!
(Additional Charges such as Car Parking, Corpus Fund, Amenities, Floor Rise Premiums and others will come to another approx Rs.1000 per Sft)
* Registration & Stamp Duty as applicable and as per today's rate, this comes to approx Rs.____ per Sft.
While Rs.7950 per Sft is Pre-Launch Price for Upfront Payment i.e. lumpsum amount to be paid right away in 2 to 4 weeks to enjoy this deep-discounted price, if you prefer paying slower  in easy instalments linked to construction progress (x slabs over xx months), then below rate applies…
Construction Linked Payment : Rs.9850 per Sft
Payment Schedule for Construction Linked Plan (i.e. Rs.9850 per Sft)
Entire payment is to be made in xx instalments spread over the construction period (estimated to take 30 to 36 months for completion)
On Booking : 10%

On completion of 1st floor casting : 15%

On Completion of 5th floor casting : 15%

On Completion of 10th floor casting : 10%

On Completion of 15th floor casting : 10%

On Completion of 19th floor casting : 10%

On Completion of brick work : 10%

On Completion of plumbing & electrical work : 15%

On Handover/possession : 5%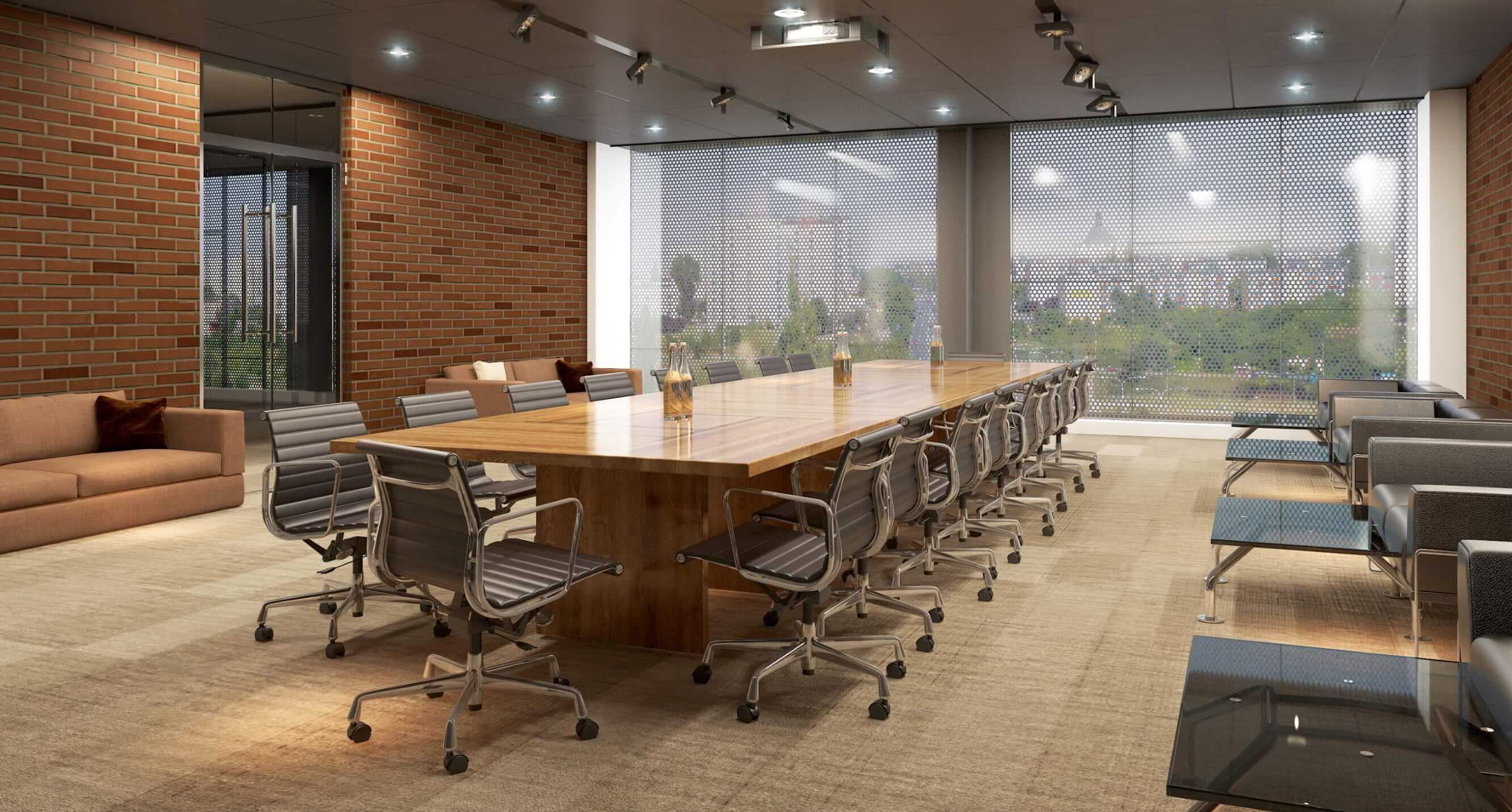 Artist's Image of Possible Interiors
No Maintenance Headache


for You
Complete property management is taken care off by a professional property management firm at an all inclusive cost of Rs.8/Sft per month – on par with all other leading Grade-A commercial spaces in this area.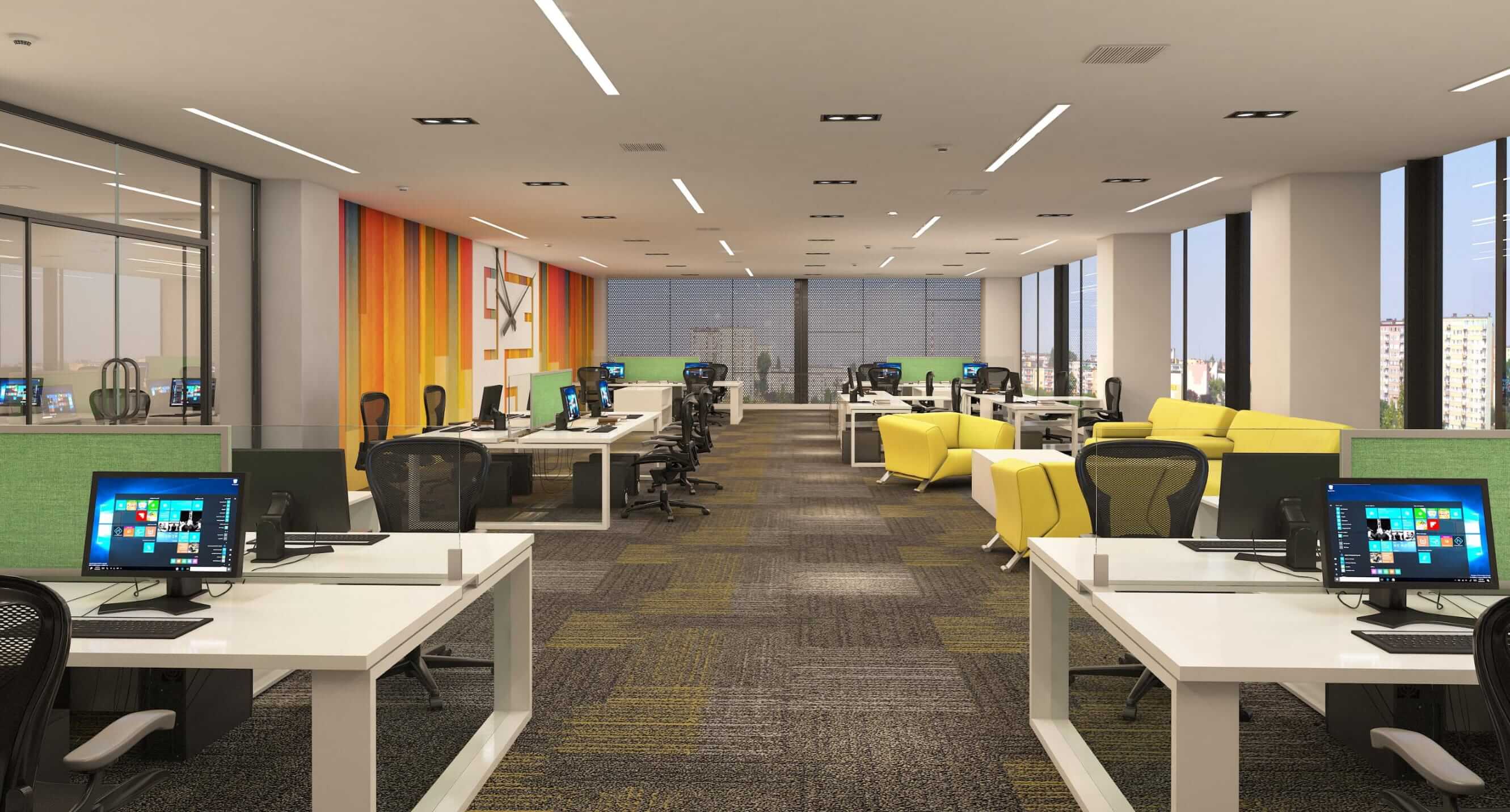 Artist's Image of Possible Interiors
Massive Shortage


of Grade A Commercial Space in Hyderabad
There is no immediate space available in Grade A buildings across Madhapur and Gachibowli. Corporates who need immediate space are forced to pre-commit for space coming up next year and take temporary space in business centers / co-working centers till the time long term space is delivered – making this the perfect time to invest in commercial spaces!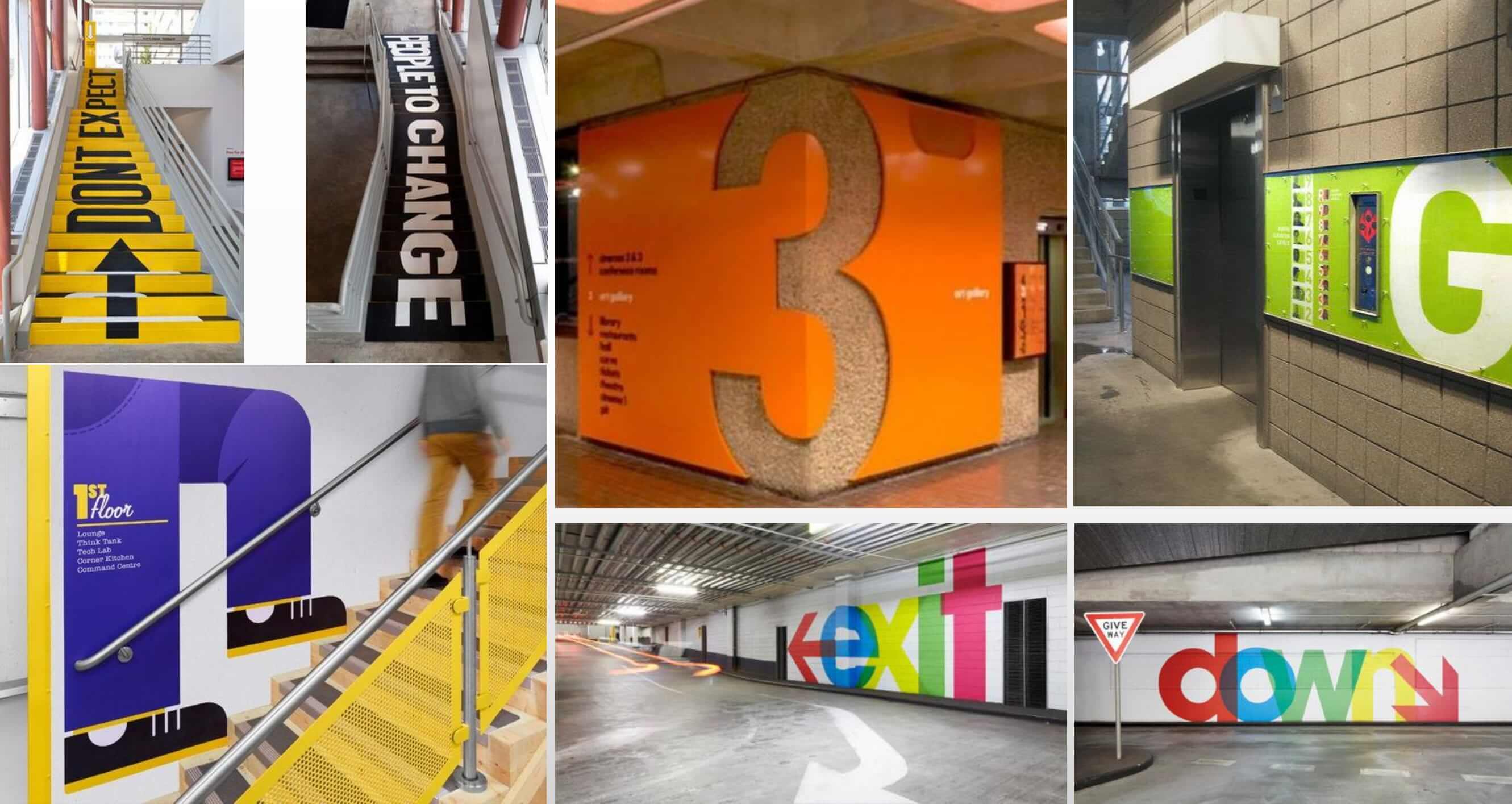 Inspiration for Interior Sign Boards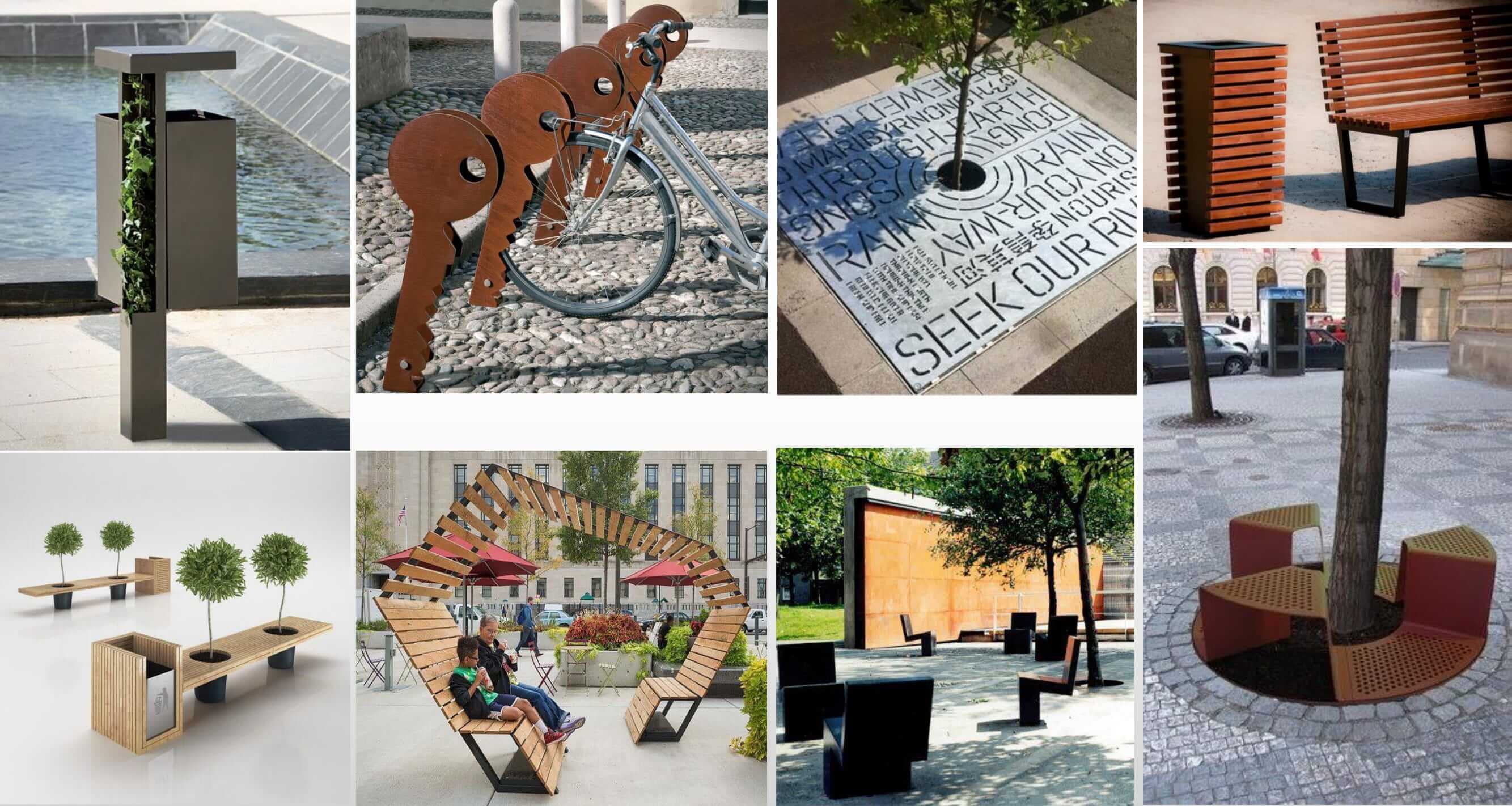 Inspiration for Plaza / Street Level Furniture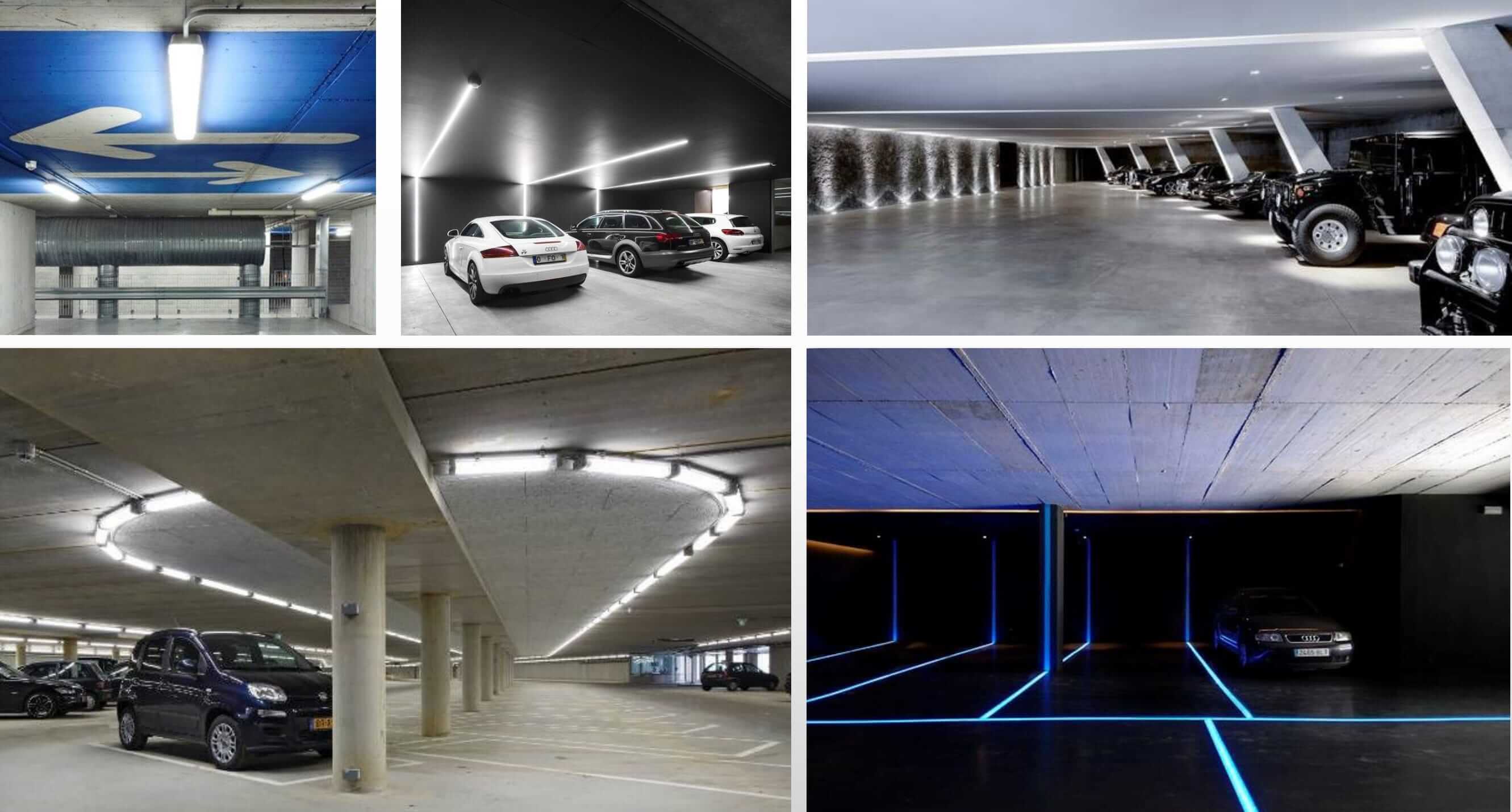 Inspiration for Underground Parking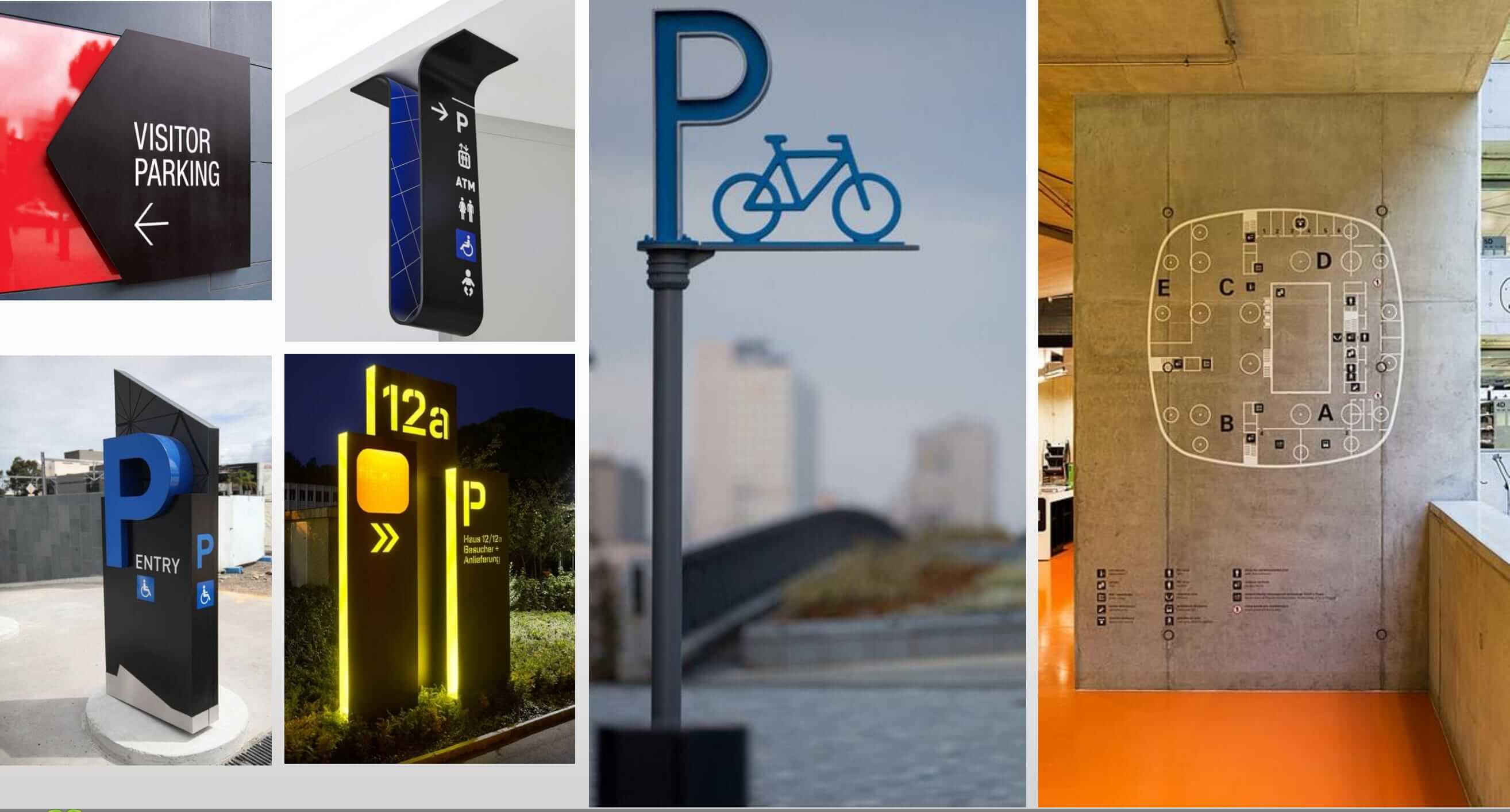 Inspiration for Public Signages
Hyderabad continues to be a 

landlord favorable market
Due to limited new supply options, the office market continues to be increasingly favourable for landlords in the city. The rentals are continuing to increase by approximately 2% quarter on quarter and this trend is expected to continue for the next 4 years as it will take that long for supply to satisfy demand.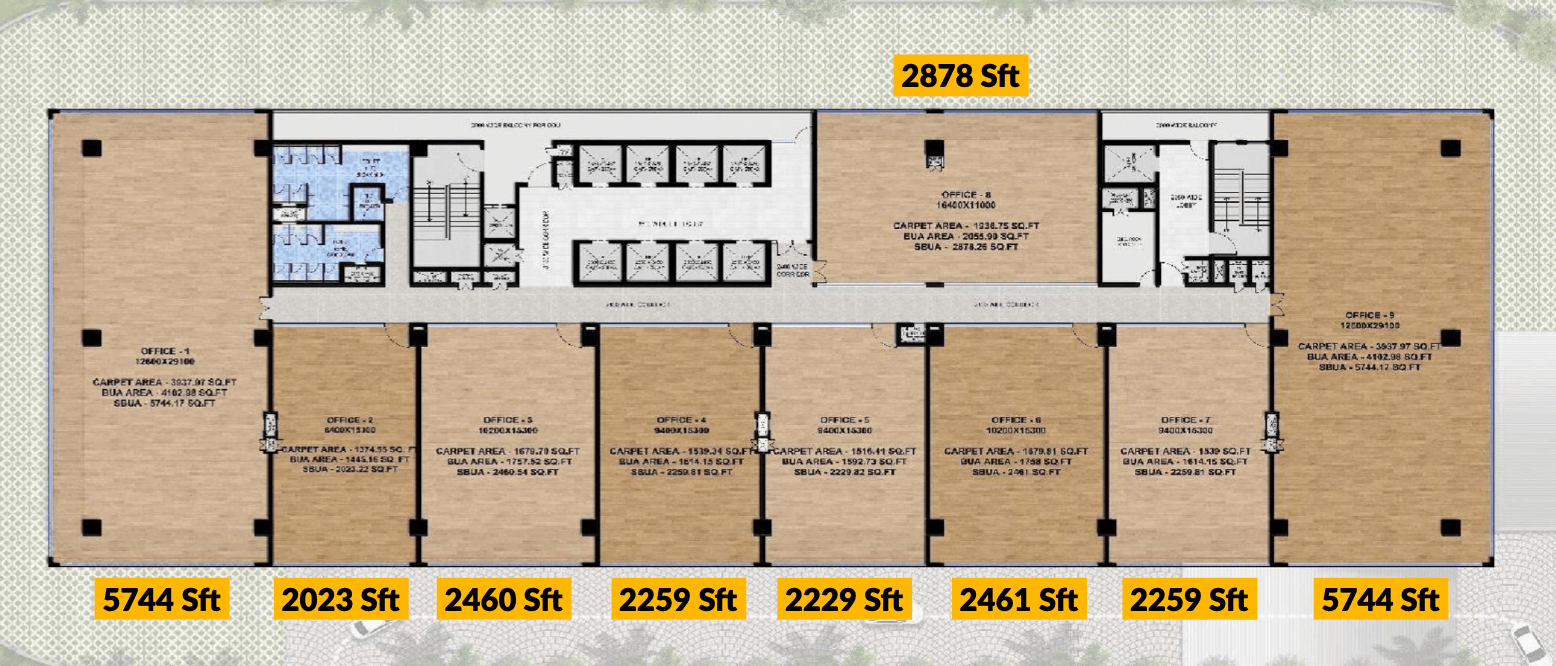 Close-Up of Floor Plan showing all Unit Sizes & their Position
Builder Profile & Track Record
The builder is one of the most reputed names in the industry, having constructed landmark projects both commercial and residential – particularly signature villa projects in and around twin cities of Hyderabad and Secunderabad.
With a proven track-record of excellence in the real estate sector for 3 decades they have reached commanding positions in Hyderabad's real estate market.
Contact Us to Know More
For more info, price quotes & booking, please call our below team members :
Invest in this unique & rare commercial office space of Hyderabad and
earn 7% to 8% rental ROI from 2024!
Invest in
High Rental Income
Serviced Hotel Apartments
 Earn Rs.25,000 to.
.80,000 per month.
on an investment of just Rs.35 to 90 lakhs
(home loan available & payable in instalments)
3x More Rental than Regular Apartments
ZERO Maintenance for you as Investor
Loan available at HOME LOAN RATE (6.7%)
Studios, 1 & 2 BHKs available across multiple cities
Get started with just Rs.7 lakhs in hand!
Click Here to Learn More