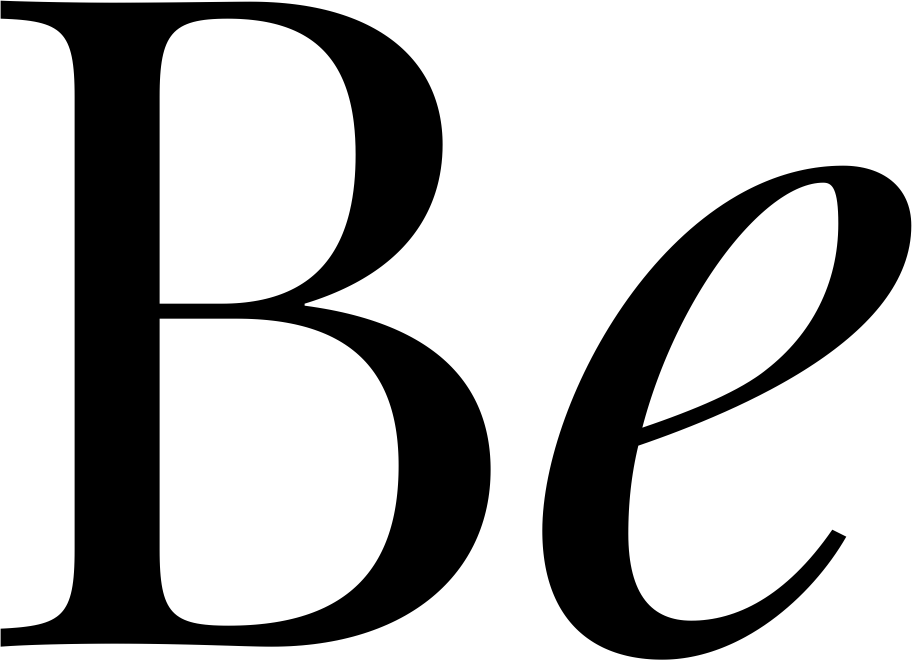 2 & 3 BHK Luxury Apartments
at Affordable Prices
@ Vijayawada, near Amaravati
PRE-LAUNCH OFFER – Exclusively for our USA Tour
Buckingham Enclave (BE) is a 16 acre gated community of luxury apartments at affordable prices, located just 20 minutes from Amaravati and 15 minutes from MG Road, Vijayawada.
With just 14 blocks with a configuration of Basement + Ground + 9 floors, BE boasts of a one of its kind 6 acre central courtyard, complemented by twin club houses spread over a massive 45,000 sft plus with separate facilities for activities and banquets.
More than anything, BE is just off the Vijayawada Guntur National Highway, tucked away in the most serene ambience possible unlike other comparable developments located on the NH which are exposed to the highest noise and dust pollution.
Most Affordable Branded Project of Vijayawada / Amaravati
While comparable projects around Buckingham Enclave are being sold at Rs.4500 to 5100/Sft, we are launching Buckingham Enclave at a shockingly low special price of Rs.3200/Sft for limited units to create tremendous goodwill among NRI fraternity who have been a big strength for G&C – a stunning 36% lower than what other comparable brands cost in and around this area.
There is massive demand for affordably priced branded luxury apartments in Mangalagiri / Vijayawada / Amaravati belt in the Rs.30 to 60 lakhs range (the stretch between Varadhi & Mangalagiri is set to become the future Downtown / Gachibowli of Amaravati & Vijayawada) and BE is the 1st project in this area to offer 2 & 3 BHKs priced between Rs.35 to 49 lakhs but with similar amenities as higher priced projects in the same area (which are priced much higher between Rs.70 to 90 lakhs).
This project is hence attracting tremendous interest with non-stop bookings within 2 weeks of our landing in USA for TANA Convention where we opened bookings informally, although formal launch is at NATS Sambaralu at Chicago.
Largest Gated Community in its Category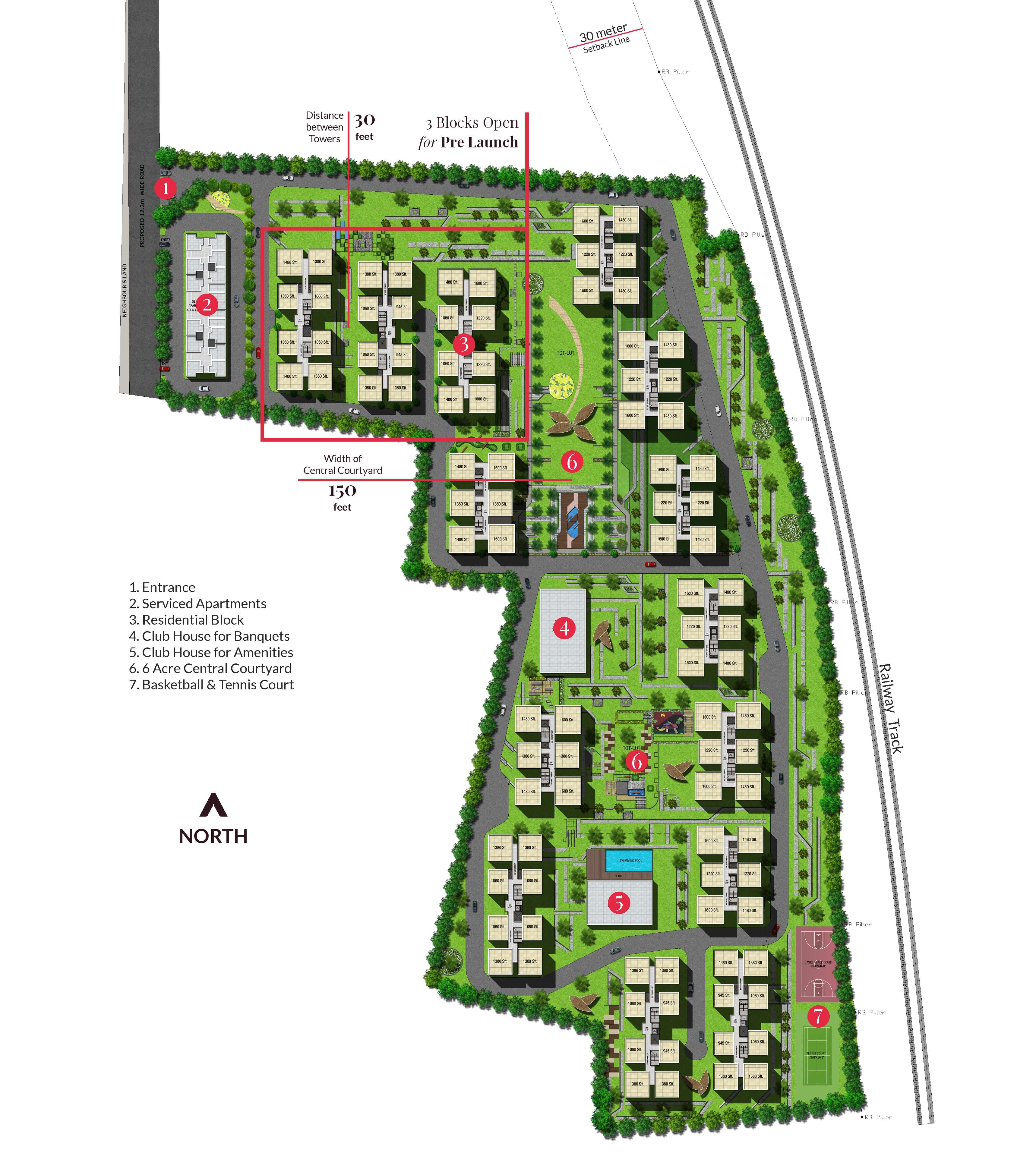 BIGGEST TRUMP CARD




Most Affordable Price Ever Possible under Luxury Segment
While all other branded developers in this area are selling apartments priced from Rs.70 to 90 lakhs – which is expensive by Vijayawada standards and makes it out of reach for most of the localites – we are offering similarly specced apartments at a much more affordable Rs.35 to 49 lakhs range – and hence seeing tremendous interest and response with on-the-spot bookings at many locations / roadshows across USA.
The table below shows a comparison of Buckingham Enclave's pricing versus that of other comparable projects in the Vijayawada to Mangalagiri stretch and you can clearly see that at the current pre-launch price, our project is priced atleast 24% to 38% lower than competition and hence has tremendous scope for greater and faster appreciation than other projects in this area.
| wdt_ID | Project | Buckingham Enclave | Builder 1 | Builder 2 | Builder 3 | Builder 4 | Builder 5 |
| --- | --- | --- | --- | --- | --- | --- | --- |
| 2 | Basic Price Per Sft | 3200 | 5200 | 5000 | 4800 | 4700 | 4200 |
| 3 | 3 BHK (1380 Sft) | 44.16 Lakhs | 71.76 Lakhs | 69.00 Lakhs | 66.24 Lakhs | 64.86 Lakhs | 57.96 Lakhs |
| 4 | Savings % | | 38% | 36% | 33% | 32% | 24% |
Largest Gated Community of its kind in Vijayawada
With 14 blocks of Basement + Ground + 9 floors each, BE boasts of a one of its kind 6 acre central courtyard, complemented by twin club houses spread over a massive 45,000 sft MAKING IT THE LARGEST CLUBHOUSE OF VIJAYAWADA FOR A GATED COMMUNITY with 2 separate clubhouses – one for resident's activities & one for banquets & functions, so that residents are not disturbed.
Lowest Density Complex when compared to Similar Projects : All Flats have literally 360 Degree Views as Each Flat is Open on 3 Sides
With less than 1000 apartments spread over 16 acres, we are also the most spread out and ventilated with maximum open areas where every apartment has open spaces on atleast 3 sides or more and with rare 30 feet gap between towers which means your neighbouring apartment is far away – which beats projects by other comparable brands in that area who are constructing approx 500 to 900 apartments in just 4.5 to 9 acres whereas we are building just under 1000 units spread over a massive 16 acres – making ours the least dense and more open than others.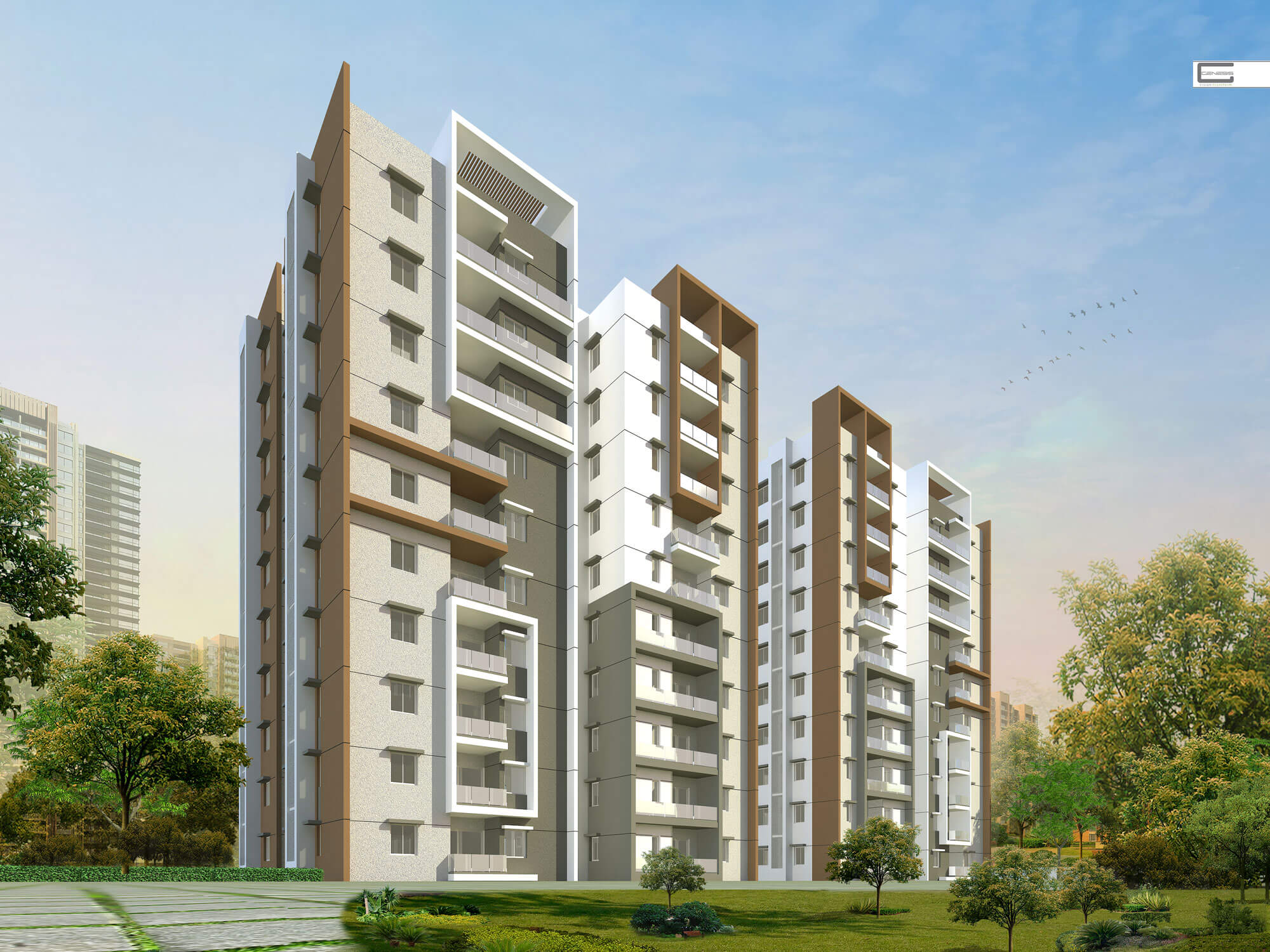 Architect's Rendering of Elevation
Advantages of

Buckingham Enclave
Affordably Priced

: Compared to other apartments in the region that are priced between Rs.70 lakhs to 1.3 crores on average (going upto even 2 crores in some cases),

BE offers comparable apartments that are priced much more practically and affordably between Rs.35 to 49 lakhs

with comparable amenities and features.


.

Largest Open Spaces

– 16 acres of purely residential development with 67% open spaces : While other builders in the area are constructing 500 to 900 apartments in just 4.5 to 9 acres, we are constructing under 1000 apartments in 16 acres – making this much more spread out with 67% open spaces with a rare 6 acre central courtyard, giving the residents larger lung spaces and a relaxed ambiance.


.

Off the Highway, away from the Noise, Congestion & Pollution

: Most comparable developments in the region are located bang on the highway – which is NOT AT ALL suitable for residences due to constant heavy traffic on the highway – trucks passing through day and night, noise, dust and pollution. In contrast, BE is 1.7 kms off the highway with easy access via a brand new 60 feet wide road laid by us recently along the Guntur canal and

located in most serene untouched settings, away from all the noise & pollution.
The region around BE – Varadhi to Mangalagiri, is the closest existing urban center to the core capital in Amaravati & at the same time, is easily accessible to existing social infrastructure of MG Road / Bunder Road until other modern developments like shopping malls, star hotels, convention centers become operational in couple of years.
Being located between Amaravati, Vijayawada and Guntur and serviced by an 8 lane National Highway, this stretch of Varadhi to Mangalagiri is poised to become the Gachibowli & 2nd MG Road of Vijayawada / Downtown for Amaravati, attracting massive private investments flowing into the region
This stretch is already populated with projects by leading developers including 30 storey high residential towers, shopping malls, luxury hotels, 3 brand new convention / marriage halls, the TDP office, Jaguar showroom anay many other high end developments.
With a new road network already under development, access to the core capital is just a matter of 15 to 20 minutes from our project.
Below are few of the major developments (under development and existing) in the region :
All India Institute of Medical Sciences (AIIMS) : A Govt of India undertaking with its prestigious main campus in Delhi, is already under construction at Mangalagiri, spread over close to 200 acres.


.

Proposed International Airport : The Govt of AP has set aside 5000 acres near Mangalagiri, for the development of a Greenfield airport serving the capital.


.

NRI Hospital & Academy – A 900 bed super speciality hospital set up as a non-profit organization by Telugu NRIs residing in the US.


.

APSP 6th Battalion (Training grounds for the AP Police force) & Office of the Director General of Police : The DGP office is under construction inside the above mentioned APSP campus.


.

KL University – A well renowned and leading university with a 100 acre campus and more than 15,000 students.


.

Mixed Use Developments

Lingamneni Estates – Mid Valley City – A 13 acre development with luxury residences in the range of 75 lakhs to 2 crores, offices spaces and a shopping mall.
Manjeera Monarch – A 4 acre development with luxury residences in the range of 55 lakhs to 1.4 crores, and a proposed 4 star hotel.


.

Residential Developments
Jayabheri – A 7 acre gated community of apartments in the range of 90 lakhs to 1.9 crores.


.

Other Private Developments

CK Brothers Convention Hall

Jaguar Land Rover Showroom
 Current Status, Approvals & Estimated Completion 
Various statutory approvals process for BE has commenced and we expect final plan sanction in 4 to 5 months. However, to get a head start, we have commenced, aggressively, basement excavation activities 8 months back and is almost complete. Soil testing has been completed.
We are aggressively planning to complete the whole project in 4 to 5 years from the date of receiving final plan sanction.
BE is the 1st Branded Gated Community of Vijayawada in the Rs.35 to 49 Lakhs bracket
 LOCATION 
– Located 15 minutes from MG Road and 20 minutes from Amaravati
– Just 1.8 Kms off the Vijayawada – Guntur 4 Lane Highway
 SIZE OF PROJECT 
900 units spread across 16 acres

 TYPE & SIZE OF UNITS 
2 BHK – 945, 1060, 1220 sft
3 BHK – 1380, 1480 & 1600 sft
 EXPECTED COMPLETION DATE 
4 to 5 years from the date of final plan sanction.
SPECIAL PRE-LAUNCH PRICE
While we plan to launch this to market after receiving approvals in 4 to 5 months at a higher price, we are currently offering limited units under pre-launch at a very very special price for our NRI clients and their circle at Rs.3200/Sft (basic price) – which means a price range of Rs.35 to 49 lakhs for a 2 and 3 BHK respectively or 36% less than what comparable brands in this area are currently charging.
This special price is only for limited units and we may keep increasing this pre-launch price at regular intervals over the next 4 to 6 months till we launch to public.
INVEST ONLY 20% FROM YOUR POCKET
You need to invest only 20% from your pocket as rest is funded via home loan which we will get for you through our office (BE will be pre-approved by leading banks, allowing you to take a loan funding upto 80% of the unit cost).
EARN 100% to 150% ROI in 3 YEARS
When you invest at this special price, your money will literally double in less than 3 years from public launch and you can expect to earn atleast 150% or more on your invested capital (when you invest using a home loan where bank loan interest rates have already fallen from 10.5% to 8.5% and are expected to fall further and it is our guess that by the time you end up taking possession, the rates may fall to as low as 7% if not lower, making this investment a NO BRAINER & any Telugite round the world can afford).
EASY & RELAXED PAYMENT SCHEDULE :
To block your unit,

you need to pay only Rs.1.5 lakhs for a 2 BHK and Rs.2 lakhs for a 3 BHK.

After this, the next payment is after 4 to 5 months, when you have to pay another Rs.6 to 7 lakhs for a 2 BHK and Rs.8 to 10 lakhs for a 3 BHK (by which time we expect to receive all approvals and begin construction thereafter).

The rest is funded by home loan and you have to pay only Rs.2 to 2.5 lakhs as interest on the loan over the next 2.5 to 3 years (payable in instalments and not at one shot).
Therefore, you can get started in this with as less as Rs.7 to 9 lakhs in your pocket out of which only Rs.1.5 to 2 lakhs has to be paid now and balance at the time of commencement of construction by end of this year.
Booking Your Unit & Next Steps
Once you confirm your interest to go ahead, we will send you a booking form that you will have to fill and send back as scanned copy (hard copy is not required).


.

You may either pay via RTGS directly to builder's account in India or issue a cheque in his favor.


.

Once funds are received, we will issue an acknowledgement letter and receipt against your EOI form & cheque.


.

You will then be entitled to a first come first serve allotment of apartments as per your preference of floor, facing, position, etc. before we open it up to other clients.


.

Above means any Telugite can afford the same for the purpose of excellent investment option (buy now to resell in 3 years by the time its complete for 100% to 150% capital gains or as a guest house near Amaravati for their company operations / during their visit to Andhra or for their parents / in-laws and also as a future possible relocation asset as one would like to be in a nice compact unit as it hardly involves any maintenance.


.

Keeping in mind above multiple advantageous, we strongly recommend each and every NRI contact of ours TO TAKE FULL ADVANTAGE OF THIS RARE PRE-LAUNCH OFFER and also may share this with your friends / relatives to benefit them as otherwise, they will never get to know about this.
Contact Details of Our Team
For bookings or queries please call any of our below team members :
Jhashank Roy Chowdary
Head – Corporate Affairs
jhashank@gcglobal.in
USA: +1 847 387 0765
India: +91 99001 23737