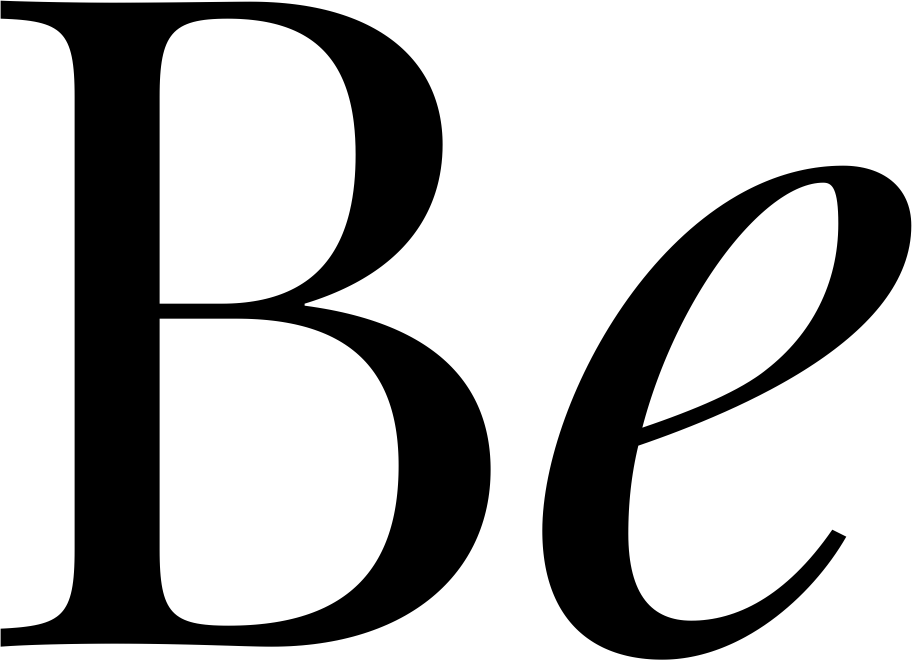 2 & 3 BHK Luxury Apartments
at Affordable Prices
@ Vijayawada, near Amaravati
 Most Affordable
Branded Project of
Vijayawada / Amaravati
Buckingham Enclave (BE) is a 17 acre gated community of luxury apartments at affordable prices, located just 15 minutes from Amaravati and MG Road, Vijayawada.
BE is just off the Vijayawada Guntur National Highway, before AIIMS Mangalagiri and near the AP Police Headquarters and TDP Headquarters, tucked away in the most serene ambience possible unlike other comparable developments located on the NH which are exposed to the highest traffic, noise and dust pollution.
BE is most ideal for :
Short term opportunities in Amaravati by

reselling the apartment in 3 to 4 years at a minimum target price of Rs.70 lakhs to 1 crore

 – giving you more than 100% in 3 years.


.

Acquire a long term family asset in Amaravati for the lowest price possible :


.




NRIs looking for possible relocation home for themselves back in India at a reasonable price.


.

NRIs who wanted to help their parents / in-laws staying in rural areas and suburbs to relocate to future hotspots but at the same time in the most serene settings.


.

State government employees who have been aiming to acquire a suitable asset for their families still living outside Vijayawada after bifurcation.


.

Entrepreneurs and IT companies wanting to set their operations in Amaravati to have guest houses in a family atmosphere.
All other branded developers in this area are selling apartments priced between Rs.70 lakhs to 2 crores – which is expensive by Vijayawada standards and makes them out of reach for most of the initial prospective residents of Amaravati.
Buckingham Enclave (BE) however, will have apartments of similar specifications in a much more AFFORDABLE price range.
The table below shows a comparison of Buckingham Enclave's pricing versus that of other comparable projects in the Vijayawada to Mangalagiri stretch.
| | Builder 1 | Builder 2 | Builder 3 | Builder 4 | Buckingham Enclave |
| --- | --- | --- | --- | --- | --- |
| Basic Price | Rs.5150/sft | Rs.5100/sft | Rs.4890/sft | Rs.4600/sft | Rs.xxxx/sft |
| Project Size | 7 acres | 8 acres | 9 acres | 4 acres | 17 acres |
| Distance to Amaravati | 10 mins | 10 mins | 15 mins | 10 mins | 15 mins |
| Price Range | 75 lakhs to 2 crores | 73 lakhs to 2.4 crores | 76 lakhs to 1 crore | 65 lakhs to 1.2 crores | 32.5 to 52.5 lakhs |
As you can see from the table above, you can conclude straight away that BE is a no-brainer investment for any smart investor who can spare just Rs.32.5 to 52.5 lakhs by grabbing this limited units offer given at unbelievable price versus other builders' prices as above.
Also, you can more or less conclude that you will double your money on the minimum side in 3 years time (approx time of completion of Phase 1).
Largest Gated Community in its Category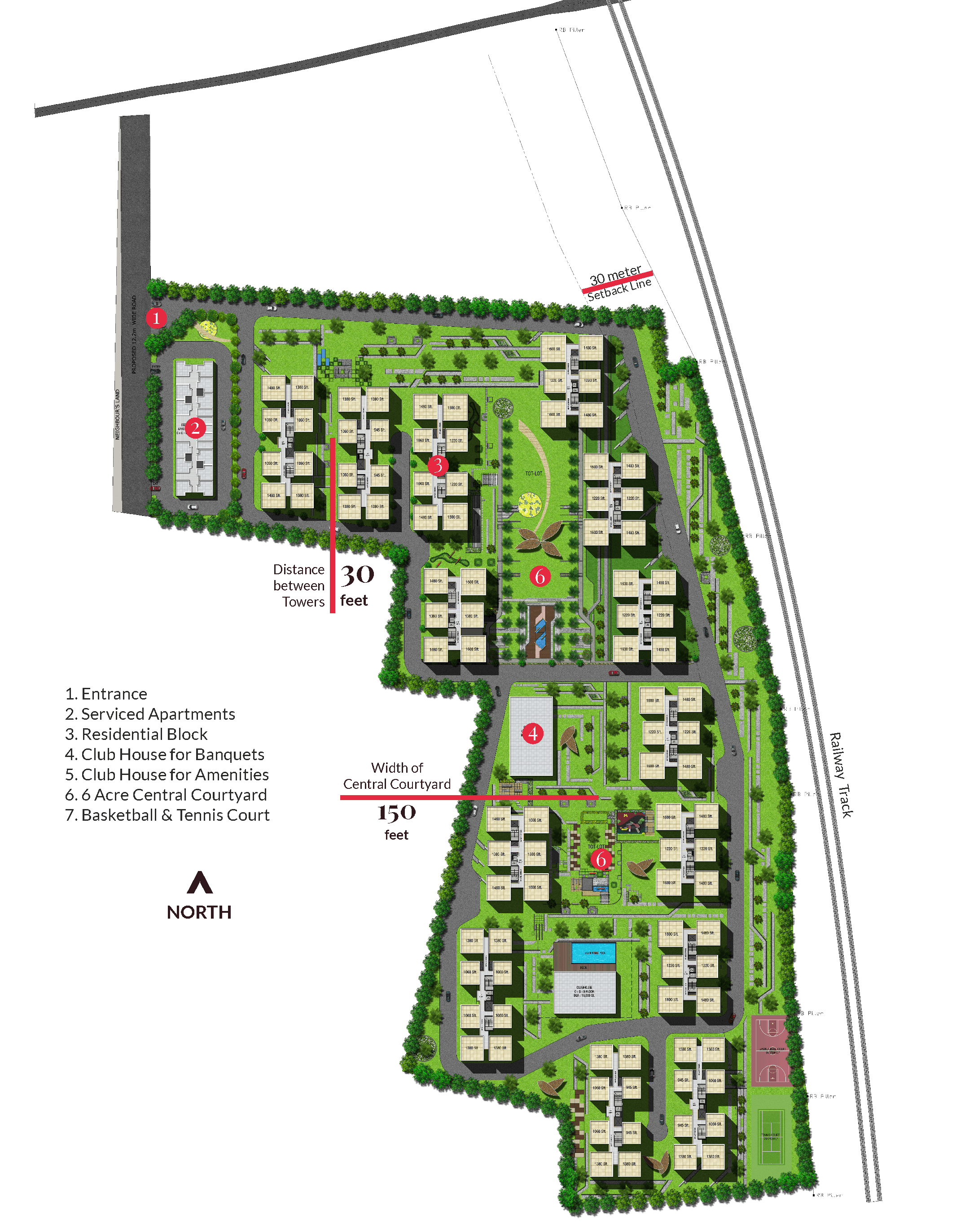 1st of its kind Features
in Vijayawada / Amaravati
Vijayawada's Largest Twin Club Houses spread over a massive 50,000 sft plus, with separate facilities for activities and banquets.


.

1st of its kind 6 acre central courtyard and overall, 13 acres of open spaces. 


.

Lowest density of apartments in Amaravati region allowing for more open spaces and exclusivity.


.

2.2 km Walking Trail / Jogging Track


.

Totally Car Free Zone – No cars allowed on the surface and vehicular movement limited to the double basement for highest safety for residents, especially kids and elders.
Largest Gated Community of its kind in Vijayawada
With 14 blocks of Basement + Ground + 9 floors each, BE boasts of a one of its kind 6 acre central courtyard, complemented by twin club houses spread over a massive 50,000 sft – making it THE LARGEST CLUBHOUSE OF VIJAYAWADA for a gated community with 2 separate clubhouses – one for resident's activities and one for banquets & functions, so that residents are not disturbed.
To put this in perspective, many of the other branded projects in the vicinity are just 4 to 7 acres in size – which is smaller than the size of just our central courtyard!
Lowest Density & All Flats are Open on 3 Sides
With just 1100 apartments spread over 17 acres, the apartments are spread out and ventilated with maximum open areas where every apartment has open spaces on atleast 3 sides or more and with rare 30 feet gap between towers which means your neighbouring apartment is far away – which beats projects by other comparable brands in that area who are constructing approx 500 to 900 apartments in just 4.5 to 9 acres – making ours the lowest density with most open spaces.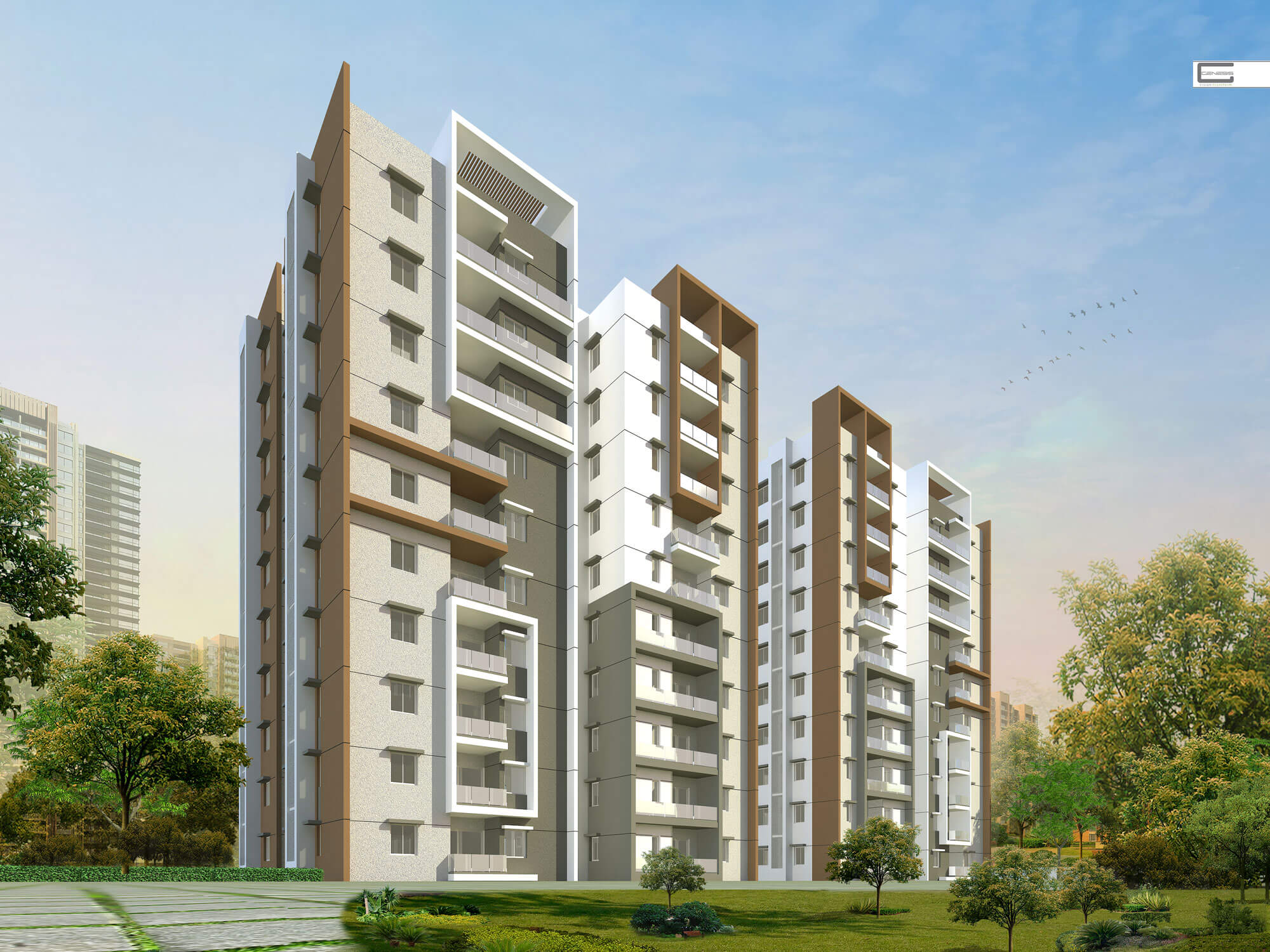 Architect's Rendering of Elevation
Biggest Advantages of


Buckingham Enclave
Largest Open Spaces

– 17 acres of purely residential development with 13 acres of open spaces with a rare 6 acre central courtyard, giving the residents larger lung spaces and a relaxed ambience.


.

Off the Highway, away from the Noise, Congestion & Pollution

: Most comparable developments in the region are located bang on the highway – which is NOT suitable for residences due to constant heavy traffic on the NH16 – trucks passing through day and night, noise, dust and pollution.


.


In contrast, BE is just 1.8 kms off the highway with easy access via a brand new 60 feet wide road laid by us recently along the Guntur canal and

located in most serene untouched settings, away from all the noise & pollution.
The region around BE – Varadhi to Mangalagiri, is the closest existing urban center to the core capital in Amaravati & at the same time, is easily accessible to existing social infrastructure of MG Road / Bandar Road until other modern developments like shopping malls, star hotels, convention centers become operational in couple of years.
Being located between Amaravati, Vijayawada and Guntur and serviced by an 8 lane National Highway, this stretch – Varadhi to Mangalagiri is poised to become like the "Gachibowli" & "2nd MG Road" of Vijayawada / Amaravati, attracting massive private investments flowing into the region
This stretch is already populated with projects by leading developers including 30 storey high residential towers, shopping malls, luxury hotels, 3 brand new convention / marriage halls, the TDP office, Jaguar showroom and many other high end developments.
With a new road network already under development, access to the core capital is just a matter of 15 minutes from here.
Below are few of the major developments (under development and existing) in the region :
All India Institute of Medical Sciences (AIIMS)


A Govt of India undertaking with its prestigious main campus in Delhi, is already under construction at Mangalagiri, spread over close to 250 acres. They have already started admissions for the 2018 MBBS batch.


.

Pi Amaravati – Asia's Largest, Most Advanced Data Center


With a 5000 rack capacity, this is the largest data center in Asia & one of the largest in the world, with the highest (Tier IV) certification from the Uptime Institute. It is being expanded further with Rs.550 crores additional investment.


.

NRI Hospital & Academy


A 900 bed super speciality hospital set up as a non-profit organization by Telugu NRIs residing in the US.


.

APSP 6th Battalion


Training grounds for the AP Police force


.

AP Police Headquarters & Office of the Director General of Police


The headquarter is already operational inside the above mentioned APSP campus.


.

KL University


A well renowned and leading university with a 100 acre campus and more than 15,000 students.


.

Mixed Use Developments

Lingamneni Estates – Mid Valley City – A 13 acre development with 5.5 acres dedicated to apartments in the range of 75 lakhs to 2 crores, offices spaces and a shopping mall.
Manjeera Monarch – A 4 acre development with luxury residences and a proposed 4 star hotel.


.

Residential Developments


Jayabheri – A 7 acre gated community of apartments in the range of 90 lakhs to 1.9 crores.
Aparna – A 10 acre gated community of apartments in the range of 76 lakhs to 1.2 crores.


.

Other Private Developments

CK Brothers Convention Hall

Jaguar Land Rover Showroom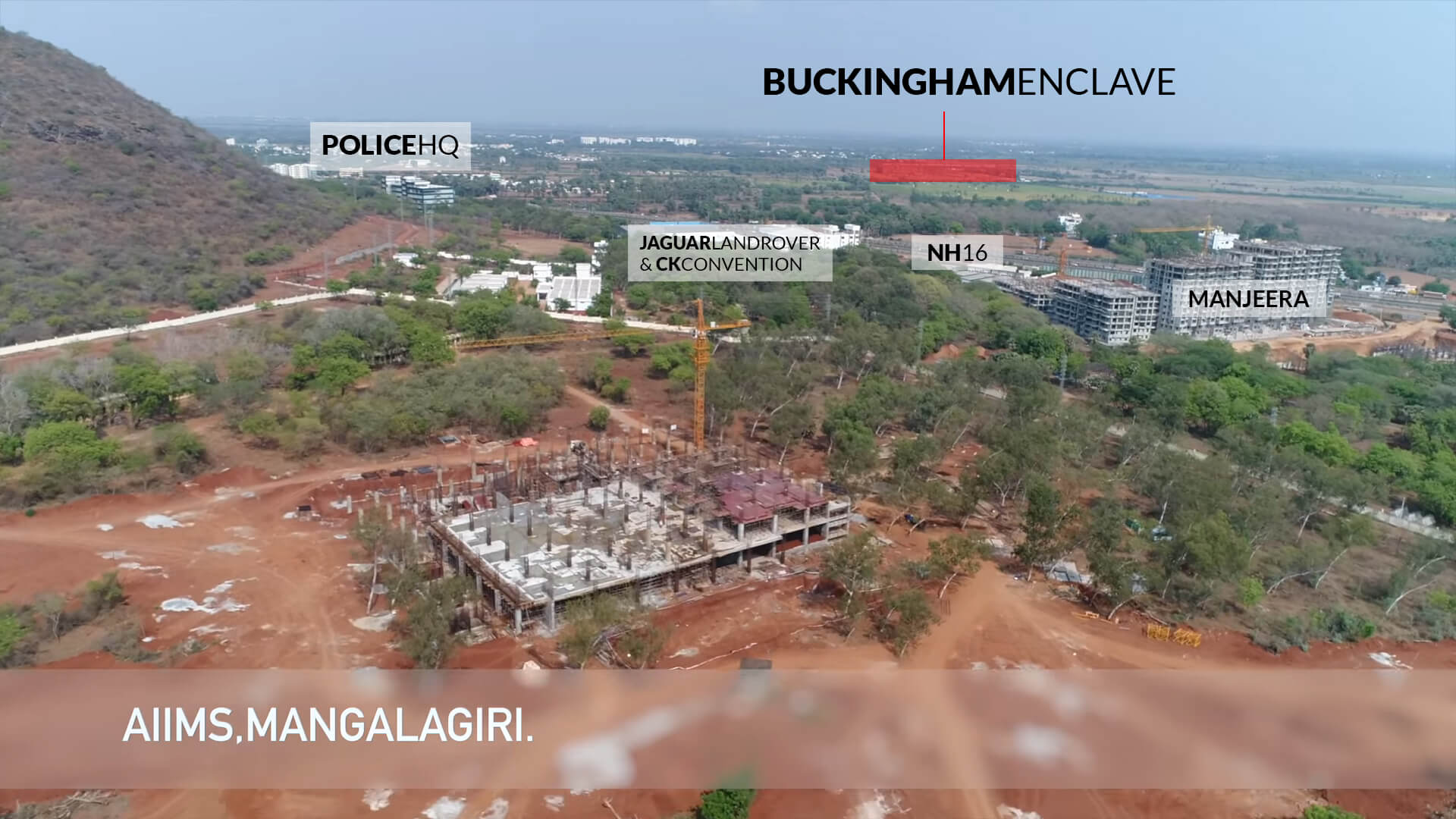 All India Institute of Medical Sciences (AIIMS) at Mangalagiri
Spread over 250 acres  |  1st MBBS batch begins in 2018
(Just 2 mins from Buckingham Enclave)
BE will be one of the 1st
RERA compliant projects
of Vijayawda / Amaravati
Current Status, Approvals & Estimated Completion Dates
Double basement excavation almost completed.




.

NOC from Airports Authority of India received.


.



NOC from Fire and Disaster Management Authority received.


.




Environmental Impact Studies completed and updated with Pollution Control Board.




.

Land conversion completed.


.



Plan sanction uploading process is being taken up.


.




Soil testing completed.




.

Construction of Compound Wall and the Site Office has been completed.




.

Various statutory approvals process has commenced and we expect final plan sanction in 4 to 5 months




.

We are aggressively planning to complete the whole project in 4 to 5 years from the date of receiving final plan sanction, with Phase 1 being completed in 3 to 3.5 years




.

Our Project Head from Dubai has already shifted with bag and baggage to Vijayawada.


.




In the meantime, various pre construction works including finalisation of landscaping have been taken up.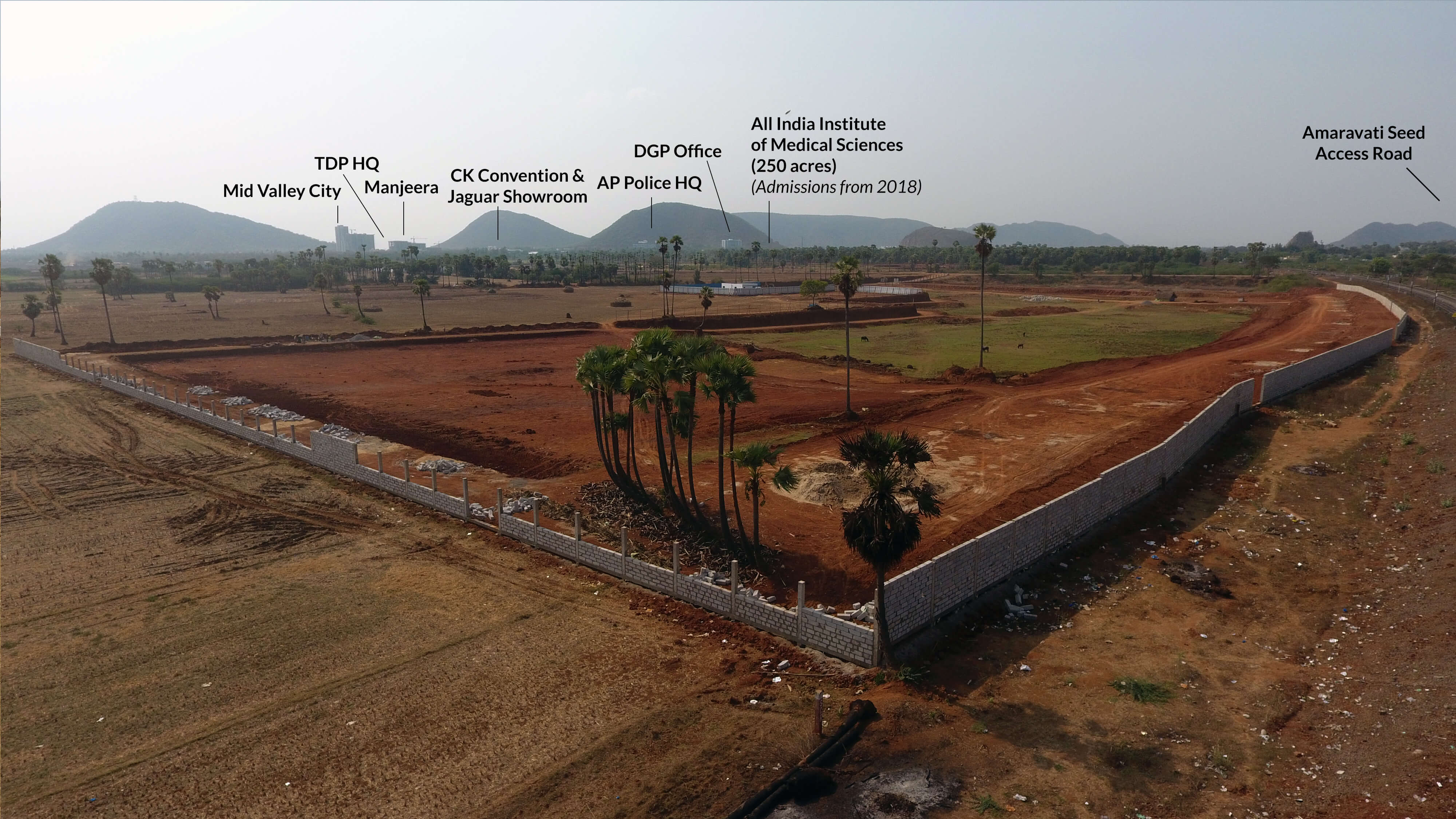 Buckingham Enclave Site as of April 2018
 LOCATION 
– Located 15 minutes from MG Road, Benz Circle and Amaravati
– Just 1.8 Kms off the Vijayawada – Guntur 4 Lane Highway
 SIZE OF PROJECT 
1100 units spread across 17 acres

 TYPE & SIZE OF UNITS 
2 BHK – 1100 & 1215 sft
3 BHK – 1355 (2 toilets), 1530 (2 toilets), 1645 & 1780 sft
 EXPECTED COMPLETION DATE 
Phase 1 in 3 to 3.5 years. Full project in 4 to 5 years from the date of final plan sanction.
.

Best Price Offer

.




.

of Amaravati

.
.Deepest Discounted Price with potential for.
.100% to 150% ROI in 3 to 4 years.
As always, at G&C we have endeavoured to bring our patrons the best offers of each city / segment giving safest and highest returns possible in that market.
In BE, we are glad to share the below offer with you on 1st come 1st serve basis as we want to limit the number of pre sales to just 1% of the entire stock in the project.
Basic price of

Rs.xxxx/sft

 

against 100% down payment.




.

Deepest discounted offer of Rs.

32.5 lakhs to 52.5 lakhs.




.

You get to choose your unit on a first cum first serve basis as soon as the sanctions are received.


.

As a special case, in contrast to market practice, we have waived off floor rise premium and premium location charges.


.

Again as a special case, extras like club house deposit, maintenance deposit, car parking charges will be payable against possession of the unit upon completion. This gives you an opportunity to resell your unit to a 3rd party who can pay these charges on your behalf. Please see below section for information on these charges.
Market
Standard
Buckingham Enclave
Floor Rise Premium
Rs.20 to 75/sft
NIL
Premium Location Charge
Rs.50 to 100/sft
NIL
Club House Deposit
Rs.100 to 150/sft
Rs.75/sft
Infrastructure Cost
Rs.100/sft
Rs.75/sft
Car Parking
Rs.2 lakhs
Rs.1.5 lakhs
Invest in this unique asset of Amaravati today and  literally double your money  in 3 to 4 years!
For Queries & Bookings, Contact