High Monthly Rental Income Generating Hotel Apartments at
KOCHI
Earn Rental Income of Rs.30,000 to 45,000 per month

by

investing in Serviced Hotel Apartments in Cochin

(near Vyttila)
On an investment of just Rs.45 to 65 lakhs

Fully Operational & generating Income since December 2016
4x Greater Rental Income
than Normal Apartments
Exploding Demand for
Hotel Apartments in India
Managed by India's Leading
Hotel Apartment Operator
Already Operating @
Bangalore & Neemrana
Enjoy FREE Stays Every Year
7 Free Days across India
Zero Maintenance Asset
with 20 Year Lease
Generating Income since 
December 2016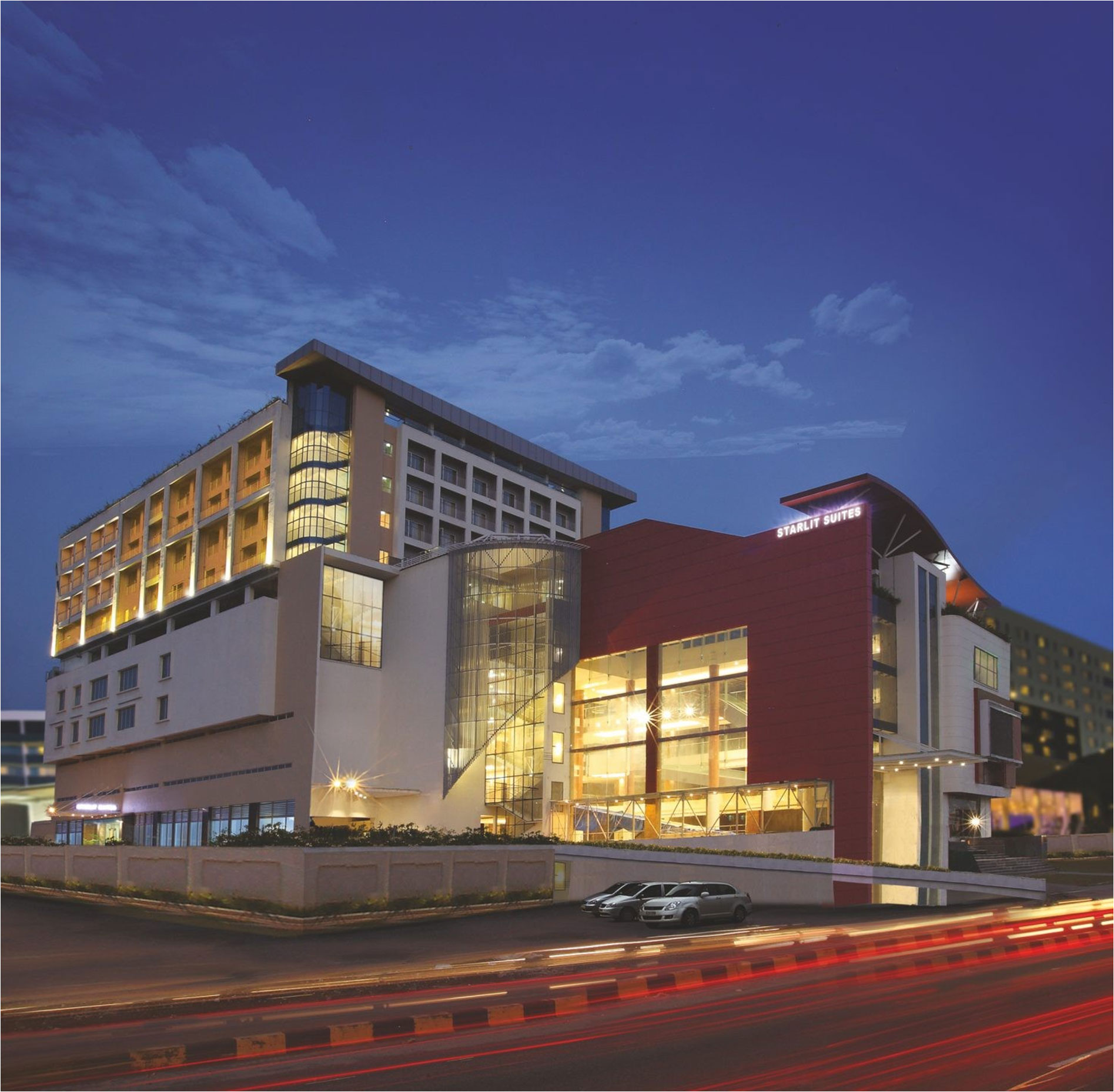 Night View of Starlit Suites Cochin
The contents of this offer document are organised as below :
What is Starlit Suites / Serviced Hotel Apartment concept?

Why Should I Invest in Serviced Apartments ?

How does Starlit Suites generate such high monthly rental income?

What are the biggest benefits of investing in Starlit Suites?

What makes this income so predictable and stable?

How much demand do such serviced hotel apartments have?

How do I exit from this investment?

Where is this in Kochi?

Operator & Builder Profiles

Financials – Unit Cost, Payment Schedule, Booking Amounts & Home Loans

Documentation Involved & How to Book Your Unit?

Contact Details of Our Team Members
Enjoy Stress-Free Rental Income
Why go through the hassles of renting out property on your own for just 2% to 3% ROI per annum when you can invest in serviced apartments and earn 6% to 8% stress-free?
What is Starlit Suites / Serviced Hotel Apartment Concept?
Starlit Suites is a leading 3 star serviced hotel apartment operator of India and by investing in their hotel apartments in Cochin and other major cities, you can earn highest monthly income of Rs.30,000 to 45,000 per month on lowest investment of just Rs.45 to 65 lakhs.
HOW IT WORKS :
You invest in a fully furnished, fully air-conditioned and fully serviced hotel apartment (Studio / 1 BHK / 2 BHK) that will be built to the standards of a 3 star hotel.


.

The unit is owned completely by you (registered in your name just like any other apartment) but is operated and managed by Starlit Suites Group and

marketed to the leading Indian corporates and MNCs in India as a 3 star extended stay serviced hotel apartment

.


.

The operator already has rate contracts and formal tie-ups with over 200 leading companies in India – including many Fortune 500 firms such as Cisco, Dell, HP, TCS, Wipro, Infosys, etc – whos' employees stay in these hotel apartments when they travel on work,

thus giving the operator assured business / occupancy throughout the year

.


.

The total gross revenue generated by all the units in the entire hotel apartment tower is then shared in a 50:50 ratio between you (the investor/owner) and Starlit Suites (the operator).


.

This means you earn rental return of 6% to 8% in the beginning –

which is 3 times greater than rental income from normal apartments or villas

– and the income grows to as much as 20% per annum over time.


.

The operator Starlit Suites is a leading player in his category and is currently managing hotel apartments at Bangalore and Neemrana, with towers

under construction at 8 more cities of India

. You can view their complete profile in the "Annexure" section at the end of this page.
Continue reading to know more and also see the "ANNEXURE" section at the end of this offer document for exhaustive information on income projections, payment schedule, location map, floor plans and much more.
A fast growing prime location of Kochi
Why should I invest in Serviced Hotel Apartments?
1
3 Times Greater Rental Income than that of Normal Apartments or Villas
Purchasing a regular apartment and then renting it out will only give you 2% to 3.5% returns per annum. In comparison, serviced apartments give you 6% to 8% ROI per annum.
2
No Maintenance Charges + Stress-Free Management
These hotel apartments are managed & maintained completely by the operator at his cost – thus freeing you of the hassles involved in renting out property on your own.
3
Tried & Tested Model + Exploding Demand for Hotel Apartments
Numerous investors round the world are already reaping benefits of this investment as Starlit Suites – with their rich experience of 37 years in hotel industry – has perfected this model over the last 6 years and is successfully operating hotel apartments at Bangalore, Neemrana and Kochi.
4
Highly Affordable Price & Relaxed Payment Schedules
Units start as low as Rs.45 lakhs for a Studio and Rs.65 lakhs for a 1 BHK, making this very affordable. This price is inclusive of furniture, fixtures and all applicable taxes (but excludes registration charges & stamp duty which is extras as per govt rates).
5
Timely & Automated Payment of Monthly Income to Your Bank Account
Each month's income is credited directly to your bank account through ECS on the 25th of the following month, making collection of rent a stress-free and automated experience. You don't have to worry about timely payments or collection and encashments of cheques etc.
6
7 Days Free Stay at Starlit Suites
 – You get 7 days free stay for 1 unit owned by you per year with complimentary breakfast.
– Out of this, 4 days can be at any location where Starlit is operating and balance 3 days can be availed at the location where you have invested (in this case, Kochi).
– You can accumulate the same for 2 years and also can gift free stays to family, friends and colleagues.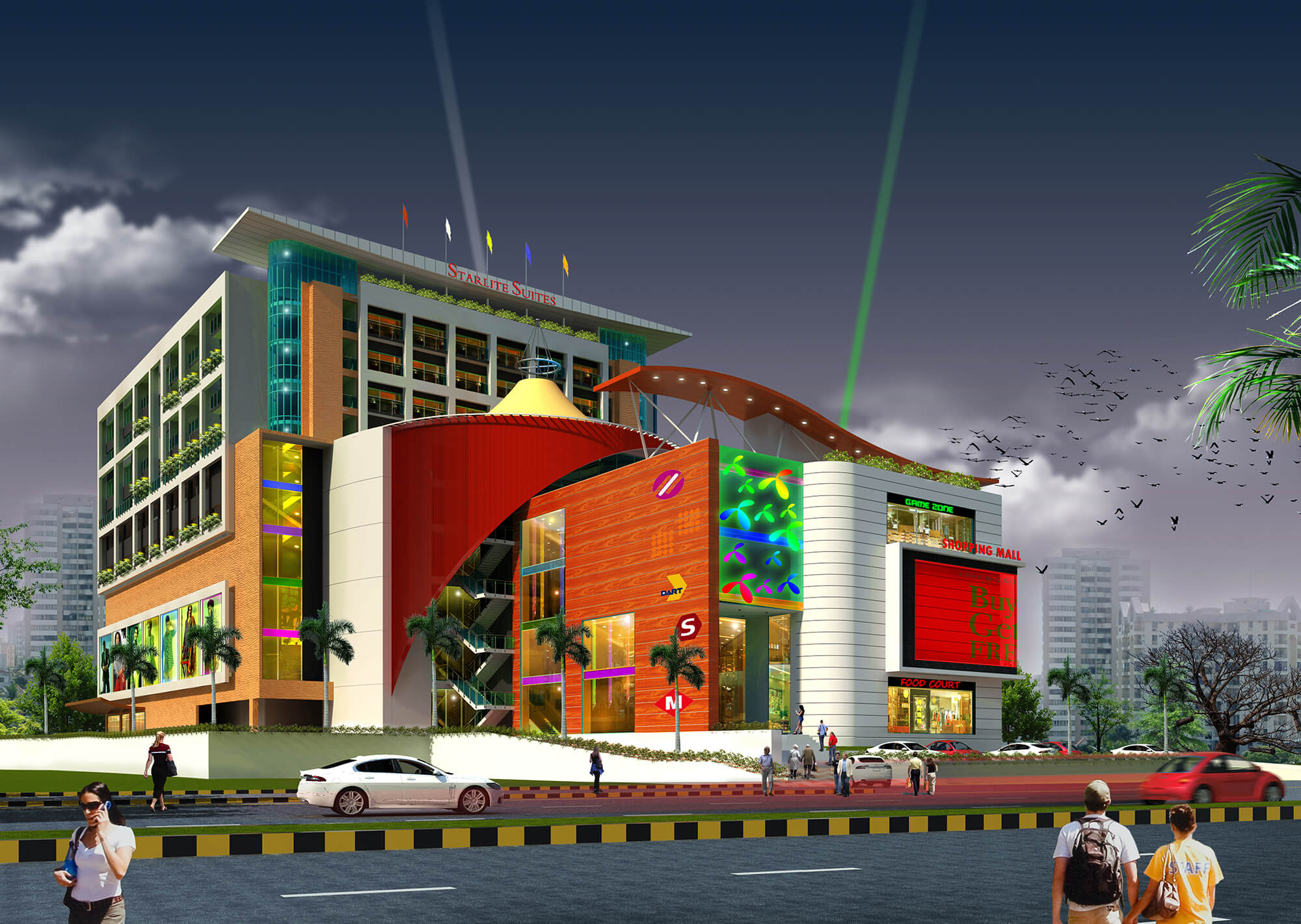 Artist's Rendering of External Elevation of Starlit Suites Cochin
How does Starlit Suites 

generate such high monthly rental income?
A custom designed serviced hotel apartment tower is constructed by a leading builder

, with all the facilities of a 3 star hotel such as gym, pool, bar & restaurant, meeting rooms, etc.

The tower consists of a mix of Studio, 1 BHK and 2 BHK units

(depending on demand in each market which varies from city to city) which are fully furnished to support extended stays with facilities like microwave, cooktop, fridge, etc.

.




.

Individual investors like you would buy 1 or many units which will be owned completely by you and

registered in your name once completed

.


.

The price that you pay for the unit is all inclusive

– that is, basic cost of the unit plus cost of furniture, fitouts, taxes & deposits.


.

At the time of booking your unit,

you also have to enter into a 20 year RMA (Rental Management Agreement)

with Starlit Suites (the hotel operator).


.

The unit is registered in your name and then you along with all other unit owners in this hotel apartment will handover the keys of your respective units to Starlit Suites (the operator) on the basis of the above mentioned RMA for next 20 years.


.

Starlit Suites (the operator) will then bring in manpower and working capital to run this hotel apartment and

rent out units for extended stays to employees of India's leading corporates and MNCs

(including Fortune 500 companies).


.

The operator has formal tie-ups / rate contracts with leading firms across India (such as Infosys, Wipro, Cisco, HP, Dell, HCL, TCS, Biocon, etc)

which ensure continuous demand / occupancy for rooms throughout the year

.


.

The total gross income generated by ALL the units in the tower is then pooled into one single account at the end of each month and then

50% of such total income is distributed equally among all investors

– ofcourse based on the size of unit / proportion of area owned by them in the tower.


.

Your share of the above 50% paid to all unit owners translates into annual returns of approx 6% in Year 1, 7% in Year 2 and 8% in Year 3 for you and this keeps increasing year on year to almost 18% p.a. by Year 20 – which means 4 to 5 times greater rental income than that of regular apartments or villas.


.



You Earn Income Irrespective of Whether Your Unit is Rented Out or Not : Since income of all rooms is pooled into a single bucket and then divided equally among all unit owners, you will earn as much income as any other similar unit owner – irrespective of whether your own particular unit is occupied or not.


.

No Scope for Cheating as You Are Getting 50% of GROSS INCOME : Since you and other unit owners are being given 50% of TOTAL / GROSS income – that is total revenue BEFORE any expenditure is deducted by operator – you will always earn high rental income irrespective of the expenses incurred by the operator.


.

Income is Credited Directly & Automatically to Your Bank Account Every Month : Your income is credited to your bank account every month through ECS credit on the 25th of every month for the previous month's income – which means absolutely no maintenance or monitoring required by you.
* For the 1st & 2nd year, you get 40% of total income and from 3rd year onwards, you get 50% of total income. This is done as operator incurs massive expenditure in marketing & promoting the new building in the beginning and is hence given 60% of the total income in the 1st & 2nd year and from 3rd year onwards, the total income is shared equally in a 50:50 ratio between you (the investor) and operator.
These are actual photos of Starlit Suites Cochin and you can see that ambiance and quality of rooms are on par with 3-star hotels.
A detailed Income Projection Sheet (PDF) is available in the annexures section at the end of this page and it shows you how much you can expect to earn per month from Year 1 upto Year 15.


.

This sheet is created by the operator, based on the occupancy levels he expects to achieve and the room rates he can charge based on the rate contracts that he has with his clients.




.

For this, operator has assumed average occupancy rate of just 70% throughout the lifetime of the property –

which is a very conservative estimate

as he is running his existing properties at a much higher 75% to 80% on average.


.

Even the room rates he plans to charge are very conservative compared to other hotels in the surrounding areas – infact Starlit gives you 2 to 3 times larger rooms for 30% to 60% LESS than comparable hotels.
 Bigger Rooms for Lesser Cost 
In and around this area (Vyttila & Maradu), a good 3 / 4 star hotels such as Crowne Plaza, Le Meridien & The Renai are charging between Rs.4800 to 8000 PER NIGHT for room that is on average 200 to 400 Sft in size.




.

Starlit Suites on the other hand is giving you a Studio / 1 BHK / 2 BHK (ranging from 500 to 1200 sft) for an average rate of Rs.4100 to 4300 per night – which means you are getting

2 to 3 times larger room for 20% to 50% LESS

than the cost of comparable hotels in the same area.


.

This makes Starlit Suites an incredible VALUE FOR MONEY option which attracts not only business travellers but also leisure travellers / tourists as well.
.
* Prices quoted here for comparable hotels are for a Double Occupancy Cancellable Booking with Breakfast. Many price comparison or online booking websites show prices that are EXCLUDING breakfast or NON-CANCELLABLE rates which might be misleading and hence always consider above when comparing prices with Starlit Suites. Such hidden charges could add as much as 20% to the basic cost of a room.

Enjoy 7 FREE Star Nights per Year
For every unit that you own, you get 7 nights FREE STAY with complimentary breakfast PER UNIT PER YEAR. And out of 7 nights, 4 nights can be used at any Starlit Suites tower in India (they are currently in 4 cities, with 8 more cities under construction and will eventually have properties in 32 cities over the next 7 to 8 years).
What makes this income so

predictable

and

stable

?
 What is the guarantee that I will earn the income that is being showcased here? 
This model is tried and tested and has been running successfully for the last few years at Delhi, Pune and Bangalore with Cochin being the latest signature tower to become operational.
Also, the below 5 features make it a foolproof investment where all your interests as an investor are safe guarded and no one can manipulate your investment and returns.
1. Stable & Predictable Demand Locked-In In Advance
The operator has already established relationships with over 200 MNCs – including many Fortune 500 firms – and signed formal rate contracts with many of them, which gives him assured business / occupancy for rooms throughout the year – which in turn means consistent monthly income for you.


.

For example, if HCL Chennai executive tours any other key city of India where Starlit has operations, the company (HCL) books his or her accommodation centrally and directly with Starlit Suites as they have annual rate contract and the same executive cannot book any other hotel directly ensuring predictable and almost guaranteed occupancy.


.

This ensures that the operator will almost always deliver as per the Income Projection Sheet (available at the end of this page in the annexures area).
2. Gross Income Sharing : No Scope for Operator to Cheat You
You get 50% of Gross Income – which is total income BEFORE any expenses are deducted by the Operator – and hence there is no scope for manipulation and making your income independent of expenditure incurred by the operator. This means operator cannot inflate expenses and show less profit to try and cheat you etc.
3. You Earn Income Even If your Room is Vacant
Since income from all the rooms is combined into a single bucket and then divided equally among all investors irrespective of whether their particular unit is rented out or not – you will still earn as much as every other unit owner in the building. Hence, you need not worry about whether your individual unit is getting rented out or not.
4. Audited Statements Issued to You every 3 Months
Once every 3 months, you are given Audit Certificate (issued by a Chartered accountant) giving you details of the entire revenue generated by the building for each month and how that income is being split between operator and investors. This along with above aspect of sharing of gross income will ensure highest level of transparency as this leaves no scope for operator to manipulate accounts in any manner.
5. No Cash Transactions
Since payments are made by companies by RTGS / cheques or by employees' credit card, there is hardly any cash involved and hence no scope for operator to manipulate occupancy figures to hide any income. Even incase of bookings by casual travellers, systems have been put in place by the operator to eliminate any unaccounted occupancy.
You Do NOT Incur Any Expenditure
As an investor, you do NOT incur any expenditure for day to day management or operations of the hotel tower. All operational expenses are incurred by the operator OUT OF HIS SHARE OF THE INCOME and hence such expenditure does not affect YOUR SHARE of income.
OPERATING EXPENDITURE


Staff salaries, electricity & water costs, licenses, etc and all and any expenditure related to day to day operations are paid for by the operator out of his share of income and hence will not be paid or shared by you.


.

FURNITURE REPLACEMENTS


Your unit comes with furniture, appliances and fitouts included, which are executed by the operator to ensure highest quality. Incase of any damage to the items, they are replaced at the cost of the operator and hence you as an investor need not worry about the quality and safety of your furniture or having to pay for repairs and replacements etc.


.

INTERNAL MAINTENANCE


The operator takes complete responsibility for maintaining the property on the lines of a 3 / 4 star accommodation AT HIS COST to ensure highest occupancy. This automatically ensures the highest upkeep of your property and strong capital values and appreciation.
Is there enough demand for serviced hotel apartments in India?
There is a Growing Trend of Business Travellers & Companies choosing Hotel Apartments over Hotels
For the Traveller
The operator's main target is the corporate traveler who travels for training, conferences, exhibitions, short-term projects, etc. where typical stay lasts for 10 to 14 days on average and can extend up to as much as 6 months to 1 year in some cases.


.

Such long term travellers always prefer a serviced apartment over a regular hotel because they can cook their own meals, order room delivery of food from their favourite restaurant and entertain guests in their rooms – which is not possible in star hotels.


.

And they can enjoy all of this with an ambiance similar to a 3 star hotel, but in much bigger rooms with more space – giving them a comfortable home away from home feel.
For the Company
Corporates also prefer serviced apartments due to cheaper rates (which are 30% to 50% less than star hotel rates), especially when staying for extended periods.


.

The operator also complies with their requirements for fire and safety measures, ensuring highest safety for their employees in line with corporate insurance policies.


.

This coupled with close proximity of these hotel apartments to major IT/ITES, finance & other business hubs, is greatly contributing to the increasing demand for such corporate serviced residences across India.

Operator Profile and Experience
To understand their leading position in India in this segment and their unique strengths to ensure good monthly income in the long run, you must read their profile : Click Here to View Starlit Suites' Operator Profile
There are NO organized or established serviced hotel apartment chains / operators in India, that too with multiple properties across the country.


.

Existing serviced apartments are fragmented, unorganized and mostly run by individuals or part time players who have no expertise in the business and are limited to just one location or city.


.

Starlit Suites is the first organized & branded player in the Extended Stay Segment across India with properties in multiple cities (4 operational, 6 under construction and 20 more in the pipeline) and is hence leading the market.


.

Other hotel brands are focused entirely on the Short Stay Segment which is completely different and DOES NOT COMPETE or COMPARE with serviced apartments – as the target customers, pricing, duration of stay, facilities provided are completely different in both these industries.


.

Starlit Suites focuses purely on Extended Stay segment for corporate travelers which has a much larger audience + consistent, predictable and growing volumes year after year.
How Can I Exit from this Investment?
You can sell your unit to any 3rd party at any point of time and exit with substantial capital gains, in addition to the monthly income that you would have earned until then.
1. Massive Demand for High Monthly Income Assets :
Current FD rates in India are at an all-time low of 6.75% per annum and are set to fall further to as low as 5% over the next few years.


.

Rental income from residential property is a minuscule 2% to 3.5% and falling.




.

Commercial property may give you 7% to 8% ROI but they need a much larger investment of Rs.3 to 5 crores which is impractical for most of us and also come with the hassle of maintaining the asset, renovating it once in 3-4 years and getting a new tenant every 3-4 years.




.

So people will happily buy any asset that gives you more than 7% to 8% ROI – which Starlit Suites would exceed by the 4th or 5th year as it gives you 6% to 8% in the beginning and grows to as much as 15% to 18% by 15th year.




.

Investors would queue-up outside your door to buy such a high income generating asset from you as there are no other safer, stable and predictable income alternatives in India.
2. Income based Capital Appreciation
A few years down the line when your asset is earning over 12% to 13% ROI per annum, you will be able to sell your unit for 50% premium over your initial purchase price as even at this higher price, the new buyer will still earn ROI of 6% to 7% on his invested capital.
.

Example : Assume you purchased a 1 BHK unit at Kochi for Rs.65 lakhs. 7 years after income begins, you would be earning around 12% to 13% p.a. which means an income of Rs.65,000 per month. If you were to sell your unit at Rs.1.1 crores, the new buyer would still earn Rs.65,000 / Rs.1.1 crore = 7% ROI per annum.




.

This way, you can sell the property for Rs.1.3 crore by 10th year or as high as Rs.1.5 crore by the 15th year, so on and so forth.
3. Greater Appreciation than Regular Apartments or Villas
Since these apartments are fully furnished, fully air-conditioned and fully serviced and come with a long lease with high monthly income, they will appreciate a lot more than regular apartments or villas.
4. Home Loans make it Very Affordable
Small ticket sizes and availability of home loans make these highly affordable and easy for anyone to invest in Starlit Suites, because of which there is massive demand for such assets – making it easy for you to sell whenever you want to.
5. Constant Waiting List for Resale Properties
We receive inquiries on almost daily basis from many investors who are eager to purchase such high income assets and hence reselling your unit will be easy due to such waiting list that builds up in each city. For example, at Bangalore where we did our first tower (126 room hotel at Electronic City), we have a waiting list of over 319 people who are eager to buy any unit that may come up for resale.
6. Buyer Gets Income from Day 1 of Investment
The person who is buying this asset from you would start earning rental income immediately (i.e. from Day 1 of his investment) and thus would be willing to pay you a premium to buy such a proven asset from you. You can also show your bank statement as a proof of income being generated by your unit.
7 Nights FREE Stay across any Starlit Suites property in India
For every unit you own, you get 7 nights of FREE stay with breakfast PER UNIT PER YEAR.


.

Out of these 7 nights, you can spend 4 nights at any other Starlit Suites location (currently operational at 4 locations, 3 more to get added by end of 2017 and 20 other cities eventually over the next 6 to 8 years).


.

That is, if you invest in Starlit Suites Kochi, you can use all the 7 free nights at Kochi or use upto 4 nights at any other location such as Bangalore, Delhi-Neemrana, Pune, Shirdi, Tirupati and balance 3 nights at Kochi.


.

You can also gift these free nights to your family, friends and colleagues and any unused free nights can be rolled over to the next year (for a maximum of 2 years).

You Should Invest in This Asset If…
You want to build an asset base that generates an increasing stream of high passive income to supplement your primary source of income and to elevate your lifestyle.


.

If you dream of retiring early or if you are on the verge of retiring and want to create a steady stream of stable, predictable and high monthly income.


.

If you are an NRI who dreams to return to India but are unsure or have no safe way to generate a consistent monthly income to maintain your current lifestyle that you enjoy abroad, once you are back in India.


.

If you are an NRI who has settled abroad and decided not to come back to India forever but want to take advantage of India's booming economy and real estate story – for which this asset is the best way to participate in India's growth.


.

If you dream to own a chain of hotel rooms across India by investing in multiple micro assets across top cities of India instead of sinking all your money into a single asset in just one city.


.

If you want to own an asset that is entirely managed by India's leading professionals rather than having to manage these assets by themselves.


.

If you have already retired and want a safe investment that can generate monthly income without having to lock-in your capital for a long time, which is the case with most of the options available today such as FDs, Provident Fund, finance or chit fund companies which provide low monthly returns, no capital appreciation and also block your funds for a very long time.
Enjoy Stress-Free Rental Income
Why go through the hassles of renting out property on your own for just 2% to 3% ROI per annum when you can invest in serviced apartments and earn 6% to 8% stress-free?
 LOCATION 
 On Main Vytilla Bypass, opposite to Prestige Forum Mall and 1 km before Le Meridien
 SIZE OF PROJECT 
 136 units spread across 5 Floors.
Mall from ground to 5th floor, with Starlit Suites above.
 TYPE OF UNITS 
 Studio & 1 BHK (2 BHKs SOLD OUT)
 CURRENT STATUS 
 Construction is 100% complete and operations started in December 2016.
Where in Kochi is this serviced hotel apartment situated?

Starlit Suites Cochin is located bang on the hottest realty stretch in Kerala – Vytilla Bypass (NH47), adjacent to the Wyte Fort Hotel and opposite to the upcoming Prestige Forum Mall. It is 1 km before Crowne Plaza and Le Meridien towards the city.
Vallarpadam Container Terminal
The 3200 crore mega project, is India's first international trans-shipment terminal and one of the largest of its kind in Asia, with a view to bring back logistics handling to India from Dubai and Sri Lanka.
Ayurveda and Medical Tourism
Kerala, being the cradle of Ayurveda sees a large number of tourists coming in for medical tourism where the average length of stay is 1 to 2 months for rejuvenation packages. The ideal accommodation for such travelers is a serviced apartment like Starlit Suites where they can cook their own meals, entertain their guests, have their trainers come over and also have access to everything they would need.
There is also a segment that would camp overnight in Cochin before travelling to other parts of the country or before flying out, using it as a transit camp in their travels and would prefer a homely and reasonable priced accommodation like Starlit Suites.
Photo Album of Starlit Suites Kochi
The builder is one of the reputed infrastructure groups of Dubai with presence in real estate, education and fire safety equipment. With a very strong balance sheet, they are poised to launch themselves as a boutique brand with high end developments across commercial, residential, hospitality and retail verticals of real estate.
This being their first project, has set benchmarks in Kerala by being one of the few buildings to achieve LEED GOLD rating and could possibly become the 1st tower in Kerala to attain Platinum rating. The builder is now launching a super luxury residential high rise tower next to Crowne Plaza on the Vytilla Bypass and a villa project in Aluva.

 Financials 
Income Projections, Unit Cost & Payment Schedule, Booking Amounts & Home Loans
Affordable Prices
STUDIO : Starting from Rs.45 Lakhs
1 BHK : Starting from Rs.65 Lakhs
2 BHK : SOLD OUT
These figures are of :
 – Inclusive of all furniture and fitouts as per list available in Annexure section at the end of the page.
 – Exclusive of Registration and Stamp Duty as applicable on date of registration (subject to changes by govt from time to time)
 – Exclusive of G&C's service fee of 1.5% on the basic value (read more about this here)

Unlike other apartment projects where you are charged an extra premium for floor rise or premium location etc, there are no such extra charges in this hotel apartment and everyone pays the exact same cost irrespective of floor, facing or position of your unit in the tower.
This ensures that everyone in the apartment earns equal returns irrespective of unit position.
Starlit Suites Seems Expensive Compared to Other Apartments
Starlit Suites may seem expensive when compared to regular apartments in the surrounding areas but you can click here to see a price comparison sheet which clearly shows how Starlit Suites is actually cheaper than regular apartments.
In regular apartments, you are quoted a basic price + many other premiums, deposits and extra charges which add almost 15% to 20% to the total price of the unit.
There are also no extra or hidden charges such as car parking, club house charges, 100% power backup deposits, advance maintenance deposits, etc etc.
Easy Payment Schedule
Booking Amount :
20% to be paid along with booking form and agreements will be executed once this payment is received.


.

Balance :


30% to be paid within 15 of booking and balance 50% to be paid within 25 to 30 days from the date of booking.
Returns / ROI
While a detailed income projection sheet is available in the annexures section, given below is a quick summary of returns you can expect to earn – based on very conservative occupancy and room rates assumed by the operator which we have also validated at our end, based on existing market rates of comparable hotels in the area) :
6% p.a. in 1st year of operations (and this does not include the abrupt hike in capital appreciation of asset in the first 3 years)

7% by 2nd year

8% by 3rd year

10% to 11% p.a. by 5th year

16% to 18% p.a. by 20th year
Income is Credited to Your Bank Account Every Month (via ECS)
Each month's income is credited directly to your bank account on the 25th of the following month and hence there is no need for you to monitor or follow-up for collection of income.
Sale and Construction Agreement (SCA)

This is between you and the builder for purchase of the flat and covers the terms and conditions of sale and construction of the hotel apartment and the timelines involved.
.

Rental Management Agreement (RMA)


This is between you and Starlit Suites (operator) and captures the terms and conditions of the revenue-sharing lease agreement with the operator. It contains important clauses related to revenue sharing, operator's responsibilities, complimentary stay, period of contract, etc.
.

Furniture & Fitouts Agreement (FFA)


This is between you and Starlit Suites (operator) and it covers the cost and schedule of items that will be used to furnish and fitout your room as per 3 star hotel apartment standards.
.

Power of Attorney (POA)

This is a legal document giving Starlit Suites the power to operate the unit on your behalf and is a matter of legal formality.
The booking process is fairly simple as explained below :
Step 1
Please inform one of our team members who will send you the booking form, which you can fill and send back a soft copy along with details of payment of booking amount which you can pay via net banking or by issuing a cheque.
Step 2
Based on your preference if any, a short list of available units will be sent to you and you can choose from the same to proceed further. All units are priced the same and the returns are distributed equally and hence you can choose any unit out of whatever is available without bothering too much about floor or facing.
Step 3
Once you pay 20% of unit cost, agreements will be printed and issued to you for signing, post which they will be sent back to builder for execution and you will be given your set once builder signs the agreements.
Step 4
Income will start getting credited to your bank account on the 25th of every month (for previous month's rent).
Annexures
Click on below links to view additional important information about this high monthly income project in Pune :
Contact Details of Our Team
For bookings or queries please call any of our below team members :