UX Lead, Cognizant
Singapore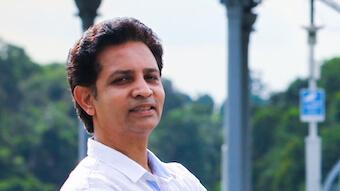 I am an NRI and have been looking out for attractive investments which can give me additional monthly income.
All my previous investments were in residential properties (typical apartments) which needed big amounts of investment, but gave me less than 3% ROI and high involvement to maintain the properties.
While searching the internet, I came across G&C's website and noticed Starlit Suites serviced apartment commercial investments.
I was initially skeptical due to my previous personal experiences, but when I spoke to Jhashank, it was an astonishing experience, that even though he is traveling and in different time zones, he ended up explaining each and every detail with lots of patience.
He was reachable at any point of time either by message or over call and because of all of this, I gained immense confidence with-in a short time and went ahead with my first investment in Starlit Suites Hyderabad.
G&C team has been very supportive and helped me throughout the process – from booking to loan processing to complete hand-over.
As it is hassle-free and hands-off, it saves me a lot of time & energy, and hence I am planning to do multiple investments through them in next couple of years.
Because of their transparency in sharing each every detail with clarity, I have recommended a few of my friends who invested through them in Delhi, Tirupati, Shirdi and Kolkata.
I am convinced and have full-faith in G&C's investment model, so much so that I can blindly invest in any location across India with them, which was not so before I know them.
I am grateful to Jhashank and G&C Global for proving such an amazing platform to investors like me.
Click Here to go back to the Main Testimonials Page
Learn how you too can earn 100% to 300% ROI
in Indian Real Estate